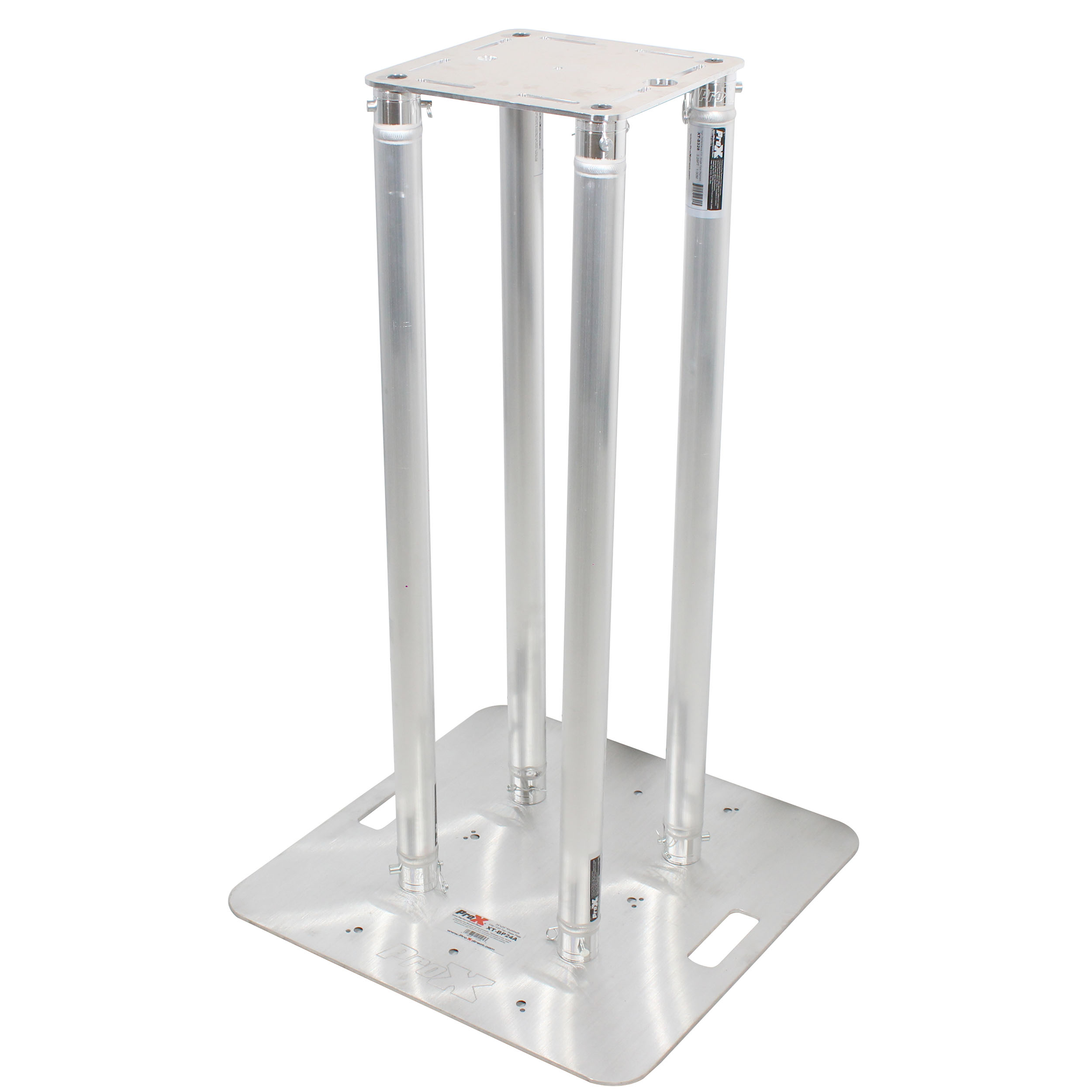 3.28 Foot Totem Package Includes a 12in Top Plate, 24in Base Plate and Four 1M F31 Tubes W-White Scrim Cover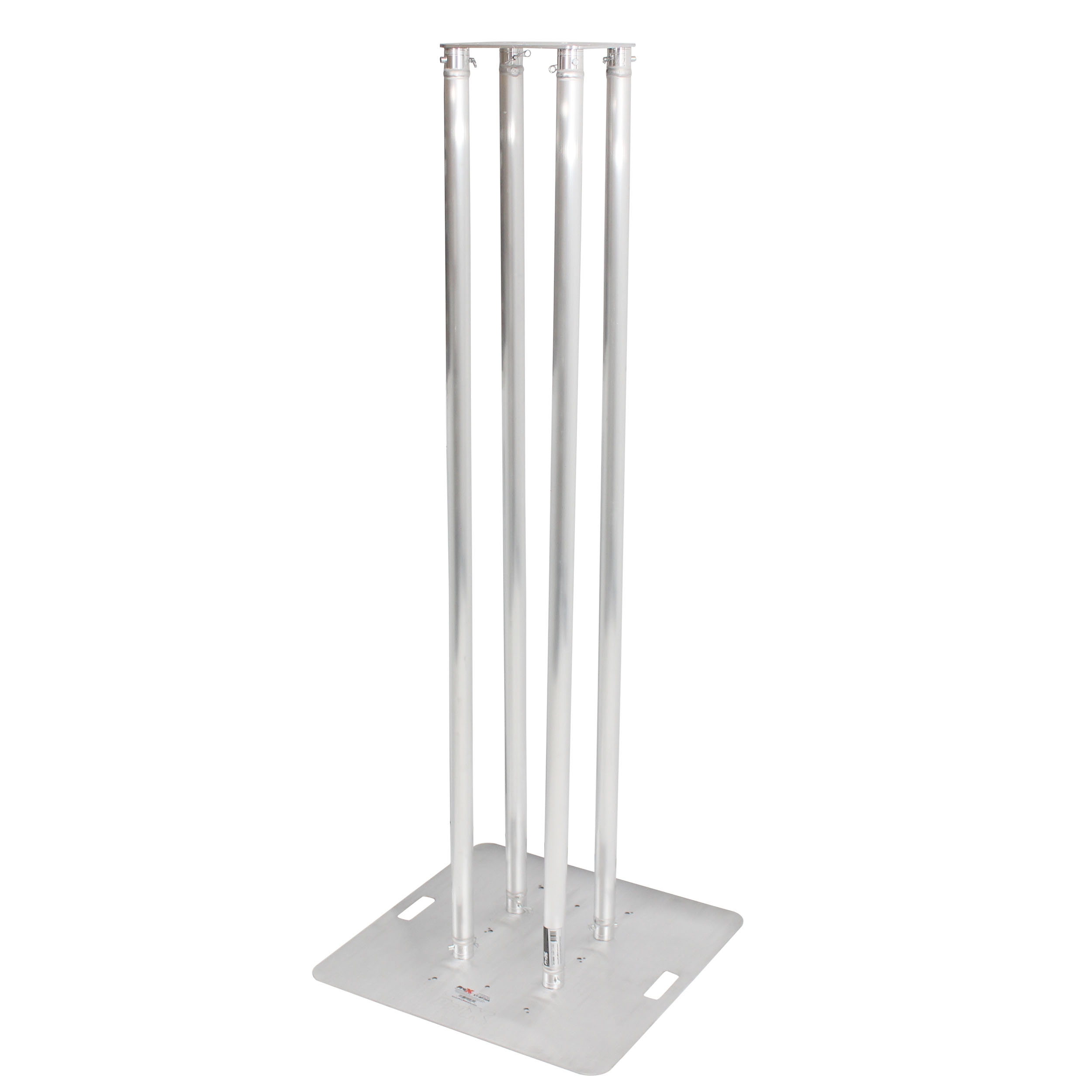 8.20ft Totem Package Includes a 12in Top Plate, 30in Base Plate and Four 2.5m F31 Tubes W-White Scrim Cover
4.92ft Totem Package Includes a 12in Top Plate, 24in Base Plate and Four 1.5m F31 Tubes W-White Scrim Cover
ProX XT-S4X492TOTEM 4.92ft Totem Package Includes a 12in Top Plate, 24in Base Plate and Four 1.5m F31 Tubes W-White Scrim Cover
$899.00
The ProX XT-S4X492 TOTEM  Truss Totem Package assembles some of the most popular products that are used for DJ Totems.  At the core are four of the ProX XT-S492 Single Tube Truss sections which are made with 2mm EN-AWT6 6082 Aluminum for safety and strength, an XT-BP24A 24 In. x 24 In. 8mm Aluminum Base Plate, and an XT-BP12A 12″ X 12″ F34 8mm Aluminum Top Plate W/Slots and Mounting Holes.    You can use the totem exposed as "all-aluminum" or dress it up for a smooth, finished appearance with the included XTC-SQ492TS-W White Lycra-Spandex Cover.  
Add Optional (Not Included) LED Lights like the X-PAR36RGBWA or the X-LEDPAR86 to really make your totem setup pop with color.
WARNING! These scrim products are for temporary use ONLY and NOT for permanent installation. Keep away from open flames, sparks, direct heat, or any type of electrical fixtures and outlets. ProX Live Performance Gear is not responsible for any bodily injury or property damage caused by misuse of this product. Scrims can be machine washed and air-dried only. Do not use harsh chemicals or chlorine bleach. Factory fire retardant loses effectiveness with washing and over time. Re-treat as needed.
---
Tolerance Free Standard Conical connector
Multi-Hole 12″ Top Plate for Easy Mounting of Lighting/Accessories
Constructed to the highest quality by certified welders
Four F31 2mm Single Truss Tubes
Base Plate and Top Plate are 8mm Aluminum
Includes Carry Bag for White Lycra Spandex Truss Cover
TUV is a 3rd Party Certification Body and a Nationally Recognized Testing Laboratory (NRTL).  TUV provides inspections, testing, certification & training, with the ultimate objectives of reliability, safety & high quality.
---
---
Package Contents
---
Brand
ProX Live Performance Gear
ProX Live Performance Gear makes products that are designed for professionals, by professionals. Our motto is simple; "Quality, without compromise". We believe the highest quality of components met with cutting edge design allows us to achieve our goals at a competitive price point. In 1984 ProX Started by manufacturing flight cases for broadcasting production and touring companies. Now specializing in manufacturing specific DJ controller cases for brands like Pioneer, Yamaha and DiGiCo as well as products like lighting cases, stands, cables, and bags.
All cases use CNC technology, during the manufacturing process, to assure that cases are consistently built with strict specifications and tolerances that are required for the high-quality standards that ProX cases have been known for. ProX Listens to customer feedback and consistently create outstanding solutions for all your needs. The Flip-Ready cases are manufactured in Poland and are handcrafted for quality control and individually tesfad for smooth operation. The Flip-Ready design allows for easy, one person, instead of four, movement from the transport position to operational position with virtually no effort.
GTR Direct is a proud dealer for ProX Canada
Related products
The ProX XT-S4X328 TOTEM  Truss Totem Package as

$

827.00

ProX KT-SQ820TOTEMTCX2 K-Truss 8.20 Lightweight S

$

2,030.00

The ProX XT-S4X820 TOTEM  Truss Totem Package as

$

1,073.00