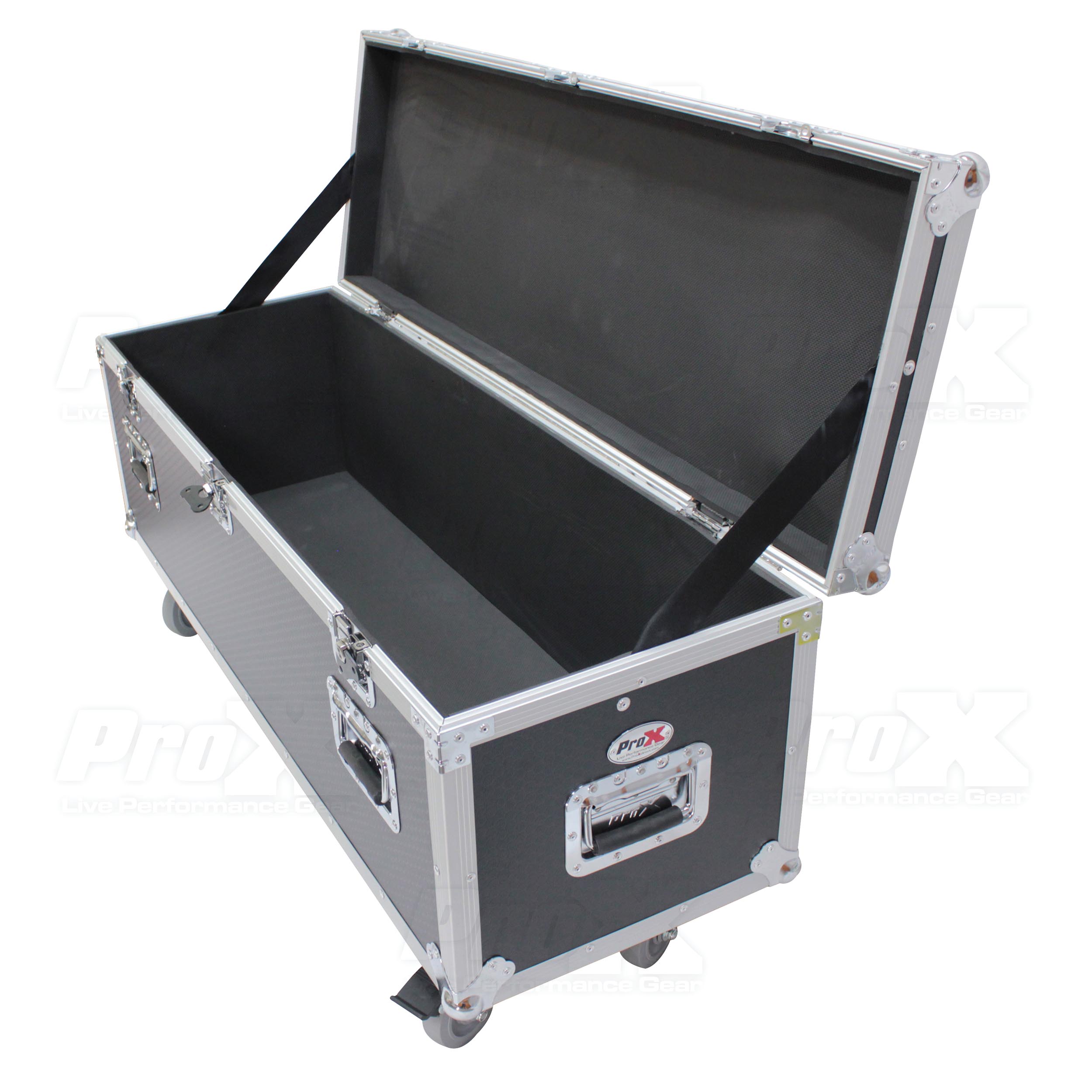 ProX Utility Storage Case W-4 – 4″ Casters 16″x16″x47.5″ – 6 Cu. Ft.
February 21, 2023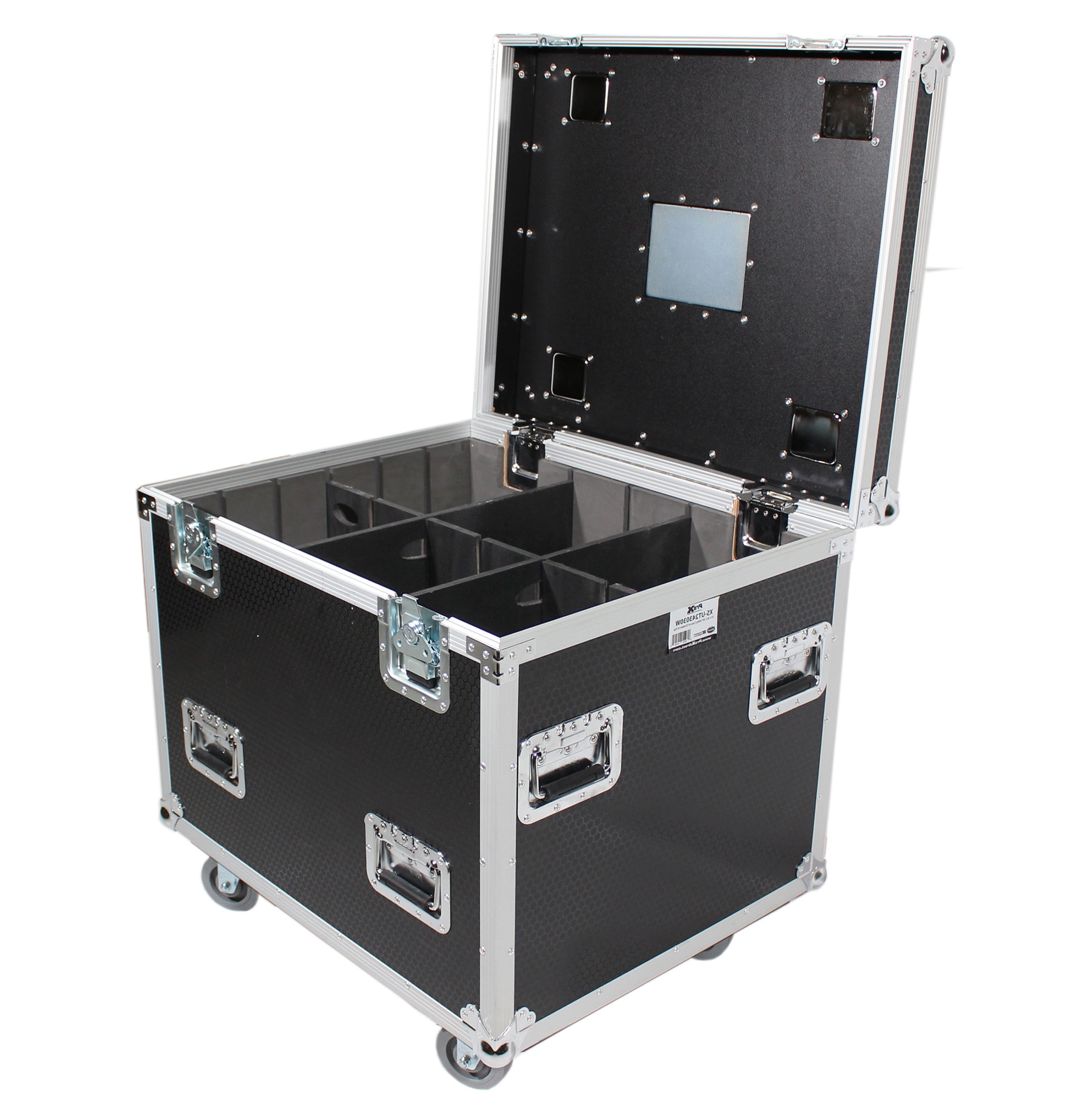 ProX TruckPaX Heavy-Duty Truck Pack Utility Flight Case W-Divider and Tray Kit | 1/2 Inch Plywood | 24″X30″X30″
February 21, 2023
The ProX XS-UTL12W Trunk, Utility,  hardware or Lighting case functions great is a dependable, durable ATA-300 style flight case with a heavy duty design that is sure to stand up to the rigors of travel and the wear and tear of being on the road all while keeping your gear secure and safe.
The ProX XS-UTL12W is constructed with our Gig Ready Honeycomb Signature Series certified 3/8 inch black laminated plywood, which provides a unique look and is crafted using the highest quality materials and workmanship, to give you the ultimate security for your equipment. If you have a passion for your gear and want to keep it safe, this case will ensure your investment is protected at all times.
The extrusion is all aluminum & assembled with certified aluminum rivets.  The rivets on the 8 recessed spring-loaded handles are backed with washers to ensure strength and durability.  Also, The ProX Cases XS-UTL12W inside is fully lined 1/4 inch with impact-resistant foam pads to ensure extra security and gives you peace of mind when your equipment is being transported, knowing that your gear will arrive in one piece.  The top is held closed with 2 recessed butterfly latches and is hinged on the back with two lid stops and nylon straps for stops inside the case.
The two rubber feet and two low profile wheels on opposite ends allow the case to stand vertically.  The inside is fully foam padded with foam padding on the ends to allow a loaded case to be transported standing on end.  The interior of the lid is lined with 5mm egg-crate foam. Two integrated Low Profile Durable Tough Rubber wheels on each end allow the case to be rolled laying flat or lifted by the handles on either end and rolled on two wheels.  
This ProX ATA 300 Style Road/Flight case is manufactured with the Honeycomb Digital™ laminated surface Design. Made with the super-sleek look of Honeycomb Digital™ hexagon grids on all shell surfaces, which gives the cases an almost alien look! Also as opposed to regular laminated plywood cases from other manufacturers, the ProX Honeycomb Digital™ design helps prevent minor to mild scratches. The Honeycomb Digital™ line design was inspired in 2009 by the design of New York City Street Manhole covers which are made to handle rough and tough everyday punishment.
All ProX cases use CNC technology, during the manufacturing process, to assure that cases are consistently built with strict specifications and tolerances that are required for the high-quality standards that ProX cases have been known for since 1984.
---
ProX has been manufacturing flight cases since 1984 and are designed to protect your investment
Standard Style, Silver trim on Black Honeycomb Laminated exterior design
ATA-300 Style Gig Ready Flight Road Case
Signature Series Certified Laminated Gig ready 3/8″ plywood
*High-density foam interior support & casing
Recessed spring action recessed handles
Industrial Heavy duty and powerful steel ball corners
2x Low Profile Durable Tough Rubber Wheels
Dual anchor rivets
Easy locking fit aluminum tongue and groove
Industrial Recessed butterfly twist-lock latches
Industrial Grade Rubber Feet
*All Foam padding made from 85% recycled materials
ProX Limited Lifetime Warranty
*ProX Goes Green: The durable hard rubber foams used in our cases contains 70% recycled content. Of that recycled content, 80% of it comes from recycled plastic bottles and the remaining 20% from recycled post-industrial material. At ProX we strive to make the world a better place!
---
Utility,  Hardware or Lighting – 3 Cu.Ft
---
| | |
| --- | --- |
| Weight | 35 lbs |
| Dimensions | 43 × 15 × 13 in |
Brand
ProX Live Performance Gear
ProX Live Performance Gear makes products that are designed for professionals, by professionals. Our motto is simple; "Quality, without compromise". We believe the highest quality of components met with cutting edge design allows us to achieve our goals at a competitive price point. In 1984 ProX Started by manufacturing flight cases for broadcasting production and touring companies. Now specializing in manufacturing specific DJ controller cases for brands like Pioneer, Yamaha and DiGiCo as well as products like lighting cases, stands, cables, and bags.
All cases use CNC technology, during the manufacturing process, to assure that cases are consistently built with strict specifications and tolerances that are required for the high-quality standards that ProX cases have been known for. ProX Listens to customer feedback and consistently create outstanding solutions for all your needs. The Flip-Ready cases are manufactured in Poland and are handcrafted for quality control and individually tesfad for smooth operation. The Flip-Ready design allows for easy, one person, instead of four, movement from the transport position to operational position with virtually no effort.
GTR Direct is a proud dealer for ProX Canada