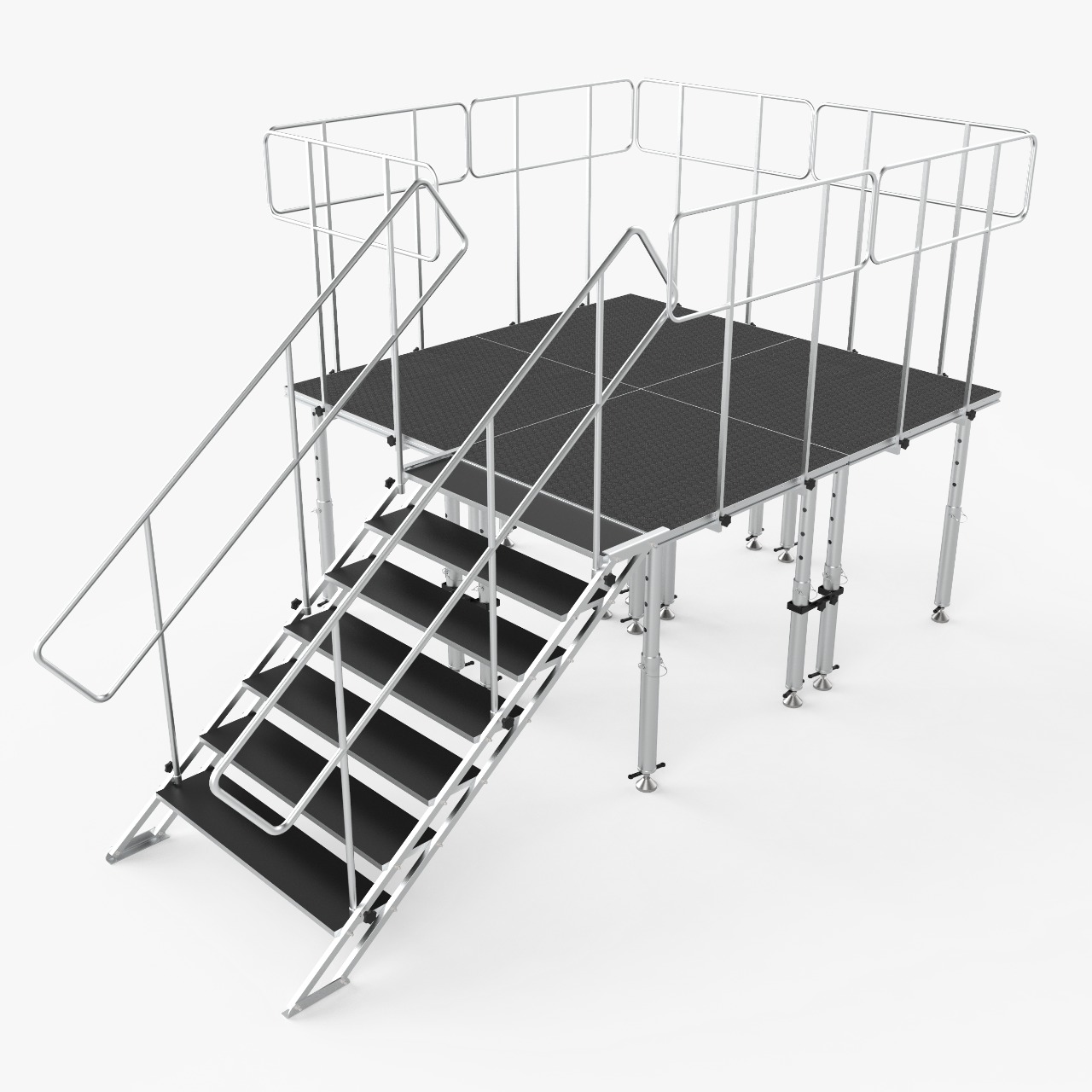 ProX 8′ x 8′ Social Distancing Area w/ Stairs, Guardrails and Adjustable Legs up to 48″
March 17, 2023
ProX 8′ x 8′ Social Distancing Area w/ Stairs, Guardrails and Adjustable Legs up to 48″ – 7-Step Stairs
March 17, 2023 ProX 8′ x 8′ Social Distancing Area w/ Stairs, Guardrails and Adjustable Legs up to 48″ – 7-Step Stairs
ProX XSQ-8X8 PKG-44 GRU ST7 8′ x 8′ Social Distancing Area w/ Stairs, Guardrails and Adjustable Legs up to 48″ – 7-Step Stairs
ProX XSQ-8X8 PKG-44 GRU ST7 StageQ™ package 8′ x8′ Social Distancing Platform with Stairs, Guard Rails, and Telescoping Legs Lifts up to 48″. This package is great for staging professionals when you are looking to set up Social distancing platforms spaced to the guideslines of the CDC (6 feet A Part). It includes 4x StageQ™ Platform and Stage Decks, including Telescoping Legs and Deck Clamps, and 7-stair mountable locking staircase. This package can be brokendown and add more platforms to complete a professional stage for live performances, speaches, VIP Area and more.
Parts List:
(4) XSQ-4X4 MK2
(4) XSQ-MX2
(1) XSQ-MX4
(7) XSQ-GR4FT
(1) XSQ-ST7
---
Heavy-duty Portable Stage
Package for Social Distancing
Secured by Guard Rails
No wobble, or movement
Socketed  Leveling Feet
Telescoping Legs 28″ – 48″
Anti-Slip Honeycomb Digital™ Surface
---
For Indoor or Outdoor use
---
Brand
ProX Live Performance Gear
ProX Live Performance Gear makes products that are designed for professionals, by professionals. Our motto is simple; "Quality, without compromise". We believe the highest quality of components met with cutting edge design allows us to achieve our goals at a competitive price point. In 1984 ProX Started by manufacturing flight cases for broadcasting production and touring companies. Now specializing in manufacturing specific DJ controller cases for brands like Pioneer, Yamaha and DiGiCo as well as products like lighting cases, stands, cables, and bags.
All cases use CNC technology, during the manufacturing process, to assure that cases are consistently built with strict specifications and tolerances that are required for the high-quality standards that ProX cases have been known for. ProX Listens to customer feedback and consistently create outstanding solutions for all your needs. The Flip-Ready cases are manufactured in Poland and are handcrafted for quality control and individually tesfad for smooth operation. The Flip-Ready design allows for easy, one person, instead of four, movement from the transport position to operational position with virtually no effort.
GTR Direct is a proud dealer for ProX Canada
Related products
ProX XZF-AH Flip-Ready™ by ZCase® ProX is a

$

6,960.00

ProX XZF-AH-S7000 D Flip-Ready™ by ZCase® Pr

$

7,250.00

The ProX X-APC40LT MK2 Flight case is made specifi

$

0.00