ADJ COMPU CUE BASIC
November 15, 2021

ADJ ArKaos GrandVJ 2.0-XT
November 15, 2021
ADJ ArKaos GrandVJ 2
ADJ ArKaos GrandVJ 2 has mode with independent preview makes it incredibly flexible to perform live, and the Browser Preview feature lets you preview visuals, effects, transitions and sources before sending them to the output, just like a DJ previews his next track in his headphones.
$779.00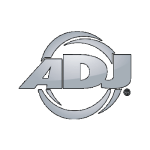 Specifications
SYSTEM REQUIREMENTS:
 PC
OS: Windows™ XP, Vista, 7 or 8.
Processor: Intel™ Core 2 Duo 1.83Ghz.
RAM: 4GB.
Media Component: QuickTime™ 7.x (and up), DirectX™ 9 Ext. (and up).
 MAC
OS: Mac OS X 10.6 (and up).
Processor: Any Intel™ Mac, Core 2 Duo 1.83Ghz recommended.
RAM: 1GB, 2GB recommended.
Media Component: QuickTime™ 7.x (and up).
 PLATFORM INDEPENDENT
Graphics processor: 3D accelerated graphics card required: Intel™ HD 3000 minimum, AMD HD 5XXX series or nVidia GeForce 9XXX series recommended.
Free Space: 80MB – 1.5GB depending on the installer options.
Brand
American DJ
ADJ is known for reliable products, exceptional customer support and innovation, having recently pioneered a number of market-leading IP65-rated lighting solutions. The company's range includes moving head luminaires, static washes, beam effects, audience blinders, strobes, DMX control hardware/software, LED video panels and related accessories, as well as fog, haze and other atmospheric effect generators. ADJ serves both the AVL rental and installation markets. Its products are used worldwide for events, productions and festivals of all sizes, and are also installed in a wide variety of venues ranging from churches, and theatres to trampoline parks and roller rinks, nightclubs and lounges to concert venues and event centers.
The ADJ family of brands include: ADJ Lighting, Elation Professional, Avante Audio, American Audio, Acclaim Lighting, Magmatic Effects, Obsidian Control Systems, Eliminator Lighting, Global Truss America, DuraTruss, Accu-Cable and Accu-Stand.
GTR Direct is a proud dealer for American DJ Canada