ADJ Jolt Bar FX Linear LED Wash/Strobe/Blinder (RGBW)
March 15, 2022

ADJ Hydro Beam X12 IP65-Rated High Output Moving Head Fixture
March 15, 2022
ADJ Jolt Panel FX RGB SMD LED Strobe/Blinder/Effect Light
The ADJ Jolt Panel FX RGB SMD LED Strobe/Blinder/Effect Light is equipped with 800 0.3W RGB SMD LED for color strobing and eye candy effects, and 48 5W white SMD LED located in the center of fixture to create the traditional look of a strobe.
$979.00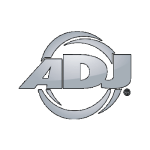 Features of the ADJ Jolt Panel FX RGB SMD LED Strobe/Blinder/Effect Light:
40 x RGB LED zones.
6 x Cool White LED zones.
25 built-in RGB LED Program Macros.
9 built-in Cool White LED Program Macros.
Specifications
Light Source:
800 x 0.3W RGB SMD LEDs + 48 x 5W Cool White SMD LEDs
RGB LEDs: 121 Degree Beam Angle
Cool White LEDs: 89 Degree Beam Angle
Color Temperature: Red: 620-630nm. Green: 515-525nm. Blue: 460-470nm. / Cool White: 6500-7000K
50,000 Hour Average LED Life
Control:
Control Protocol: DMX
11 DMX Modes: 6, 9, 13, 18, 36, 40, 126 and 146 channels
Dim Modes: 6 Presets (Standard, Stage, TV, Architectural, Theatre & Stage 2)
Dim Speed control (0.1~10 Seconds)
0-100% Smooth Dimming
Strobe, shutter & pulse control
Max Strobe Rate 25Hz. Min Strobe Rate: 0.35Hz.
Adjustable LED Refresh Rates (900~25kHz)
With Wired Digital Communication Network
Display: LCD display with 4-button touch menu
Connections:
Data: 5-pin DMX In/Out
180 degree mounting bracket system
Ready for Omega Bracket (Sold Separately)
Power locking power in/out
Electrical:
100-240V 50Hz/60Hz (Auto Sensing)
Max Power Consumption: 275W (2.7A@120V~60Hz, 1.4A@230V~50Hz)
Dimensions / Weight:
Length: 6.3″ (160mm)
Width: 15.95″ (405mm)
Height: 9.85″ (250mm)
Weight: 13.2 lbs. (6kg)
Brand
American DJ
ADJ is known for reliable products, exceptional customer support and innovation, having recently pioneered a number of market-leading IP65-rated lighting solutions. The company's range includes moving head luminaires, static washes, beam effects, audience blinders, strobes, DMX control hardware/software, LED video panels and related accessories, as well as fog, haze and other atmospheric effect generators. ADJ serves both the AVL rental and installation markets. Its products are used worldwide for events, productions and festivals of all sizes, and are also installed in a wide variety of venues ranging from churches, and theatres to trampoline parks and roller rinks, nightclubs and lounges to concert venues and event centers.
The ADJ family of brands include: ADJ Lighting, Elation Professional, Avante Audio, American Audio, Acclaim Lighting, Magmatic Effects, Obsidian Control Systems, Eliminator Lighting, Global Truss America, DuraTruss, Accu-Cable and Accu-Stand.
GTR Direct is a proud dealer for American DJ Canada