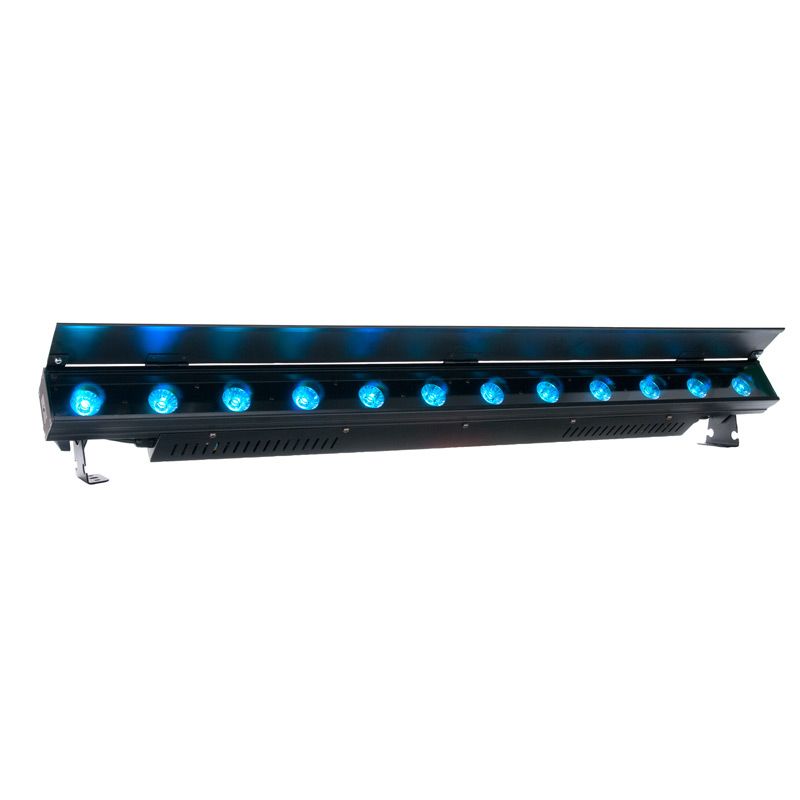 ADJ Ultra Hex Bar 12 ™ LED linear fixture
November 1, 2021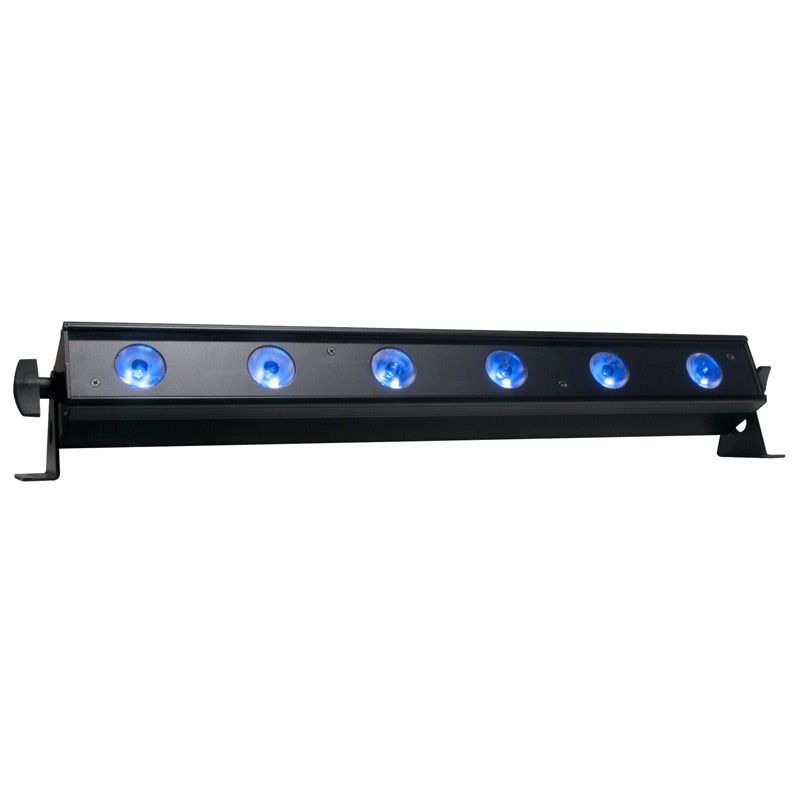 ADJ UB 6H ™ 22.5″ indoor LED linear fixture
November 1, 2021
Specifications
 Rechargeable Lithium battery powered, 24-inch/ 0.6 meter ultra bright, indoor LED Linear Fixture with 141, 10mm LEDs (23 Red, 48 Green, 47 Blue & 23 Amber LEDs)
 7 DMX Channels: 1, 2, 4, 5, 6, 7 & 8 channels
 5 operational modes: Auto (Program Run), Sound Active, RGBA Dimmer, Static Color and DMX-512 Mode
 Great as an architectural wall wash or for performance stages washing
 Smooth RGBA color mixing with rich palettes of color created by mixing the Red, Green, Blue & Amber LEDs (fast or slow color change operation)
 Rechargeable Lithium battery built-in to fixture
 Flicker Free
 Refresh Rate: 7.8KHz
 47 built-in Color Macros
 LED pulse & strobe effect
 DMX-512 Protocol
 Electronic Dimming: 0 – 100%
 Beam angle: 30-degree
 Linkable via 3-pin XLR cable
 With Wired Digital Communication Network
 4-button LED display on rear panel
 IEC AC Power In/Out on rear to daisy chain power (Up to 25 Mega Go Bar 50 RBGA's on one 20Amp circuit). IEC power link cables sold separately. 
 Compatible with ADJ RFC remote control up to 30 ft./ 10M (sold separately).
 Long life LEDs (Rated at approximately 50,000 hrs.)
Light Output: 458 LUX @2M; 147 LUX @4M (40-degree beam)
 Low power consumption
 Very low heat output
 Run all night – No duty cycle
 Rechargeable Lithium battery life: 8 hours full on (with a full charge); 6.5 hours charge time
 Power Draw: 25W max
 Multi-voltage Operation: AC 100V/60Hz – 240V/50Hz
Power cable length: 1.8 meter (IEC)
 Dimensions (LxWxH): 24.75" x 2.75" x 3.5" / 625x65x88mm
 Weight: 5 lbs. / 2.2 kg.
Battery Specifications
Battery Charge Time: 6.5 Hours
Battery Life: 8 Hours Full On (Full Charge)
Battery Lifetime: Average Lifetime is 500 Charges (This depends on charging frequency)
Battery Type: Fixed Lithium Battery
Battery Energy: 73.26WH (Watt Hours)
Battery Weight: 0.9lbs. / 0.42kg
Battery Voltage: 11.1V
Battery Capacity: 6.6AH
Total Lithium Ion Cells: 9pcs
Battery Wrap Material: PVC Sleeving + Highland Barley Paper
Brand
American DJ
American DJ is a top-tier brand in the professional lighting industry, offering high-quality and innovative lighting solutions for DJs, clubs, stages, and events. With over 30 years of experience they are a trusted name in the market, providing advanced technology, exceptional performance, and superior control for lighting systems. Their products range from moving head luminaires, static washes, blinders, strobes, DMX control hardware/software, LED video panels and related accessories, as well as fog, haze and other atmospheric effect generators American DJ's team of experts works closely with their clients to deliver customized solutions that meet their specific needs and budget, ensuring a seamless and successful lighting experience.
GTR Direct is a proud dealer for American DJ Canada