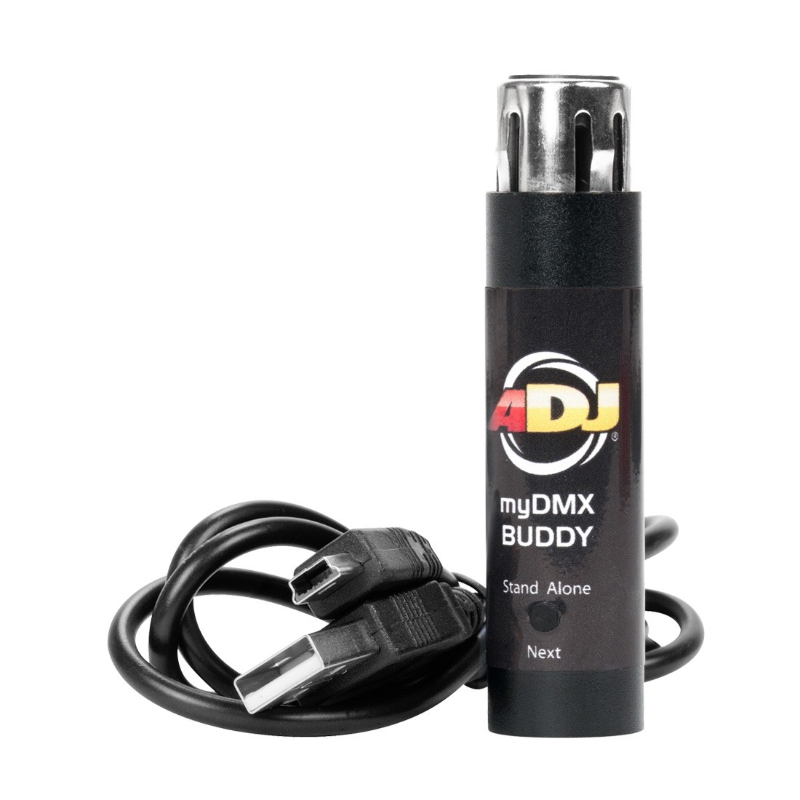 ADJ MyDMX Buddy Dongle
November 15, 2021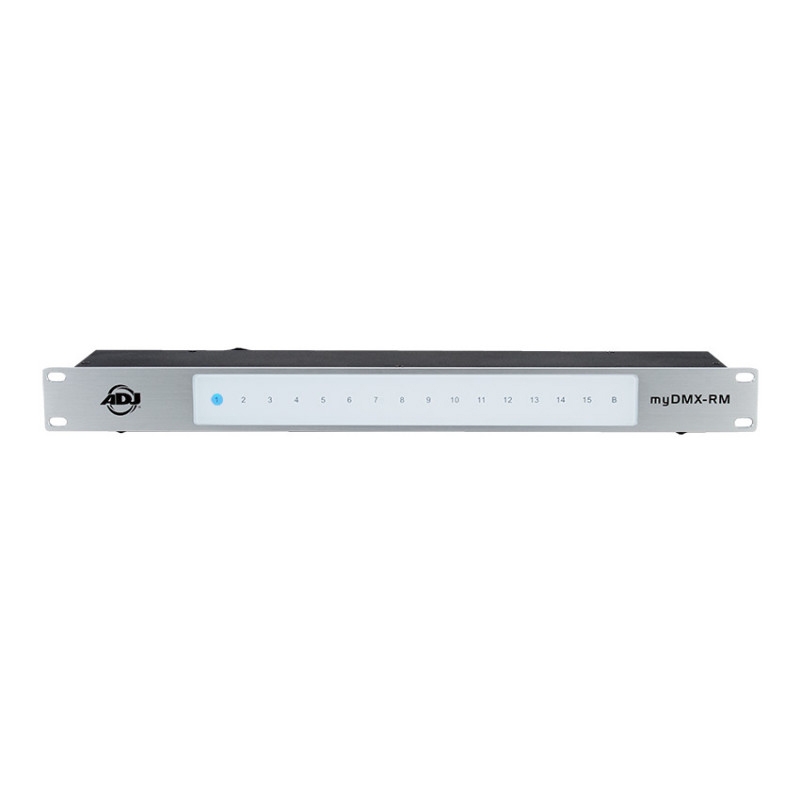 ADJ MYDMX-RM Rackmount DMX Interface & Playback
November 15, 2021
New Features of ADJ myDMX 3.0 DMX Control Dongle:
Play multiple scenes at a time
Arrange scenes into groups
Sound-light with BPM audio analysis and pulse analysis
Live snapshots
Live scene dimming and scene speed controls
Stand Alone backup memory
BPM tap
Flash scenes
Blind editing – edit scenes without outputting the DMX
Fully compatible with myDMX 2.1 software
Specifications
Classic Features:
Easy-to-use DMX software
512 DMX channels
Extensive fixture profile library
SSL2 Profile editor & support
3D Visualizer
MIDI triggering
Drag and drop effects generator
Works with simple scenes/steps
Windows and Mac installers that will download the latest ssl library with an internet connection upon install.
"Maintenance" application that installs with the program to check for component updates or new versions of the software.
"Cloud search for profiles" Search for the latest and greatest fixture profiles from within the program itself, no more hunting through dropbox
Barrel drum rotation added to scene builder
Program now reads special characters such as '&'
Improved multi Pan and Tilt support
Users can now multiselect steps in a scene and modify a channel parameter without it interfering with the rest of the channels
Vast optimizations and stability improvements for both Windows and Mac OS
Not compatible with ARM based Windows tablets (only Intel)
Additional feature and software upgrades available at https://store.dmxsoft.com/
myDMX 3.0 software does not work with myDMX 2.0 hardware
Minimum System Requirements for the ADJ myDMX 3.0 DMX Control Dongle
Computer working under Windows 7 or higher, or MAC OS X 10.10 or higher
1 GHz speed processor
2 GB Memory (RAM)
1280*768 pixel screen
OpenGL 3.1 (for 3D)
Best Performance System Requirements:
Computer working under Windows 7 or higher, or MAC OSx 10.10 or higher
2 GHz speed processor, dual core
4 GB Memory (RAM)
Video card with 1GB video memory
1920*1080 pixel screen
OpenGL 3.1 (for 3D)
Brand
American DJ
American DJ is a top-tier brand in the professional lighting industry, offering high-quality and innovative lighting solutions for DJs, clubs, stages, and events. With over 30 years of experience they are a trusted name in the market, providing advanced technology, exceptional performance, and superior control for lighting systems. Their products range from moving head luminaires, static washes, blinders, strobes, DMX control hardware/software, LED video panels and related accessories, as well as fog, haze and other atmospheric effect generators American DJ's team of experts works closely with their clients to deliver customized solutions that meet their specific needs and budget, ensuring a seamless and successful lighting experience.
GTR Direct is a proud dealer for American DJ Canada