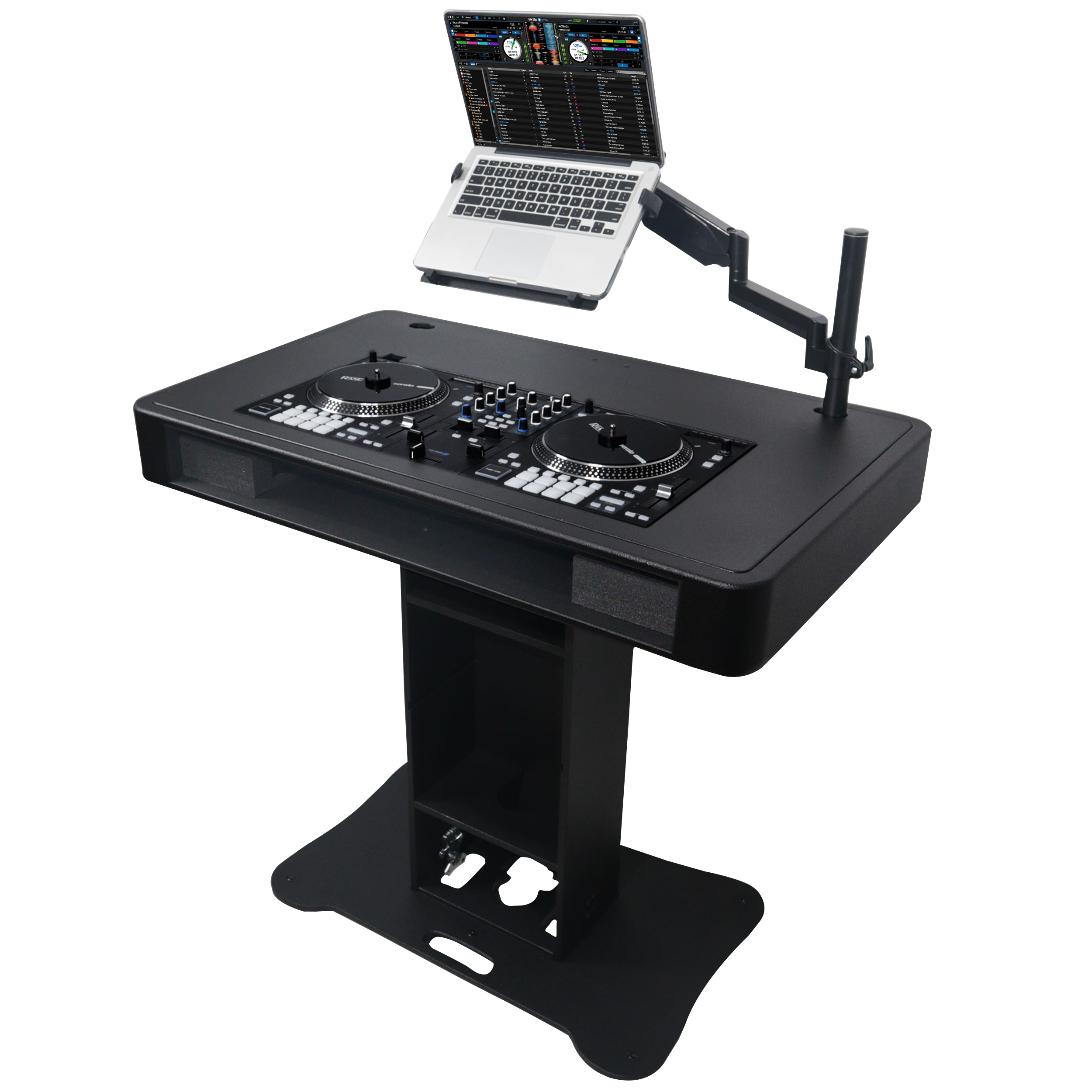 DJ Control Tower DJ Podium Stand with Travel Cases for Pioneer DDJ-REV7 XDJ-XZ DDJ-1000 and RANE One Black Finish
January 12, 2023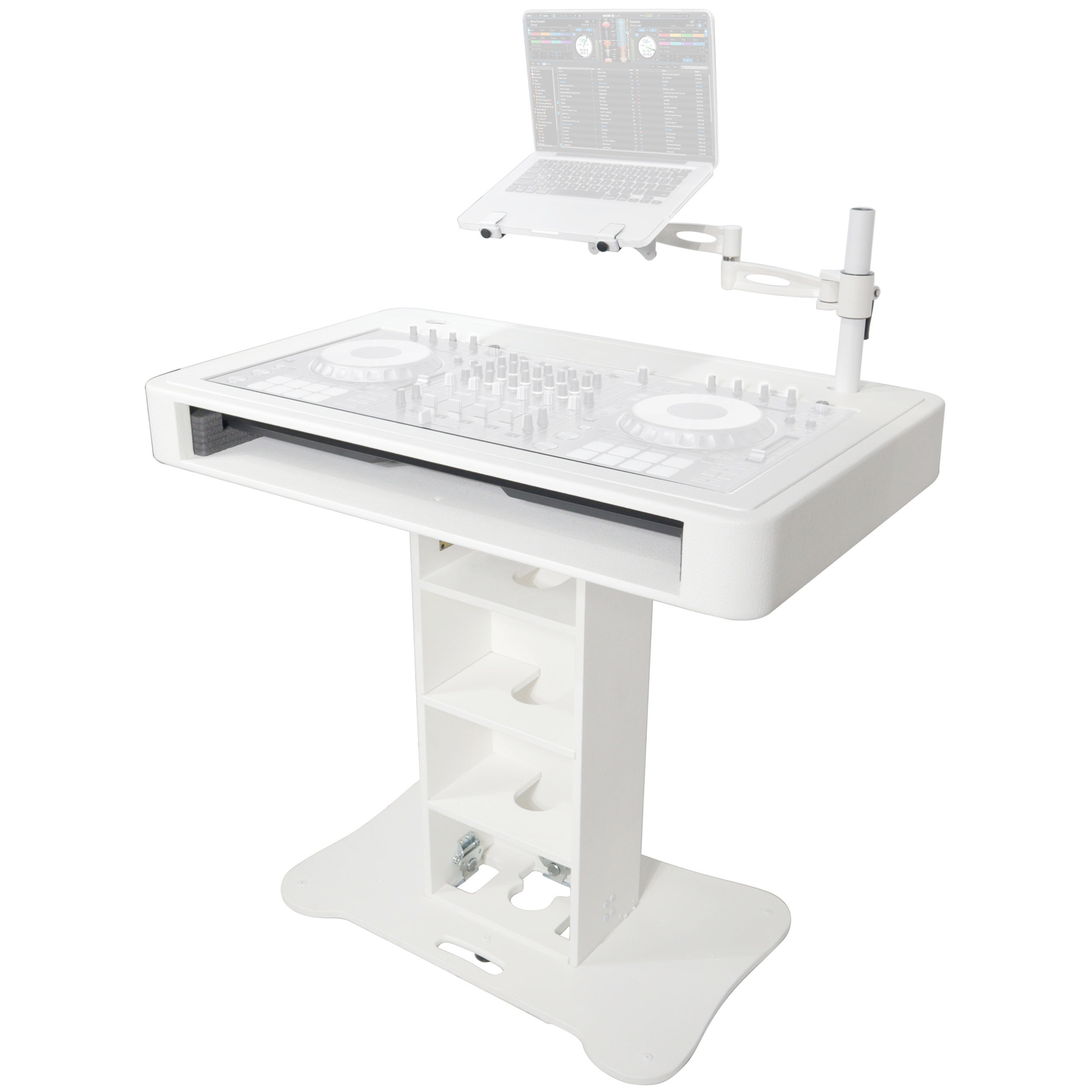 DJ Control Tower DJ Podium Stand for Pioneer DDJ-REV7 XDJ-XZ DDJ-1000 and RANE One White Finish
January 12, 2023
ProX XZF-DJCT DJ Control Tower™ DJ Podium Travel Stand for Pioneer DDJ-REV7, XDJ-XZ, DDJ-1000 / SRT, and RANE® One are custom-built for ProX in Poland by ZCase®. This podium-style DJ stand is designed and set up and breakdown quickly and easily. It's a great multi-functional DJ stand.
EASY SETUP/INSTALLATION
Out of the box, assembly takes minutes with no tools required. Simply snap-lock the base plate to the center shaft together with the steel butterfly latch locks.  Once the center column and shelves are installed, mount the top control deck to the top of the column, and then secure it with the latches. Included in the box are 4 custom cut foam inserts and top frames to use with your desired DJ controller. Once the controller has been placed inside, apply the frame and now you can mount your boom arm and laptop tray to the left or right position.
BUILD QUALITY AND MATERIALS
The T-shaped DJ Controller podium is manufactured in Poland and made from the highest quality materials in Europe. Top-quality birch plywood finished with white warnex textured paint. The inside of the control deck is lined with high-density foam that stabilizes and secures your controller firmly into the control deck. Place your laptop on the secure tray attached to the included boom arm that can tilt, swivel, rotate, raise, and lower to your desired position. The podium center is equipped with three-tier shelves (for utility storage, mics, cables, etc).  There are pre-drilled holes in each shelf to allow power and audio cables to pass through from the controller down to the base area.
SLEEK LOOK AND UNIQUE DESIGN.
The ProX Control Tower DJ Podium is the Crown Jewel for DJs who are looking to add an elegant touch to your wedding, nightclub, or bar, and can be added to your recording studio for a modern-style booth. Its unique design and build will impress clients, venues, and vendors. It's a piece that truly delivers not just aesthetically but as a one-stop station for all of your DJ control needs. No other DJ Stand or Podium matches the quality and convenience of the Control Tower™ DJ Podium by ZCase® from ProX Live Performance Gear®.
---
Custom-fit frame toppers for each controller
High-density Foam Interior
Traditional T-Shape design
Includes laptop tray/monitor mount
Includes Articulating boom arm
No movement or shake during use
Storage below deck and 3 levels shelves
No tools necessary
Secures with butterfly latches
3-tier shelving located at the center shaft
33″ W x 3″ H space shelf under the controller
Warnex powder-coated textured paint
CNC cut Grade-A birch plywood
Environmentally-friendly Warnex textured black paint
---
---
Brand
ProX Live Performance Gear
ProX Live Performance Gear makes products are designed for professionals, by professionals just like you, Our motto is simple; "Quality, without compromise". We believe the highest quality of components met with cutting edge design allows us to achieve our goals at a competitive price point.
GTR Direct is a proud dealer for ProX Canada