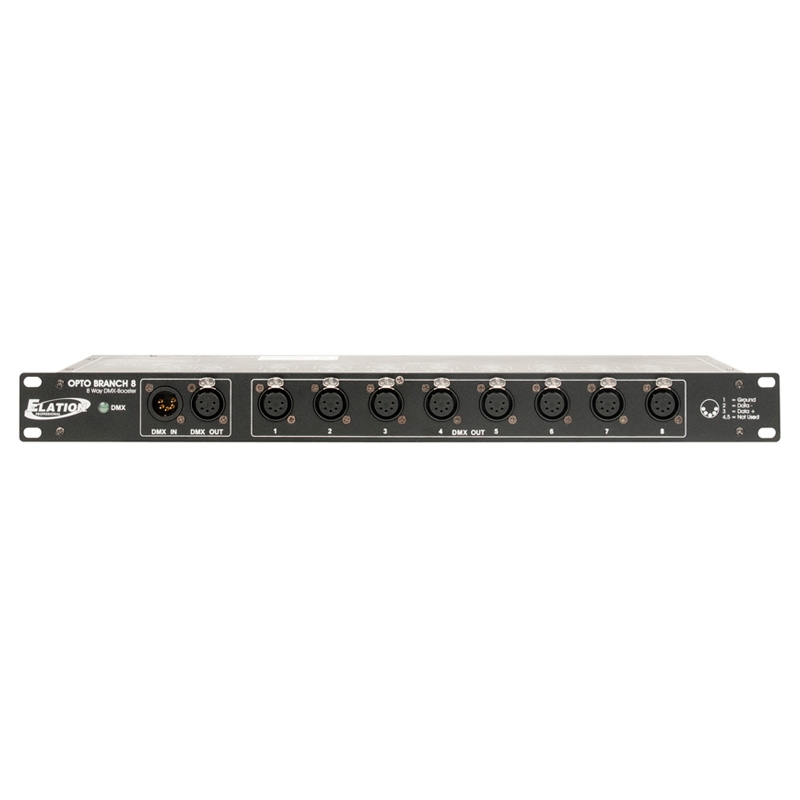 Elation Opto Branch 8 5pin DMX Opto Isolator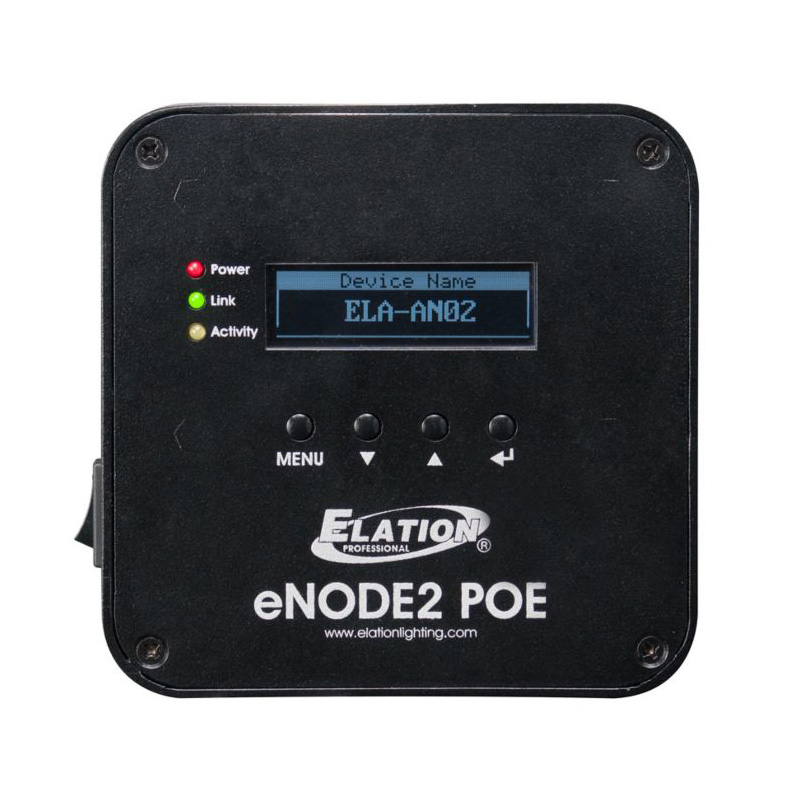 Elation eNode2 POE ArtNet DMX Node
Elation DMX-Branch/4 – 4 Way DMX Distributor
The Elation DMX-Branch/4 – 4 Way DMX is a DMX signal splitter/booster that splits a single DMX signal into four separate outputs, as well as boosts the signal for extended cable runs usually associated with large permanent installations. DMX-BRANCH/4™ includes a set of 3pin and 5pin DMX inputs.
$349.00
Features of the Elation DMX-Branch/4 – 4 Way DMX:
3pin & 5pin DMX Inputs
3pin & 5pin DMX Outputs (thru)
4-Way 3pin & 5pin Isolated DMX Outputs
Link Out / Terminate Button
Linkable Up To (4) Units
DMX Data LED Indicators
19-inch Rack Mount Kit (included)
3/16" (0.1875mm) Threaded Hole for Clamp (not included)
Specifications:
SIZE / WEIGHT
Length: 13.0" (330mm)
Width: 7.25" (184mm)
Vertical Height: 3.0" (76mm)
Weight: 7.0 lbs. (3.2 kg)
ELECTRICAL / THERMAL
AC 120V – 60Hz
Fuse: 5A 250V 5x20mm
INCLUDED ITEMS
19-inch Rack Mount Kit
Brand
Elation professional
Elation professional Canada offers the stage lighting industry the most complete toolbox of conventional and intelligent LED lighting, video, and atmospheric effect products specifically designed for the Theatrical and Concert Stage, Rental, Production, Studio, Broadcast, House of Worship, Corporate AV, Exhibition, Night Club, Leisure, Theme Park, and Cruise Ship markets.
GTR Direct is a proud dealer for Elation professional Canada
Related products
Rated 5.00 out of 5

Specifications: The Work Pro LS-1 Lightshark DMX

$

2,249.00

Rated 5.00 out of 5

Features of the ADJ RGBW4C-IR 32-Channel LED DMX C

$

99.00

Rated 5.00 out of 5

Features of the ADJ Scene Setter - 24 Channel DMX

$

349.00