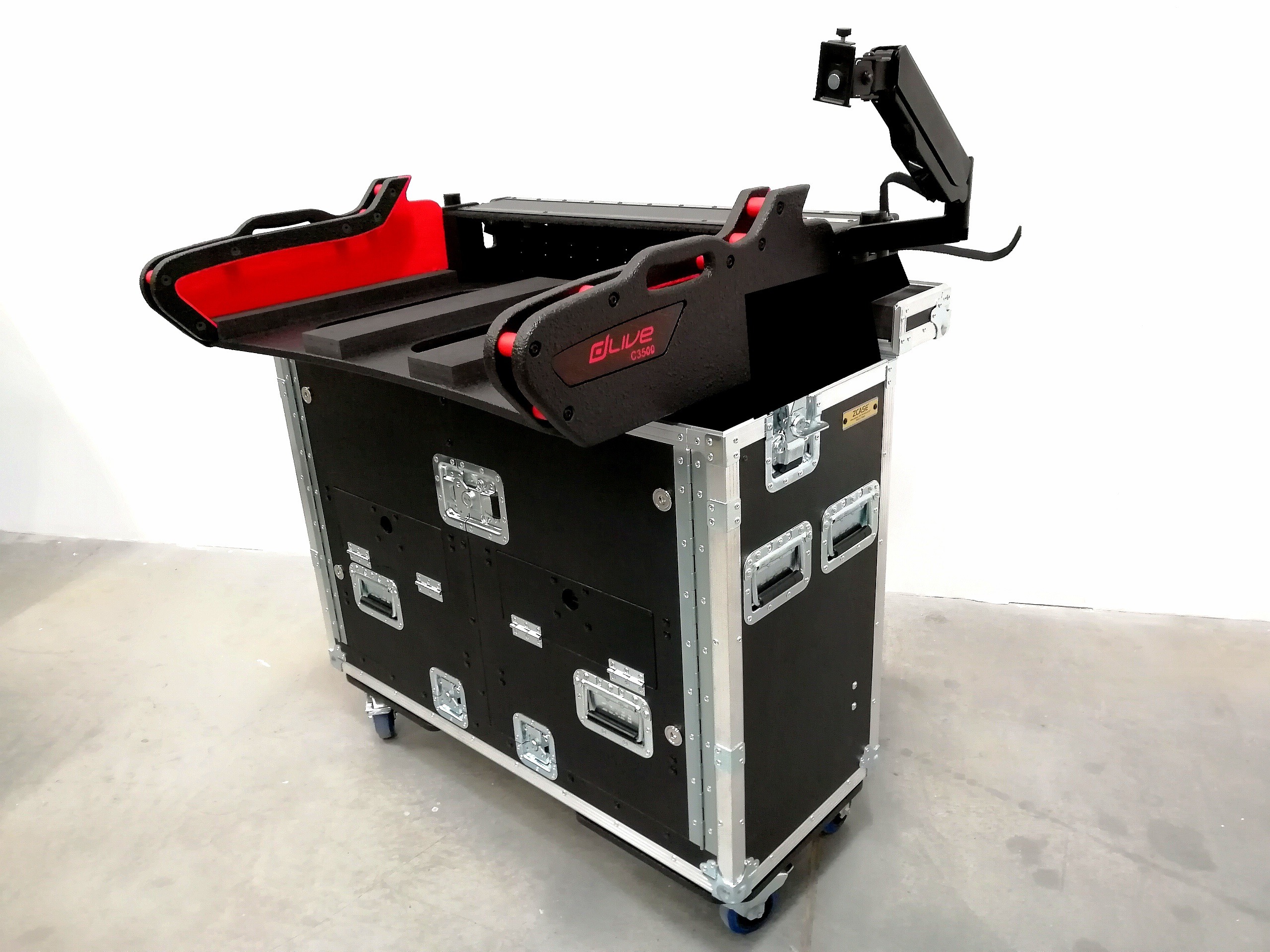 ProX For Allen and Heath DLive C3500 Flip-Ready Hydraulic Console Easy Retracting Lifting Detachable Case by ZCAS
March 17, 2023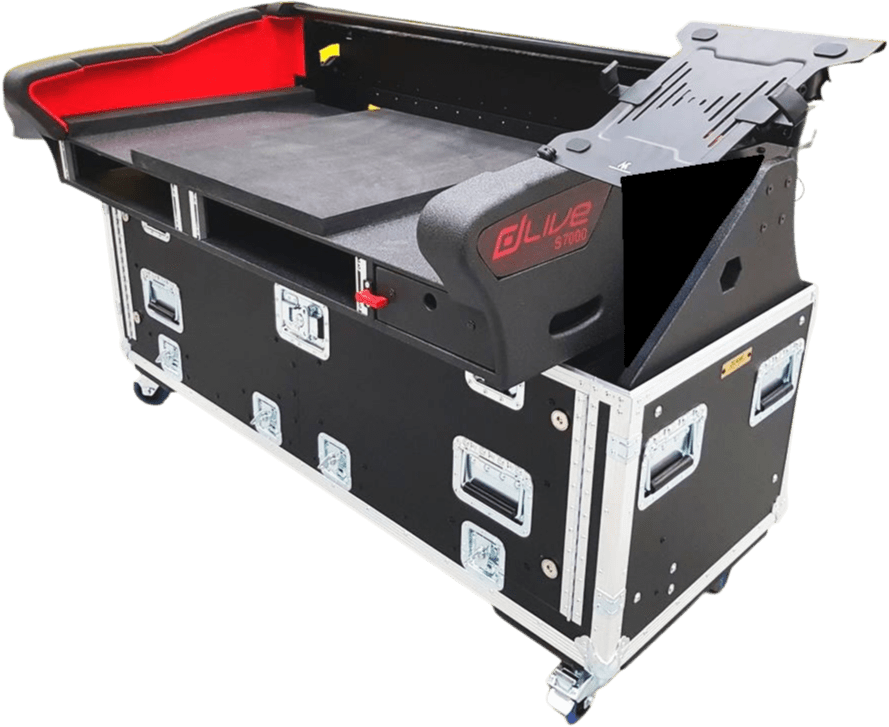 ProX For Allen and Heath DLive S7000 For Allen and Heath AVANTIS Flip-Ready Hydraulic Console Easy Retracting Lifting Case
March 17, 2023
(Custom Order) The ProX XZF-AH-C3500 D 2U Flip-Ready™ case for Allen and Heath DLive C3500 Console is Made in Poland exclusively for ProX by ZCase® These cases for digital audio consoles are designed and built to make transport and setup quick and very easy.  No more lifting heavy consoles into place on a table or stand.  The patent-pending hydraulic lift system provides easy movement from a vertical transport position to the horizontal operational position with almost no physical effort.  A heavy plywood base between the case and the four heavy-duty locking casters protects the case and equipment during transport.  The lower doors opening the storage area have magnetic catches to hold them open, during the movement of the console, to protect the doors.  The rotational mechanism attached to the mounting plate uses gas springs which also suppresses all vibrations generated by transport by means of Vibro-insulators attached to the mounting plate and the sidewalls of the case body. Each case has a large doghouse area with recessed latches on the cover as well as engraved wood side panels that are custom-fitted to retain the console firmly in the case.
The ProX Flip-Ready™ cases are handcrafted for quality control and individually tested for smooth operation. For years Audio Engineers and Front of House technicians have faced the challenge of setting up heavy mixers, many times without adequate help.  The Flip-Ready™ design allows for easy, one person, instead of four, movement from the transport position to operational position with virtually no effort.  No other case matches the quality and operational convenience of the  Flip-Ready™ ZCase® from ProX Live Performance Gear®.  What are you waiting for?
Custom Options Available
​Standard Arm holder for Laptop or Screen
Erogotron® Arm Holder for Screen or laptop
All Black Hardware
1U Keyboard Drawer
2U Drawer
---
Flip-Ready™ ATA-300 Flight/Road Case Exclusively by ProX in North America
ZCase® Patent Pending Rotational Mechanism
All Hardware by Penn Elcom®
Vibro-Insulation System™ for Internal Vibration Protection
Standard Silver on Black Design
Large Doghouse Area With Left and Right Openings
Laminated 3/4″ & 3/8″ Plywood and Solid Wood Components
Rubber Spring Action Recessed Handles
Easy Locking – Precision Fit Aluminum Tongue and Groove
Heavy and Powerful Steel Ball Corners & Dual Anchor Rivets
Recessed Industrial Butterfly Twist-Lock Latches
Four Industrial Grade 4″ Locking Casters With Self Centering
ProX Live Performance Gear® One Year Warranty
---
Fits A&H C3500 w/ Detachable Mechanism, 2U & small drawer
---
Brand
ProX Live Performance Gear
ProX Live Performance Gear makes products that are designed for professionals, by professionals. Our motto is simple; "Quality, without compromise". We believe the highest quality of components met with cutting edge design allows us to achieve our goals at a competitive price point. In 1984 ProX Started by manufacturing flight cases for broadcasting production and touring companies. Now specializing in manufacturing specific DJ controller cases for brands like Pioneer, Yamaha and DiGiCo as well as products like lighting cases, stands, cables, and bags.
All cases use CNC technology, during the manufacturing process, to assure that cases are consistently built with strict specifications and tolerances that are required for the high-quality standards that ProX cases have been known for. ProX Listens to customer feedback and consistently create outstanding solutions for all your needs. The Flip-Ready cases are manufactured in Poland and are handcrafted for quality control and individually tesfad for smooth operation. The Flip-Ready design allows for easy, one person, instead of four, movement from the transport position to operational position with virtually no effort.
GTR Direct is a proud dealer for ProX Canada