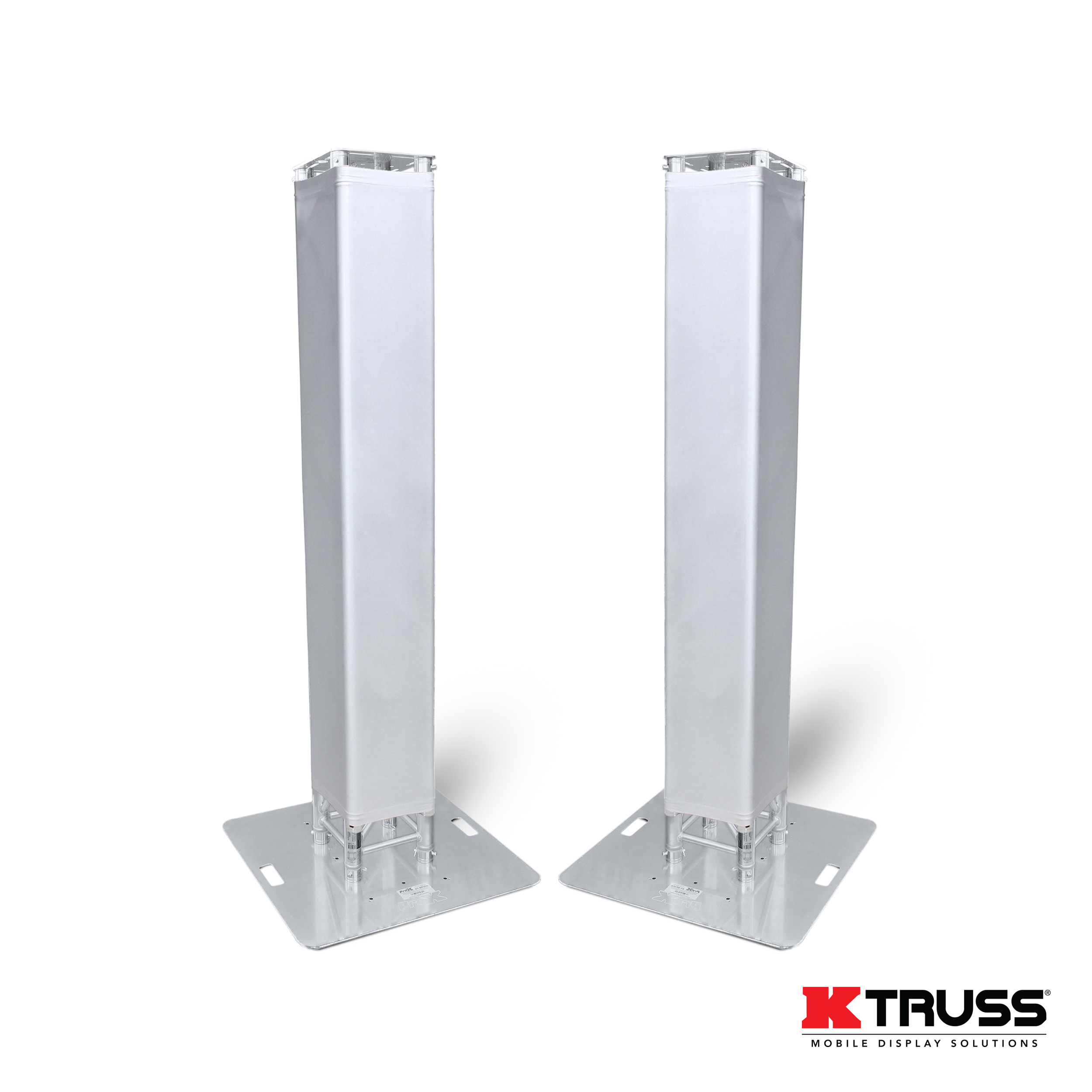 K-Truss 3.28 Lightweight Square Truss Totem Full Package Includes Top Plate and Base Plate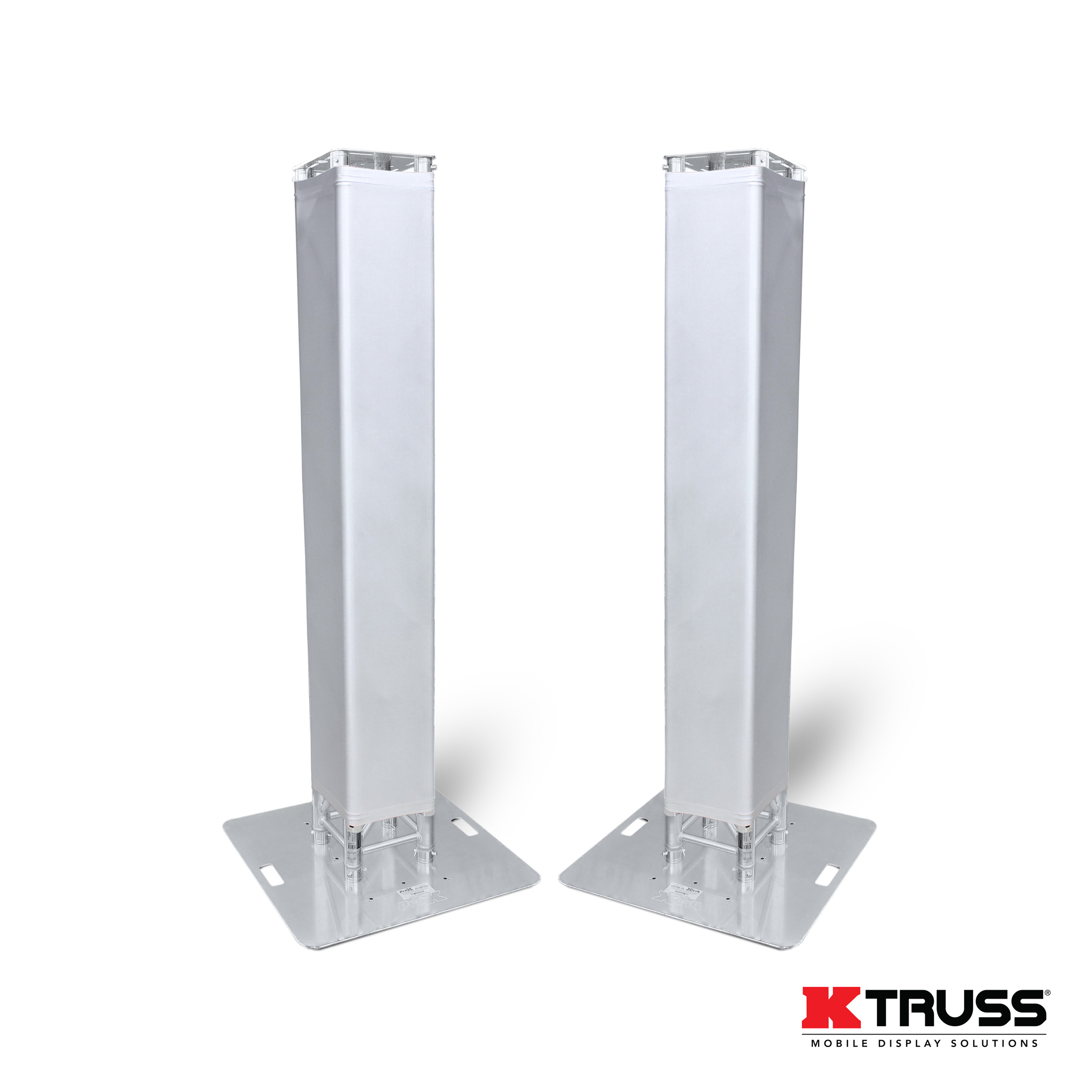 K-Truss 6.56 Lightweight Square Truss Totem Full Package Includes White Scrim, Top Plate and Base Plate
K-Truss 4.92 Lightweight Square Truss Totem Full Package Includes White Scrim, Top Plate and Base Plate
ProX KT-SQ492TOTEMTCX2 K-Truss 4.92 Lightweight Square Truss Totem Full Package Includes White Scrim, Top Plate and Base Plate
This Item No Longer Available
ProX KT-SQ492TOTEMTCX2 K-Truss 4.92 Lightweight Square Truss Totem Full Package Includes Top Plate Base Plate and Bag. This lightweight truss totem package is ideal for creating rugged Stage and Lighting displays. It's ideal for mounting Moving-Heads, LED Par cans, Lighting Bars, and more. K-Truss is compatible with most popular truss brands and can be used in conjunction with our standard F34 Truss as non-structural truss sections*. This is a great package for Mobile DJs and Stage Designers that want an all-in-one inclusive rugged totem stand. 
Package Details
This package includes two K-Truss 5′ ft Truss F34 Conical Connection Segments. Two 12″-inch Top Plates with CNC drilled offset mounting slots and holes. Two 24″-inch Aluminum 6mm Base Plates with offset holes that allow you to mount your included segments in the center, left, or right of the baseplate. All the connectors you need come with this Totem package. Two white lycra spandex covers are included to give your truss totems a finished look that hides cables and diffuses your own lighting.
About K-Truss
K-Truss is our economy light-duty truss segment line. You can get the best display solution for mounting lightweight LED lighting fixtures, banners, displays, and more by utilizing the F34 Trussing system. K-Truss gives you an advantage over investing in typical heavy-duty structural truss segments which can get pricey.
K-Truss is the ultimate solution when it comes to building trade show booths, finish line mile markers, retail kiosks, pop-up shops and temporary merchandise, outdoor festival booths, and more.
WARNING: These scrim products are for temporary use ONLY and NOT for permanent installation. Keep away from open flames, sparks, direct heat, or any type of electrical fixtures and outlets. ProX Live Performance Gear is not responsible for any bodily injury or property damage caused by misuse of this product. Scrims can be machine washed and air-dried only. Do not use harsh chemicals or chlorine bleach. Factory fire retardant loses effectiveness with washing and over time. Re-treat as needed.
*DISCLAIMER: ProX Live Performance Gear® (XStatic Pro, Inc. ) is not responsible for improper use or overloading by end-users! Consult an engineer for specific applications.  This product has a reduced load chart from ProX Live Performance Gear® and is not intended for replacement or substitute for any standard load-bearing truss segments. The third-party products shown are for display purposes and are not being advertised, nor is it included with this package.  
---
Tolerance Free Standard Conical Connector
Material: EN-AW T6-5052 Aluminium Display Grade Quality
Constructed to the highest quality by certified welders
K Series Trussing is Economic Light-Structural
Primarily designed for display structures. 
Engineering Drawings and Design Copyright
© 2019 by ProX Live Performance Gear®
---
---
Package Contents
---
Brand
ProX Live Performance Gear
ProX Live Performance Gear makes products that are designed for professionals, by professionals. Our motto is simple; "Quality, without compromise". We believe the highest quality of components met with cutting edge design allows us to achieve our goals at a competitive price point. In 1984 ProX Started by manufacturing flight cases for broadcasting production and touring companies. Now specializing in manufacturing specific DJ controller cases for brands like Pioneer, Yamaha and DiGiCo as well as products like lighting cases, stands, cables, and bags.
All cases use CNC technology, during the manufacturing process, to assure that cases are consistently built with strict specifications and tolerances that are required for the high-quality standards that ProX cases have been known for. ProX Listens to customer feedback and consistently create outstanding solutions for all your needs. The Flip-Ready cases are manufactured in Poland and are handcrafted for quality control and individually tesfad for smooth operation. The Flip-Ready design allows for easy, one person, instead of four, movement from the transport position to operational position with virtually no effort.
GTR Direct is a proud dealer for ProX Canada
Related products
ProX KT-SQ820TOTEMTCX2 K-Truss 8.20 Lightweight S

$

2,030.00

The ProX XT-S4X492 TOTEM  Truss Totem Package a

$

899.00

The ProX XT-S4X820 TOTEM  Truss Totem Package as

$

1,073.00