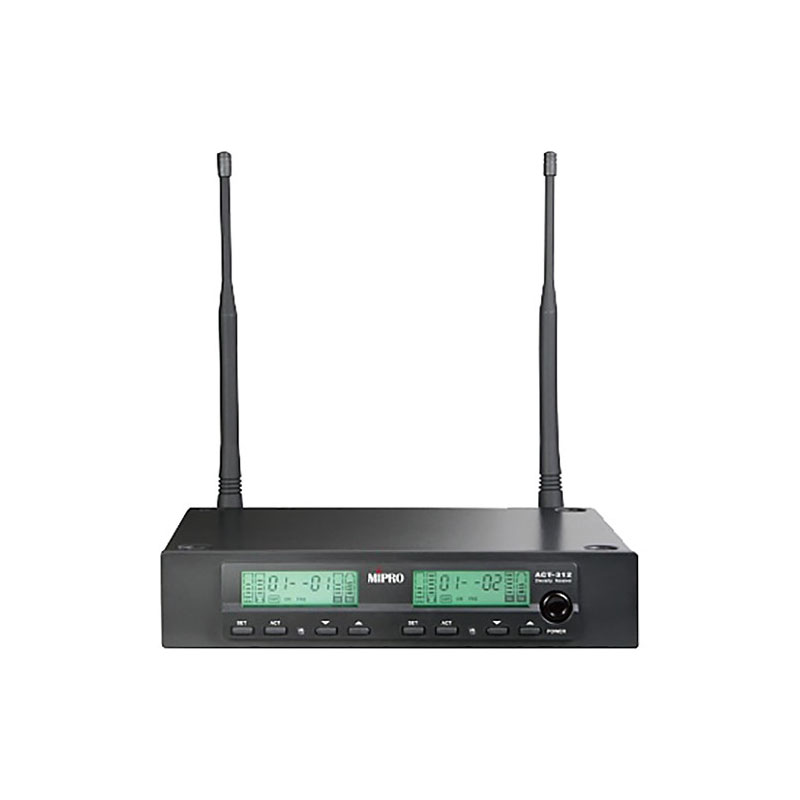 Mipro ACT-312 Half-rack Dual-channel Diversity Receiver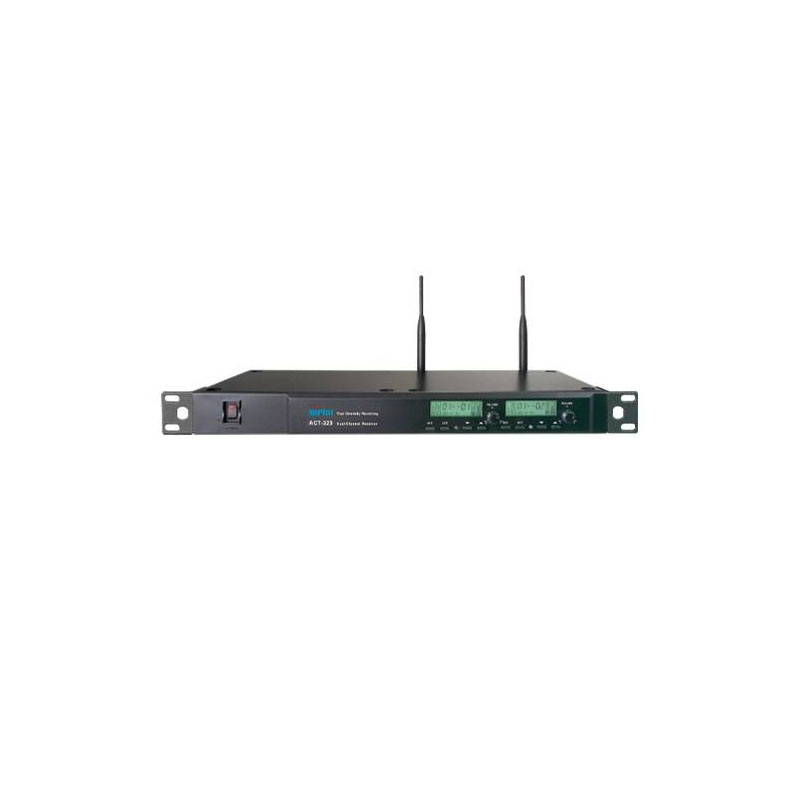 Mipro ACT-323 Full-rack Dual-channel Diversity Receiver
Mipro ACT-312/ACT-30H*2 Dual-Channel Handheld Wireless System
The Mipro ACT-312/ACT-30H*2 Dual-Channel Handheld Wireless System is a UHF frequency agile single channel half rack receiver with two ACT-30H handheld condenser wireless transmitters.
$1,026.99
Features of the Mipro ACT-312/ACT-30H*2 Dual-Channel Handheld Wireless System:
ACT-312 Receiver
Available on bands 5A (506-530 MHz), 5NC (542-566 MHz), 5ND (566-590 MHz) and 9NA (904-928 MHz)
EIA standard 1/2U metal rack-mountable receiver
Stable PLL circuit. Auto Scan function allows quick search for an interference-free working channel from 96 preset channels in 7 groups. (16 channels in group 7 can be saved and recalled from 961 user-defined frequencies)
World's first ACT™ function provides precise and rapid frequency sync to the transmitters.
Advanced diversity technology for optimum reception range reduces signal dropouts and the "PiloTone & NoiseLock" dual-squelch circuits prevent noise interference
Backlit LCD is lit in green indicates the receiver is in working mode when it detects an incoming signal or buttons are touched. The display dims automatically when the receiver is idle for about 10 seconds
Balanced XLR / unbalanced 1/4 " audio output jack, output level switch and DC input are on the rear panel. One mixed-output switch is available for dual-channel receivers
Industry's only RF interference warning indicator for proper adjustments of the SQ level
Increase sensitivity to extend receiving range; decrease the sensitivity to reduce interference
Receiver provides bias for booster where MIPRO antenna systems can be added for extended receiving range and stability
DC input jack accepts 12~15V power supply
ACT-30H Transmitter
Robust, lightweight plastic housing
The unique multi-layered metal grille protects the capsule against impact, rolling and pop noise, ensuring clarity of sound
Premium condenser capsules exhibit high fidelity, wide dynamic range, fast transient responses, good feedback rejection, accurate sound image characteristics, transparent sound quality and withstand maximum SPL
Lockable on/off switch avoids accidental power-off during performance
Impact-resistant battery compartment holds 2 AA batteries
Backlit LCD displays various parameters and status
Stable PLL circuits. Automatically synchronized with the receiver's frequency by MIPRO's patented ACT™ function
Patented "built-in" antenna design
Interchangeable colored rings for microphone channel identification on stage
High-efficiency circuitry design provides more than 16 hours of operation from 2 AA batteries (depending on the battery quality)
Specifications:
ACT-312 Receiver
Frequency Range: 5A (506-530 MHz), 5NC (542-566 MHz), 5ND (566-590 MHz) and 9NA (904-928 MHz)
Bandwidth: 24 MHz
Preset Frequency: Preset Frequency: 96 preset channels (Group 1-2: 8 compatible channels in each group // Group 3-6: 16 compatible channels in each group // Group 7: Up to 16 channels can be saved & recalled across 961 user-defined frequencies)
Receiving Mode: Diversity
Receiving Antenna: Rear Panel. Detachable
Oscillation Mode: PLL Synthesized
Stability: ≦ ±0.005% (-10 – +60℃)
Sensitivity: 10 dBμV at S/N > 80 dB
S/N Ratio: > 106 dB(A)
T.H.D.: < 0.5% @ 1 kHz
Frequency Response: 50 Hz – 18 kHz, with high pass filter
Squelch: "PiloTone & NoiseLock" dual-squelch circuit
Audio Output: Adjustment Output level accurately pre-adjusted to equal to the microphone capsule sensitivity
Selectable Output Level: Balanced: +16dB / 0dB/ -6dB; Unbalanced: +10dB / 0dB/ -6dB
Power Supply: 12 – 15 V DC, 1A
Power Consumption: 3 W
Dimensions (W × H × D): 210 × 44 × 180 mm / 8.3 x 1.7 x 7.1 "
Weight: Approx. 0.8 kg / 1.8 lbs
ACT-30H Transmitter
Frequency Range : Available on bands 5NC (542-566 MHz) and 9NA (904-928 MHz)
Bandwidth: 24MHz
Oscillation Mode: PLLSynthesized
Channel Set-Up: ACTSync
RF Output Power: 30mW
Spurious Emissions: < 4 nW
LCD Display: Group, Channel, Battery status & error codes
Max. SPL: 140 dB SPL
Battery Type: 2 AA alkaline
Operating Time: Min. 12 hours (Low Power)
Current Consumption: Approx. 92 mA
Dimensions (Ø × L): 51 × 234 mm / 2 × 9.2 "
Net Weight: Approx. 251 g / 8.9 oz
Brand
Mipro
Mipro is a leading brand in the professional audio industry, providing high-quality and reliable wireless microphone systems, portable PA systems, and audio solutions for various applications. With over 20 years of experience, Mipro has established itself as a trusted name in the market, offering advanced audio technology and exceptional sound quality.
Their products range from compact and portable wireless PA systems to advanced wireless microphone systems and audio solutions for conferences, concerts, and events. Mipro's team of experts works closely with their clients to provide customized solutions that meet their specific needs and budget, ensuring a seamless and successful audio experience.
Related products
Features of the Mipro ACT-32HC Rechargeable Handhe

$

235.99

Features of the Mipro ACT-24TC Rechargeable Bodypa

$

238.99

Features of the Mipro ACT-2401/ACT-24TC Single Cha

$

617.99