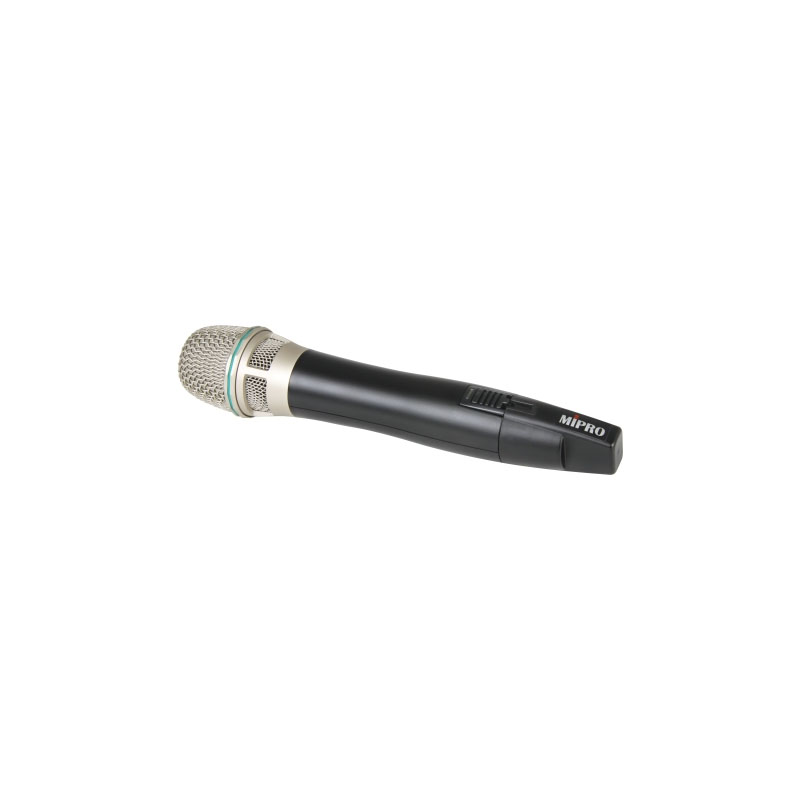 Mipro ACT-32HC Handheld Transmitter Mic
Mipro ACT-32T Miniature Bodypack Transmitter
Mipro ACT-32HR Remote Volume Control Condenser Handheld Transmitter
The Mipro ACT-32HR Remote Volume Control Condenser Handheld Transmitter offers impact-resistant battery compartment holds 2 AA batteries. The unique multi-layered metal grille protects the capsule against impact, rolling and pop noise
$288.99
Features of the Mipro ACT-32HR Remote Volume Control Condenser Handheld Transmitter:
Robust, lightweight plastic housing
Interchangeable capsule module with premium condenser or dynamic options for easy and fast changeovers
Reversible end-cap allows power on/off switch being locked to avoid accidental power-off during performance
Backlit LCD displays various parameters and status
Stable PLL circuits, automatically synchronized with the receiver's frequency by MIPRO's patented ACT™ function
Patented built-in antenna design
Interchangeable colored rings for microphone channel identification on stage
High-efficiency circuitry design provides more than 16 hours of operation from 2 AA batteries (depending on the battery quality)
Specifications:
Microphone Type – Condenser
Warranty – Yes
Mic Maximum Frequency Response: 934000 kHz
Mic Maximum Frequency Response: 934000000 Hz
Mic Minimum Frequency Response: 480000 kHz
Mic Minimum Frequency Response: 480000000 Hz
Maximum Input (SPL): 140 dB
Wireless: Yes
Product Weight: 0.55 lbs
Warranty (Length/Type): 1 Year
Brand
Mipro
Mipro is a leading brand in the professional audio industry, providing high-quality and reliable wireless microphone systems, portable PA systems, and audio solutions for various applications. With over 20 years of experience, Mipro has established itself as a trusted name in the market, offering advanced audio technology and exceptional sound quality.
Their products range from compact and portable wireless PA systems to advanced wireless microphone systems and audio solutions for conferences, concerts, and events. Mipro's team of experts works closely with their clients to provide customized solutions that meet their specific needs and budget, ensuring a seamless and successful audio experience.
Related products
Features of the Mipro ACT-323 Full-rack Dual-chann

$

559.99

Rated 5.00 out of 5

Specifications: Frequency Range UHF 480~934 MHz Ba

$

335.99

Specifications: Frequency Range 2.4 ~ 2.4835 GHz C

$

245.99