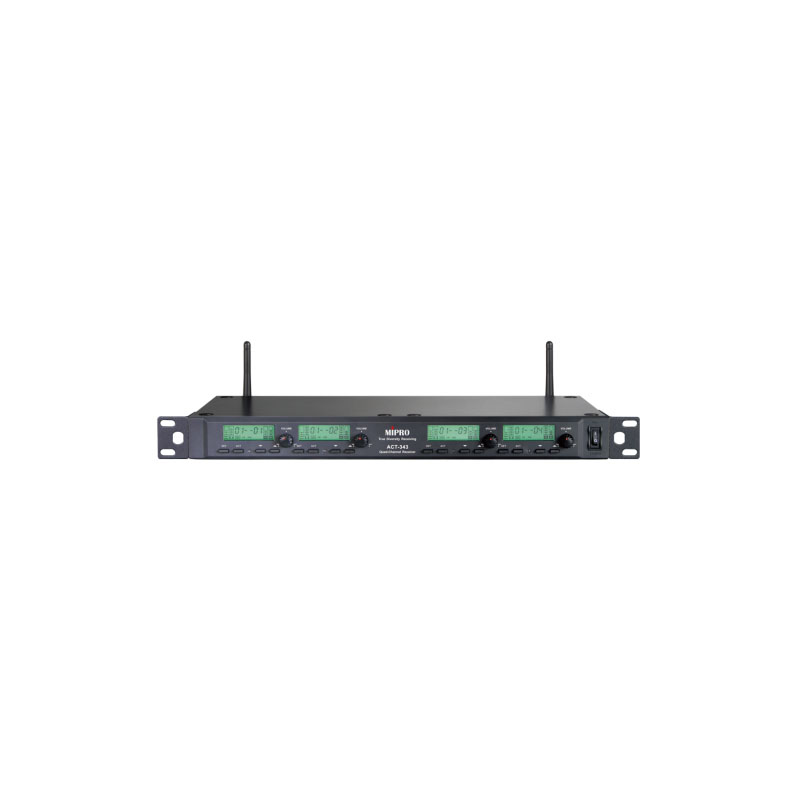 Mipro ACT-343 Full Rack Quad-Channel Diversity Receiver
Mipro 32H Condenser Handheld Transmitter Microphone
Mipro Dual-channel Diversity Receiver with 4 Handheld Transmitters
Mipro Dual-channel Diversity Receiver with 4 Handheld Transmitters with metal case to equip with a green backlit LCD screen and electronic buttons on the front panel. The LCD screen has automatic bright or dim displays during performances to identify "Working" and "Standby" mode.
$1,984.99
Features of the Mipro Dual-channel Diversity Receiver with 4 Handheld Transmitters:
The most reliable 24 MHz narrowband high dynamic range receiving circuit greatly decreases intermodulation distortion and increases interference-free compatible channels.
Advanced true diversity receiving ensures long-distance and stable reception without signal dropout.
Industry's only "PiloTone & NoiseLock" circuits and the RF interference warning indicator for proper adjustments of the SQ level to avoid interference.
MIPRO Auto Scan and ACT™ function provides the transmitter's frequency with precise and rapid sync to the receiver.
There are 7 preset groups with a total of 80 pre-saved frequencies. Group 1 & 2 each allows 8 channels of interference-free operation without any restriction. Group 3 ~ 6 each allows 16 channels of interference-free operation with restriction applied. Group 7 user-defined group allows users to choose 8 working channels from 961 available frequencies.
Each channel has separate AF signal output and presets the output level equal to the sensitivity of the microphone capsule. Switchable three levels ensure the microphone to operate within proper sensitivity and dynamic range, free from distortion.
The antenna TNC female connectors provide bias for the MIPRO antenna systems to increase the receiving range and improve the signal stability.
External 100~240V AC switching power supply ensures the system's stable performance.
Designed and made in Taiwan ensures high quality and value.
Lower Grille: Installed on the housing by a female thread.
Capsule suspension: Patented capsule suspension design virtually eliminates vibration for ultra-low handling noises.
Dynamic range: High dynamic range for loud singing without distortion.
Specifications:
Chassis EIA-Standard 19″ 1U metal chassis
Display Green backlit LCD
Frequency Range UHF 480 ~ 934 MHz (country dependent)
Bandwidth 24 MHz
Receiving Mode True Diversity
Sensitivity 10 dBμV @ S/N > 80 dB
Frequency Response 50 Hz ~ 18 kHz
S/N Ratio> 110 dBA
Audio Output Balanced: +16dB / 0dB / -6dB; Unbalanced: +10dB / 0dB / -6dB
Antenna Detachable. 50Ω TNC female connector provides bias for the MIPRO antenna systems.
Power Supply External 100~240V AC switching power supply
Dimensions 420 × 44 × 180 mm (W × H × D)
Net Weight Approx. 1.4 kg
Note Refer to the actual product in the event of product discrepancy.
Brand
Mipro
Mipro is a leading brand in the professional audio industry, providing high-quality and reliable wireless microphone systems, portable PA systems, and audio solutions for various applications. With over 20 years of experience, Mipro has established itself as a trusted name in the market, offering advanced audio technology and exceptional sound quality.
Their products range from compact and portable wireless PA systems to advanced wireless microphone systems and audio solutions for conferences, concerts, and events. Mipro's team of experts works closely with their clients to provide customized solutions that meet their specific needs and budget, ensuring a seamless and successful audio experience.
Related products
Features of the Mipro ACT-24TC Rechargeable Bodypa

$

238.99

Features of the Mipro ACT-2402 1/2U Dual-Channel D

$

1,032.99

Specifications: Frequency Range 2.4 ~ 2.4835 GHz C

$

245.99