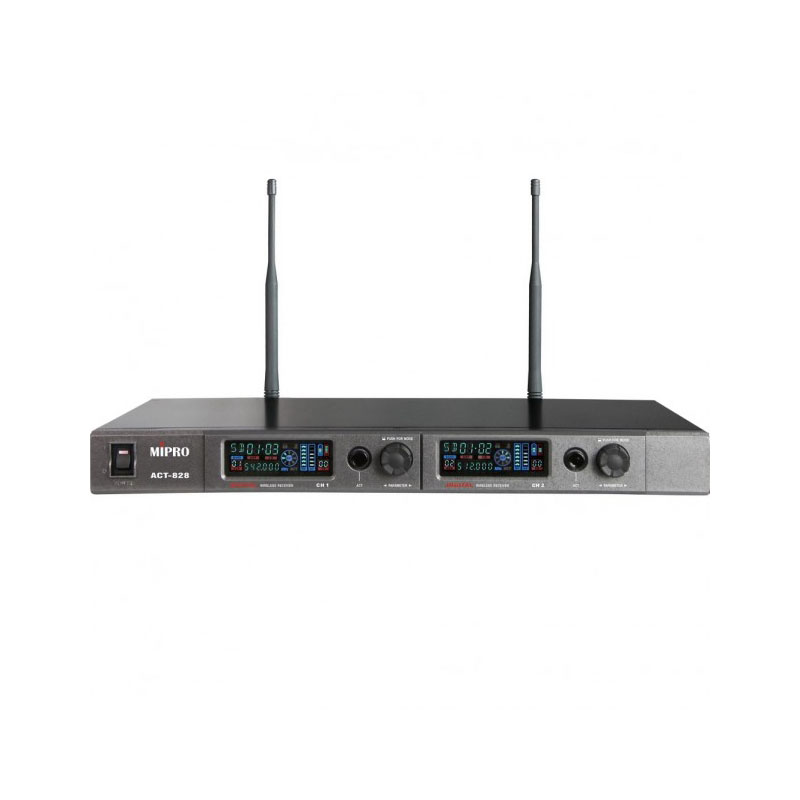 Mipro ACT-828 Wideband Dual-Channel Digital Receiver
Mipro ACT-848 Quad-Channel Encrypted Digital Receiver
Mipro ACT-828 DANTE Wideband Dual-Channel Digital Receiver
The Mipro ACT-828 DANTE Wideband Dual-Channel Digital Receiver features an enhanced RF circuitry that improves anti-interference characteristics and system compatibility. New digital diversity receiving technology.
$1,731.99
Features of the Mipro ACT-828 DANTE Wideband Dual-Channel Digital Receiver:
A full-color VFD. Quick and easy system setup via a single rotary control knob.
Dante interface enabled
Enhanced RF circuitry improves anti-interference characteristics and system compatibility
EIA standard rack-mountable receiver with metal chassis for excellent heat dissipation and RF shielding
New digital diversity receiving technology. Full-range sound quality is not affected by the strength of RF signals or operating distance
Proprietary DSP audio processor and A/D converter
Proprietary 256-bit encryption prevents unauthorized listening
10 built-in SmartEQ™ microphone capsule equalization presets suit artists' preferences
10 built-in digital anti-feedback SmartEQ™ presets for minimizing feedback
Optional MIPRO RCS2.Net software allows real-time network remote-controlling and monitoring of 64 systems
1-year warranty
Specifications:
Dante Interface Yes
Channel Dual
Chassis EIA-Standard 19″ 1U metal case
Display A color VFD
Frequency Range UHF 480 ~ 934 MHz (country dependent)
Bandwidth 64 MHz
Receiving Mode New Digital diversity
Sensitivity 12 dBμV
Spurious Rejection > 85 dB
Audio Compression Proprietary DSP audio processor eliminates the compander noise exists in analog systems.
Audio Sampling 24-bit / 44.1 kHz
Frequency Response 20 Hz ~ 20 kHz (<-2 dB) Dynamic Range > 115 dB (A)
Latency 2.7 ms
Analog Audio Output Balanced, +16 dB / 0dB / -6 dB switchable
Digital Audio Output AES / EBU digital interface
EQ Presets 10 digital audio EQ and anti-feedback EQ
Monitor Output Headphone monitor connector with volume control
Operation USB interface. MIPRO ACT-BUS for remote-control of 64 systems. FSA compatible channels calculator software allows users to manually set compatible channels.
Antenna Detachable. 50Ω TNC female connector provides bias for the MIPRO antenna systems.
Power Supply External 100~240V AC switching power supply
Dimensions (W × H × D) 420 × 44 × 230 mm / 17 × 1.7 × 9.0 "
Net Weight Approx. 2.1 kg / 4.6 lbs
Note Refer to actual product in the event of product discrepancy. Frequency range and maximum deviation comply with the regulations of different countries.
Brand
Mipro
Mipro is a leading brand in the professional audio industry, providing high-quality and reliable wireless microphone systems, portable PA systems, and audio solutions for various applications. With over 20 years of experience, Mipro has established itself as a trusted name in the market, offering advanced audio technology and exceptional sound quality.
Their products range from compact and portable wireless PA systems to advanced wireless microphone systems and audio solutions for conferences, concerts, and events. Mipro's team of experts works closely with their clients to provide customized solutions that meet their specific needs and budget, ensuring a seamless and successful audio experience.
Related products
Rated 5.00 out of 5

Features of the Mipro ACT-30H Handheld Condenser T

$

293.99

Specifications: Receiver Chassis: EIA Standard 19

$

519.99

Features of the Mipro ACT-312/ACT-30H*2 Dual-Chann

$

1,026.99