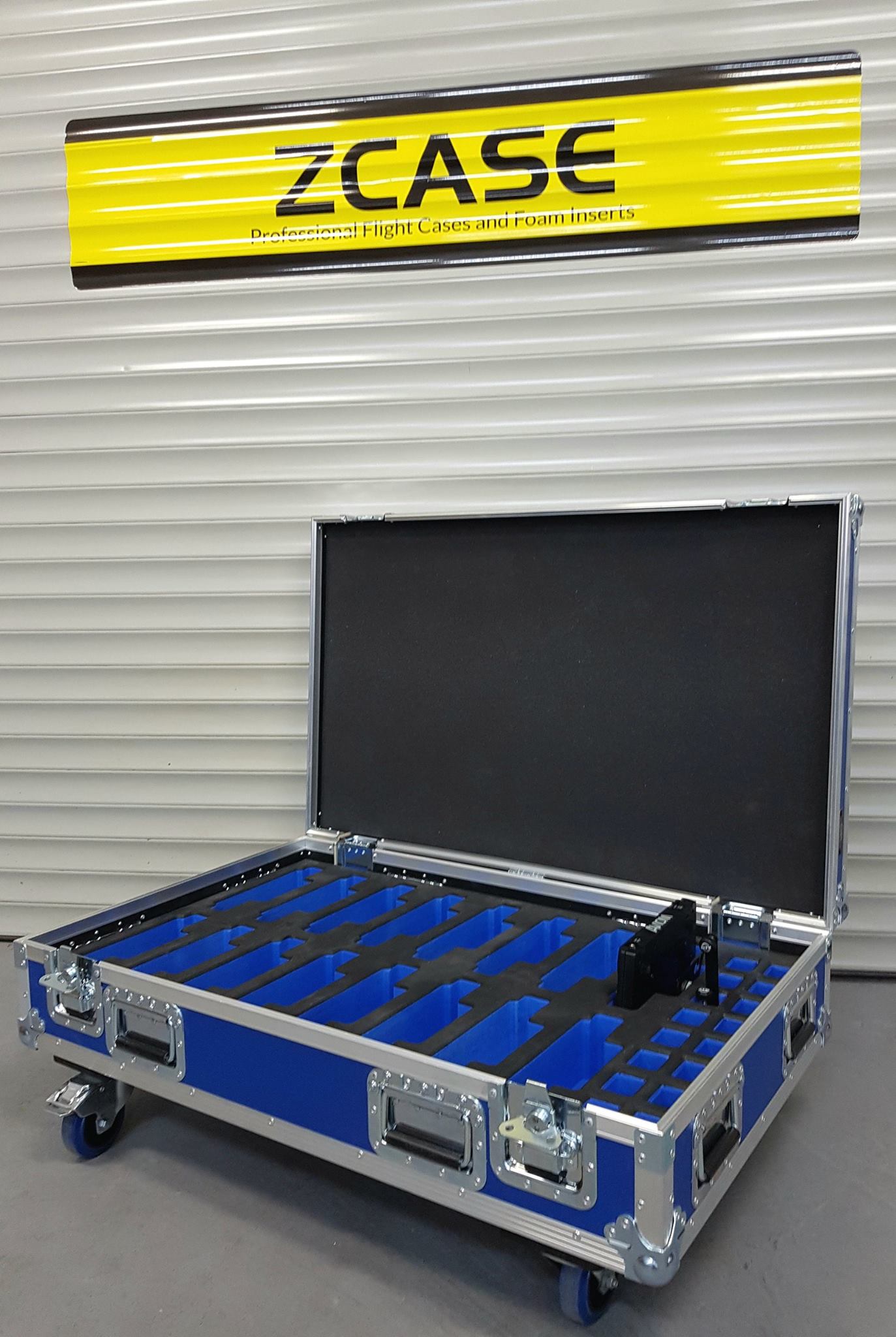 ProX Flight case for 16pcs AVIOM A320 and K&M Stand holders
March 17, 2023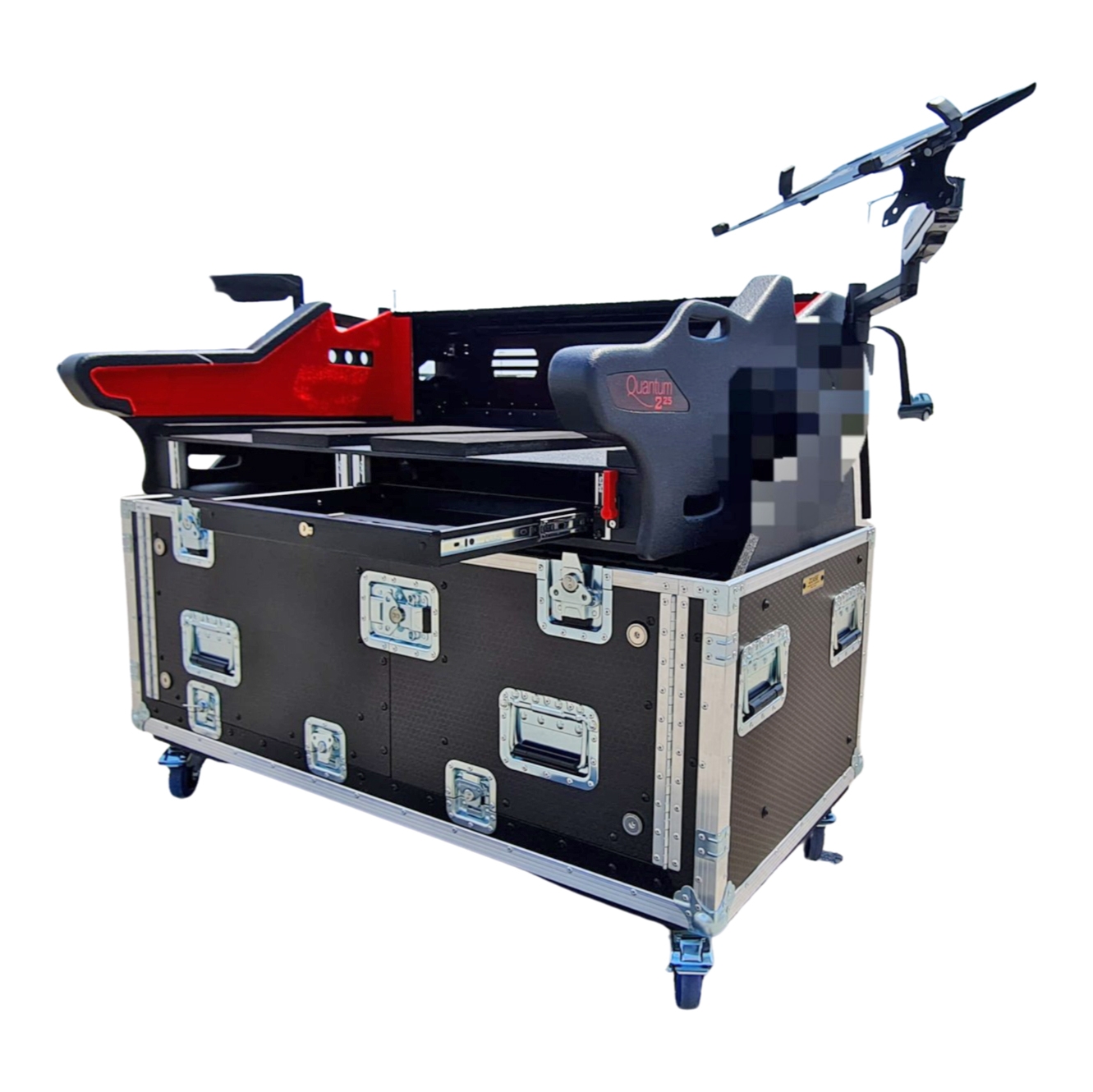 ProX Flip-Ready Easy Detachable with 2U under console Retracting Hydraulic Lift Case for DIGICO Quantum 225 Console by ZCase
March 17, 2023
ProX XZF-AVPRO 2X12U 2x4U Mobile Flight Case for Audio Video Broadcast Streaming with 2x 12U plus 2x 4U Rackspace is a mobile workstation case that can be used for Audio/Video Professionals in Broadcasting, Live Streaming, Audio Production and more. This one stop shop workstation desk is fully portable and allows you to mount and live in 2x 24-inch monitors or screens or 1 49″ Flatscreen Monitor, PC or Mac Towers, 2x 4U Top Rackspace (8U Total) and 2x 12U Bottom Rackspace (24U Total).  This is a great mobile solution for Live Audio and Video Producers, Recording Studio Producers, Musicians, Home Studio Artists, and Teachers.
The monitor lid flips Up/Down or can be adjusted to viewing on an angle for inclination of screens. It has a monitor lid mount that supports up to 49″ in. screens or can mount smaller dual or triple monitors. It has pull out sliding 20″ in. Ergnomic arm rest area that has a soft padded wrist custion and can be locked into place with the locking lever. It has two cubby storage areas at the bottom for your PC towers and mini computers. Front and back case lids are mounted via recessed butterfly latch locks and can be utilized as dual side tables by pulling out the legs located under case lid.
This workstation case has pleanty of rackspace stoarge for 19″ professional effects racks. Under the desk theres are 2x 12U shock mount rackspaces which allow you to mount up to 24U rackspaces. At the top of the workstation you have access to 2x 4U shock mount rackspaces which allow you to mount 8 of your favorite quick accessible rack effects. Thats a grand total of 32U rackspaces in one case. 
Custom Options Available
​Standard Arm holder for Laptop or Screen
Erogotron® Arm Holder for Screen or laptop
All Black Hardware
1U Keyboard Drawer
2U Drawer
---
Black / Black Finish
Supports 2x 24-inch or Single 48″ Ultrawide Monitors
2x4U Top and 2x12U Rackspace Bottom
Adjustable Monitor Viewing Angle
Heavy Duty Casters | 4″ Wheels
Sliding Keyboard/Mouse/Trackpad Shelf
Case lids have folding legs/Converts to 2x Tables
 
---
Two 24″ PC Monitors
Single 48″ Ultrawide PC Monitor
2x 12U Bottom Rack Space
2x 4U Top Rack Space
Keyboard/Mouse
Desktop PC
---
Brand
ProX Live Performance Gear
ProX Live Performance Gear makes products that are designed for professionals, by professionals. Our motto is simple; "Quality, without compromise". We believe the highest quality of components met with cutting edge design allows us to achieve our goals at a competitive price point. In 1984 ProX Started by manufacturing flight cases for broadcasting production and touring companies. Now specializing in manufacturing specific DJ controller cases for brands like Pioneer, Yamaha and DiGiCo as well as products like lighting cases, stands, cables, and bags.
All cases use CNC technology, during the manufacturing process, to assure that cases are consistently built with strict specifications and tolerances that are required for the high-quality standards that ProX cases have been known for. ProX Listens to customer feedback and consistently create outstanding solutions for all your needs. The Flip-Ready cases are manufactured in Poland and are handcrafted for quality control and individually tesfad for smooth operation. The Flip-Ready design allows for easy, one person, instead of four, movement from the transport position to operational position with virtually no effort.
GTR Direct is a proud dealer for ProX Canada