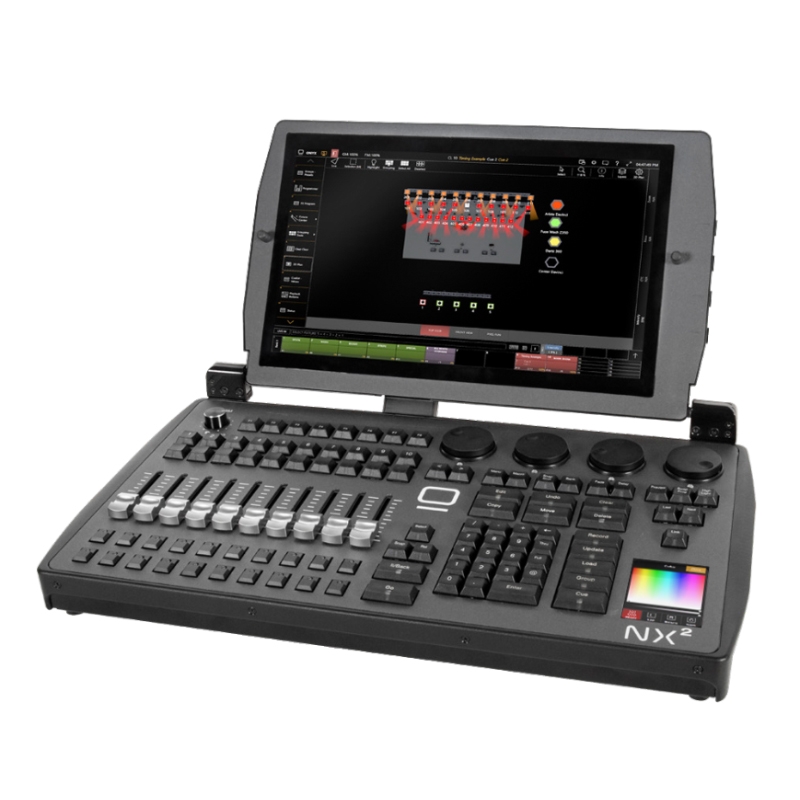 Obsidian Control NX 2 DMX Controller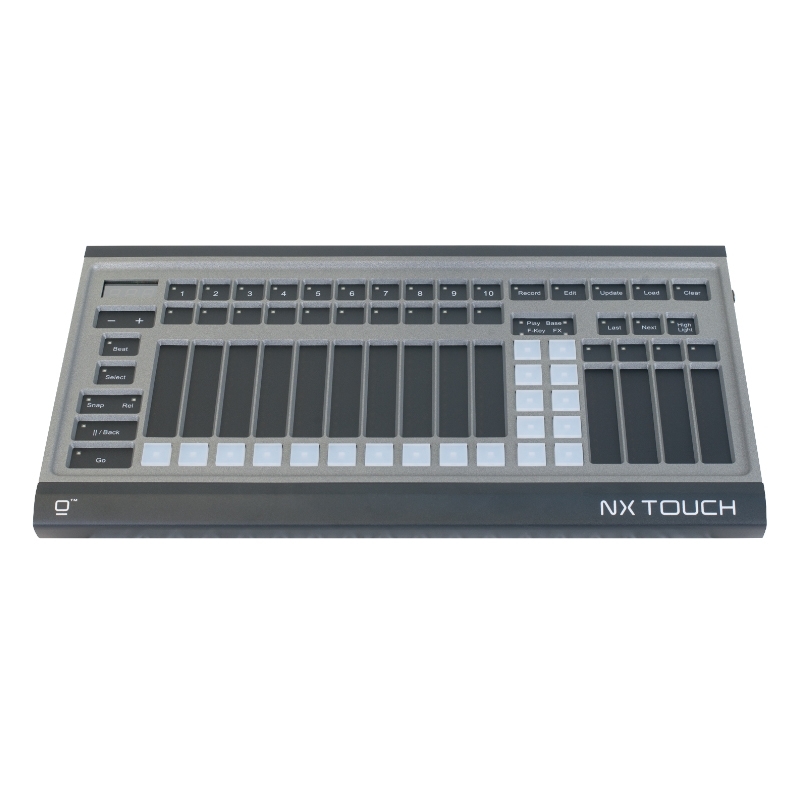 Obsidian Control NX TOUCH Control Surface
Obsidian Control NX Wing USB Control Surface
$3,887.00
Specifications:
Fully featured control surface, portable and lightweight
10 Playbacks, Encoders, Keypad and internal touchscreen
DMX, Timecode and Midi Connectivity
128 Universe License for ONYX included
Plug and Play USB device for any PC with ONYX
Surface:
10 x 60 mm playback faders, each with 4 x function- assignable buttons
8 x customizable multi-function keys
Playback Select button
Master Go section with Go, Pause, Snap and Release
4 x digital rotary encoders with push function and status LED for fixture parameter control
3.5" RGB touchscreen for parameter groups, effect parameters, fanning and global timings
Grand master rotary fader and button
Blind/HighLight/Last/Next buttons
Full numerical keypad and command keys
Hardware:
4 x DMX / RDM Universe In/Out: 5-pin locking XLR
Internal MIDI in/out/thru (MIDI Show Control, MIDI notes, MIDI timecode)
Internal SMPTE Timecode In/Out: 3-pin XLR
12 VDC power supply input: 4-pin XLR
Desk lamp: XLR 12V
USB Input: USB 2.0 B
Connections:
4 x DMX / RDM Universe In/Out: 5-pin locking XLR
External Display: 2x DisplayPort (up to 4k)
Network: 2x Gigabit for Art-Net, sACN and ONYX X-Net
Storage and Peripherals: 4x USB 3.0, 1x USB 2.0
Audio Out, Mic In: 2x 3.5mm Jack
MIDI in/out/thru (MIDI show control, MIDI notes, MIDI timecode): 5 pin DIN
SMPTE Timecode In/Out: 3-pin XLR
12 VDC power supply input: 4-pin XLR
Desk lamp: XLR 12V
USB In: USB 2.0 B
Physical Dimensions
Length: 30 0mm (11.9 in.)
Width: 540 mm (21.3 in.)
Height: 99mm (3.9 in.)
Weight: 4.6 kg (10.2 lbs.)
Electrical Specifications
AC mains power to 12 VDC external PSU (included): 100-240 V nominal, 50/60 Hz
Maximum current: 1.4 A
12 VDC output: 5 A, 60 W max.
| | |
| --- | --- |
| Weight | 21 lbs |
| Dimensions | 26 × 10 × 17 in |
Brand
Obsidian Control
Obsidian Control Systems is a cutting-edge brand in the lighting and control industry, providing innovative and intuitive solutions for lighting professionals worldwide. With a focus on user-friendly design and advanced technology, They offer a range of lighting control products that are both powerful and easy to use.
Obsidian Control Systems was founded in 2016 by a group of experienced lighting industry professionals who had previously worked at leading lighting control companies such as ETC and Martin Professional. The founders saw an opportunity to create a new kind of lighting control system that would be more flexible, powerful, and user-friendly than existing products. To develop their new lighting control platform, the founders of Obsidian Control Systems acquired the rights to the ONYX lighting control software from Martin Professional, which had previously developed the software for their M-Series lighting consoles. The founders then set about redesigning and improving the software to create a new, more powerful lighting control system that could be used on a range of hardware devices.
In 2017, Obsidian Control Systems launched their first product, the ONYX lighting control platform, which was well-received by the lighting industry for its powerful features and intuitive interface. The company continued to develop and refine the ONYX software, adding new features and capabilities, and expanding the range of hardware devices that could be used with the platform.
GTR Direct is a proud dealer for Obsidian Control Canada
Related products
Rated 5.00 out of 5

Features of the ADJ COMPU CUE BASIC: Mode: Live Us

$

769.00

Rated 5.00 out of 5

Features of the ADJ RGB3C-IR 3-Channel RGB LED Con

$

83.00

Rated 5.00 out of 5

Specifications: The Work Pro LS-1 Lightshark DMX

$

2,249.00