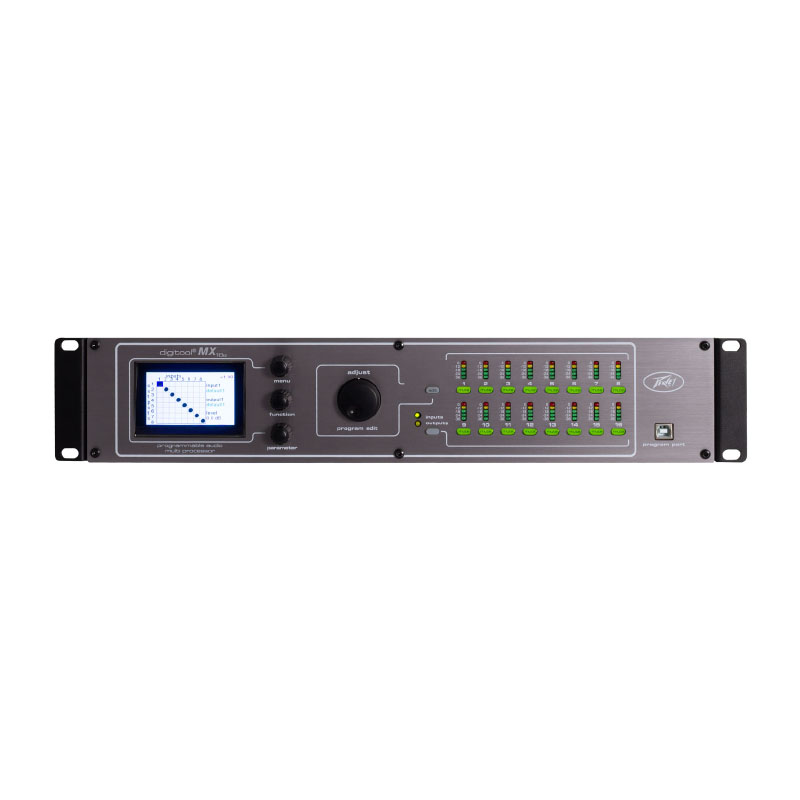 Peavey Digitool MX16 Digital Audio Processing Unit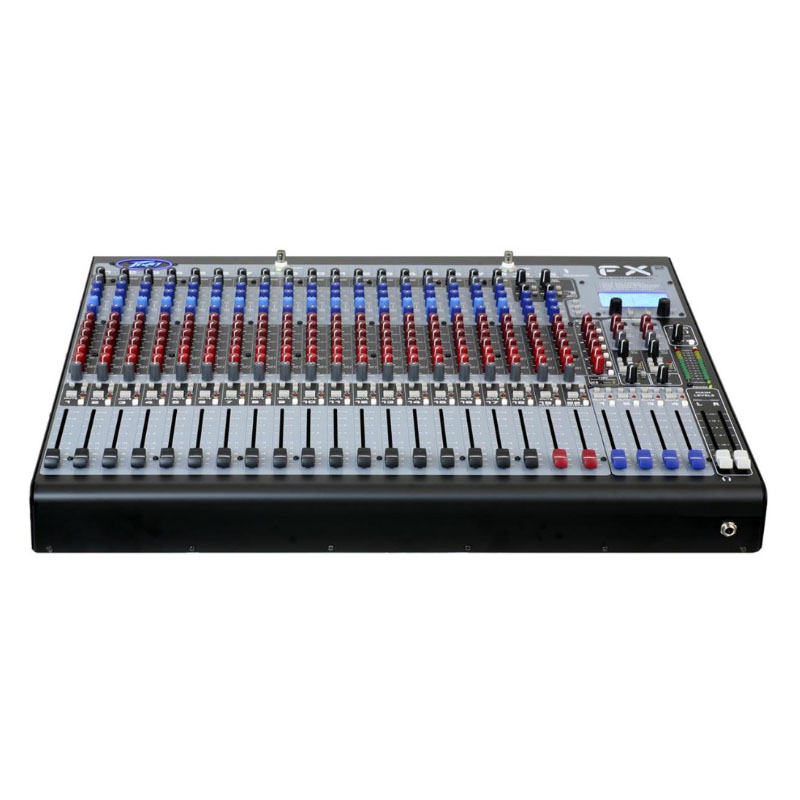 Peavey FX 2 24 Channel Non-Powered Mixer
Peavey Digitool MX32 Digital Audio Processing Unit
Peavey Digitool MX32 Digital Audio Processing Unit has the power and flexibility to perform loudspeaker management functions in addition to matrix mixing, room combining and other audio processing functions for installed and portable sound systems.
$3,431.99
Features of the Peavey Digitool MX32 Digital Audio Processing Unit:
• 16 input, 16 output DSP processor
• 48V phantom power switchable on each input
• Enhanced navigation
• Front panel mute switches for all inputs and outputs
• Front panel "edit" button enables access to the encoders for programming
• 5-segment LED meters for input and output level visualization
• Front panel USB "B" port provides easy access to connect a laptop for programming purposes
• RS-485 input for external control of level, mute and preset recall
• Eight rear panel control voltage ports expands flexibility for system control configuration and integration
• NWare based graphical user interface
• Two AES inputs that can be assigned to any of the outputs
• Full color LED display
Processing Functions
• Full matrix routing with mute and level control at each cross-point
• Input and output filters including: PEQ, hi-shelf, lo-shelf, hi-pass, all-pass and horn-EQ
• Crossover filters to fourth order, including Butterworth, Bessel and Linkwitz-Riley alignments
• Delay of up to 2.5 seconds on each input and output with sample period resolution
• Gate and compressor on every input
• Compressor/limiter on every output
• Digitally controlled analog input and output level controls for maximum dynamic range
• Four audio-triggered, priority mute buses
• Automix capability
• Signal generator
• Copy/Paste of input and output settings
• Preset storage and recall (eight internal preset locations)
Specifications:
Channels (Input)
16
Channels (Output)
16
DSP On-Board
Yes
Network Control
Yes
Frequency Response
10 Hz – 20 kHz; ±0.5% dB
Input Connectors
16 x 3-pin Euro Connector & 2 x 3-pin Euro Connector (AES In)
Output Connectors
16 x 3-pin Euro Connector
Mute Groups
Yes
Phantom Power
Yes (48V)
Front Panel Control
Yes
GPIO & Relays
Yes (8 x CV)
Rack Mount (19″)
Yes (2U)
Net Weight
11.0 lbs (5.00 kg)
Product Height
3.50″ (89 mm)
Product Width
19.00″ (483 mm)
Product Depth
13.13″ (333 mm)
AC Power Input
Universal Power Supply 100-240VAC 47-63 Hz
Brand
Peavey
Peavey provides the system designer and integrator an entire range of products, from the microphone to the loudspeaker, and every link in the signal chain in between.  Regardless of the size of the installation, Peavey offers clever and affordable solutions at every level.
Peavey features an extensive variety of microphones, from dynamic vocal mics to special application microphones for fixed installations to measurement mics. The Escort portable public address systems allow users to take quality anywhere, any time.
Our Digitool MX Series fixed architecture Digital Signal Processors can be found in small to mid-sized installations around the world. Easy to install and easy to program via an external graphical user interface, the Digitool is the most cost-effective way to provide sound-shaping, routing and control capabilities to any installation.
Peavey offers an entire range of loudspeaker solutions for practically any application that can fill the smallest meeting room to the largest performance venue.
Best of all, designers and integrators can specify Peavey products with confidence of knowing that over 55 years of experience, over 130 patents and the knowledge and expertise of our global support staff stand behind every product we manufacture.
Related products
Rated 5.00 out of 5

Features of the QSC E115 15in 500W Passive Speaker

$

1,429.00

Rated 5.00 out of 5

$

152.00

Rated 5.00 out of 5

Features of the QSC GX7 Power Amplifier (725W):

$

1,099.00