QSC TouchMix-30 Carrying Tote
November 14, 2021

QSC GX5 Power Amplifier (500 Watts)
November 14, 2021
QSC GX3 Power Amplifier (300 Watts)
QSC GX3 Power Amplifier is ideal for professional entertainers who require maximum performance and portability on a limited budget. QSC designers, headed by Pat Quilter, have optimized output and appearance while reducing raw material cost and weight. It's all here – dramatic styling, easy hookup and adjustments, excellent audio quality and QSC reliability.
$699.00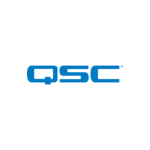 Features of the QSC GX3 Power Amplifier (300 Watts):
Power levels matched to the most popular speakers used by entertainers
Optimized for maximum real-world headroom into 4 ohm and 8 ohm speaker systems
Inputs: XLR, 1/4″ TRS and phono input connectors for compatibility with any source
Outputs: Speakon® combo accepts, 1/4″ (TS) plugs or Speakon 2-pole and 4-pole plugs (connects 2 poles only). Binding posts support all other speaker wiring systems.
Minimum depth chassis (10.1″ / 257 mm) fits in compact, inexpensive effects racks
Lightweight – less than 30 lbs (13.5 kg)
Detented gain controls for precise setting and matching of sensitivity
GuardRail™ automatically protects the amplifier and loudspeakers from damage due to temperature rise or overdrive without shutting down the show
Front panel LEDs monitor Power, Signal and Clipping
Subwoofer/Satellite crossover built-in
Specifications
QSC GX & GXDSeries Power Handling
Both channels driven
Single channel driven
8Ω
4Ω
8Ω
4Ω
GX3
300w
425w
350w
500w
GX5
500w
700w
600w
850w
GX7
725w
1000w
800w
1250w
GXD4
600w
800w
GXD8
1500w
2250w
Brand
QSC audio
QSC – globally recognized innovator in the design, engineering and manufacture of category leading high-performance loudspeakers, digital mixers, power amplifiers, audio processors, digital cinema solutions, and the Q-SYS™ software-based audio, video and control Ecosystem. QSC thrives where enabling technology and audio-visual experiences intersect.
GTR Direct is a proud dealer for QSC audio Canada