Shure BETA91A Boundary Bass Drum Microphone
March 21, 2022

Shure DMK57-52 BETA Drum Mic Kit
March 21, 2022
Shure BETA98H/C Instrument Microphone w/Preamp
Shure BETA98H/C Instrument Microphone w/Preamp clamps onto the bell of wind instruments or onto the rim of percussion instruments. The integrated gooseneck and ratcheting swivel joint allows the mic to be easily positioned and secured, and an isolation shock-mount reduces the transmission of instrument 'key noise' and other mechanical noise.
$279.00
Available on backorder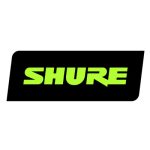 Features of the Shure BETA98H/C Instrument Microphone w/Preamp:
The Beta 98 H/C and WB98 H/C feature transformerless preamplifier circuitry which improves linearity across the full frequency range.

The pickup pattern provides high gain-before-feedback and excellent rejection of unwanted noise.

Its high maximum sound pressure level (SPL) enables it to handle the extreme demands of brass, woodwind and percussion instruments.
The Beta98H/C features a 3 m (10 ft.) high-flex cable with attached preamplifier (XLR connection)

The WB98H/C features a 1.6 m (5.3ft) high-flex cable terminating in a 4-pin mini-connector, for use with wireless bodypack transmitters
Tailored frequency response for open, natural sound reproduction
Compact, lightweight construction provides a low degree of visibility
Gooseneck, ratcheting swivel joint and gooseneck angle brace allow for optimum placement and fixed positioning
Legendary Shure ruggedness and reliability
Interchangeable replacement cartridges:
RPM108 : Cardioid
RPM110 : Supercardioid
Brand