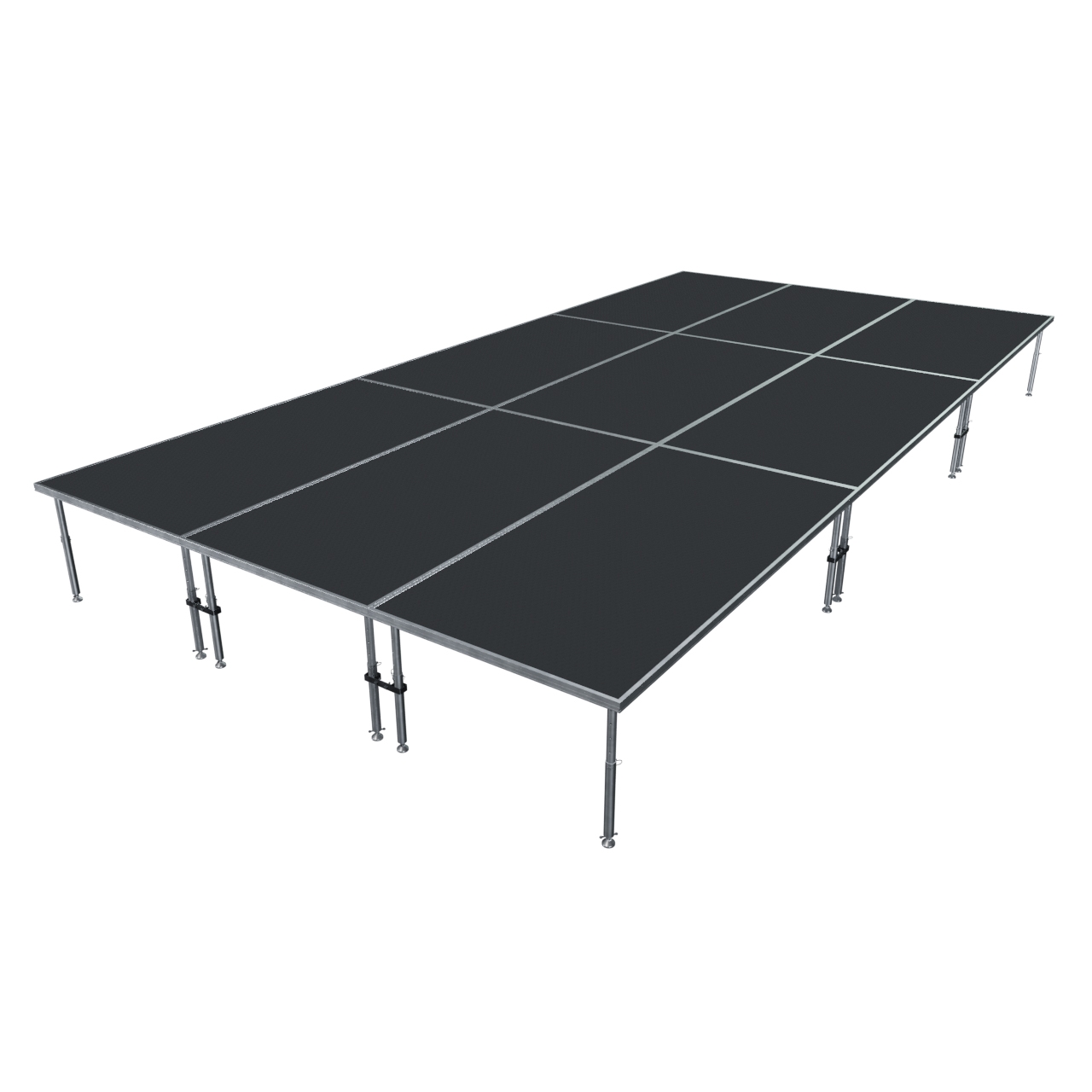 StageQ 9-Stage Package | 12Ft X 24Ft Total Stage Area | Adjustable 28 Inch to 48 Inch Height
March 17, 2023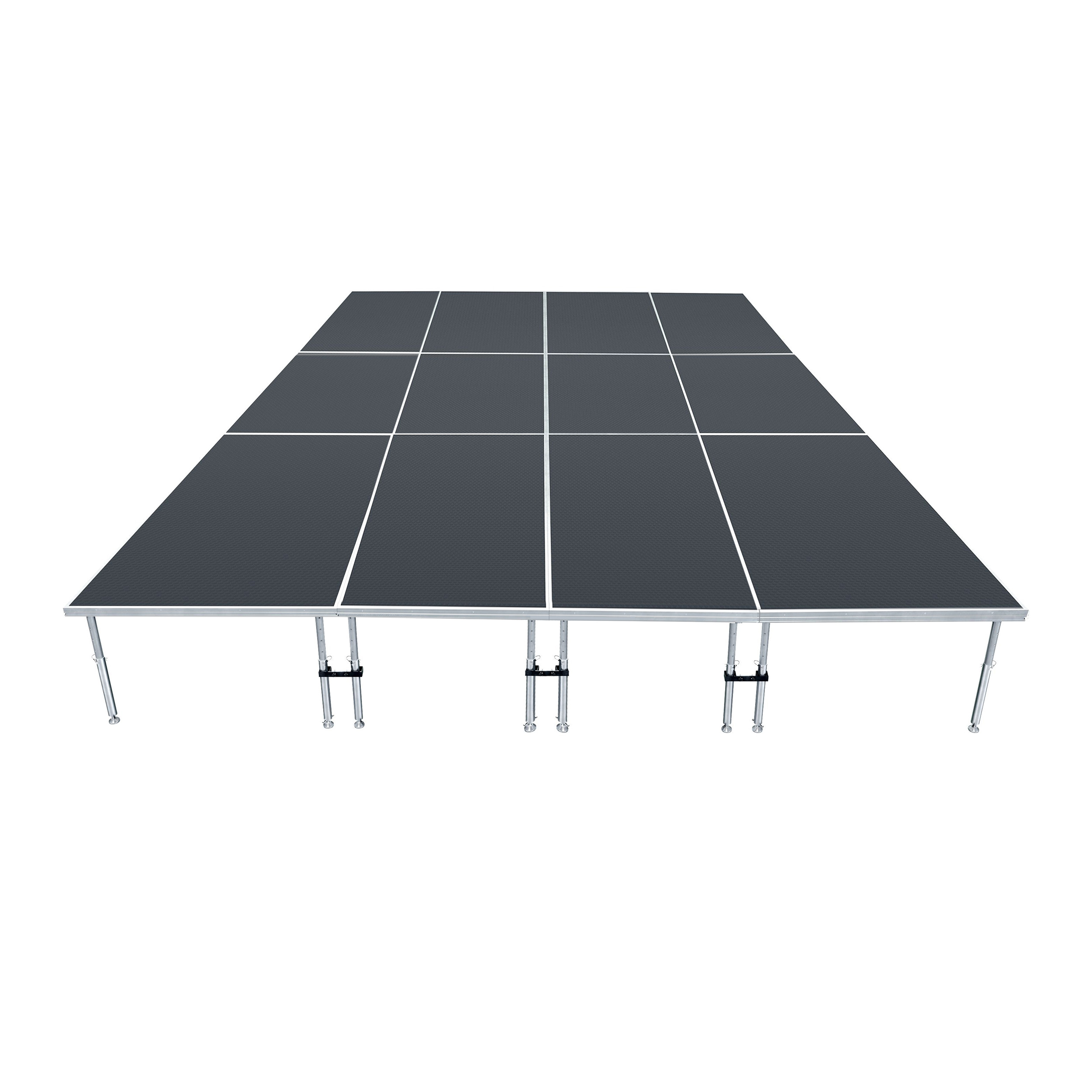 StageQ 12-Stage Package | 16Ft X 24Ft Total Stage Area | Adjustable 28 Inch to 48 Inch Height
March 17, 2023
The ProX XSQ-12X8 PKG-48 contains all the necessary parts you need to create a 12-foot by 8-foot stage system that is adjustable from 28 Inch to 48 Inch Height.   It does NOT include steps or guardrails that are available separately at additional cost.  The included parts are listed below.
The ProX XSQ MK2 Heavy Duty Platform Series is a convenient transportable staging solution that built tough and designed for maximum durability and safety. Engineered to minimize your set up time and effort with industry-leading design, materials, and precision production process.  The XSQ-4X8 MK2 Platform is a single side, indoor and outdoor, weather-resistant, portable staging platform. Each stage platform includes four adjustable telescoping legs that adjust from 28″ to 48″  which are equipped with ball and socket adjustable leg base feet.  These legs make it possible to quickly and precisely adjust the stage height.  The non-slip textured laminated surface is built to hold up against the most demanding conditions.  They are built to last and carry the ProX One Year (365 days) Limited Warranty
Included materials:
(3)  XSQ-4X8 MK2 4'x8' StageQ MK2 Decks
(12) 28" to 48" Telescoping Legs
(6) Stage Clamps
(3)  XSQ-C05 Deck Security Clamps
(4)  XSQ-MX2 Two Leg Clamps
---
3 – 4ft X 8ft modular sections
Constructed with 7/8″ (22 mm) thick exterior rated plywood deck has virtually zero voids
High strength, non-slip textured finish black laminate top surface for durability and moisture resistance
Engineered to support 1100 lbs per 4′ x 4′ area of uniformly distributed live load
A locking system provides a monolithic floor when platforms are locked together
The platform only needs support in four corners for quick setup
Proprietary aluminum side rail extrusion allows for guardrails, step units, closure panels, chair stops, and skirting clip attachment
Platforms are easily handled by only two people reducing labor costs
Aluminum side rails and components have an ultimate tensile strength of at least 20,000 psi
The aluminum support structure (legs) have an ultimate tensile strength of at least 28,000 psi
 Equipped with ball and socket adjustable leg base feet. 
ProX One Year (365 days) Limited Warranty
---
ProX StageQ MK2 Stage Decks
---
Package Contents
XSQ-4X8-MK3 (3) StageQ MK3 4×8 Ft Heavy Duty Stage Platform Incl. 6 Adjustable Legs, 28″ to 48″ inch
XSQ-MX2 (6)
---
Brand
ProX Live Performance Gear
ProX Live Performance Gear makes products that are designed for professionals, by professionals. Our motto is simple; "Quality, without compromise". We believe the highest quality of components met with cutting edge design allows us to achieve our goals at a competitive price point. In 1984 ProX Started by manufacturing flight cases for broadcasting production and touring companies. Now specializing in manufacturing specific DJ controller cases for brands like Pioneer, Yamaha and DiGiCo as well as products like lighting cases, stands, cables, and bags.
All cases use CNC technology, during the manufacturing process, to assure that cases are consistently built with strict specifications and tolerances that are required for the high-quality standards that ProX cases have been known for. ProX Listens to customer feedback and consistently create outstanding solutions for all your needs. The Flip-Ready cases are manufactured in Poland and are handcrafted for quality control and individually tesfad for smooth operation. The Flip-Ready design allows for easy, one person, instead of four, movement from the transport position to operational position with virtually no effort.
GTR Direct is a proud dealer for ProX Canada