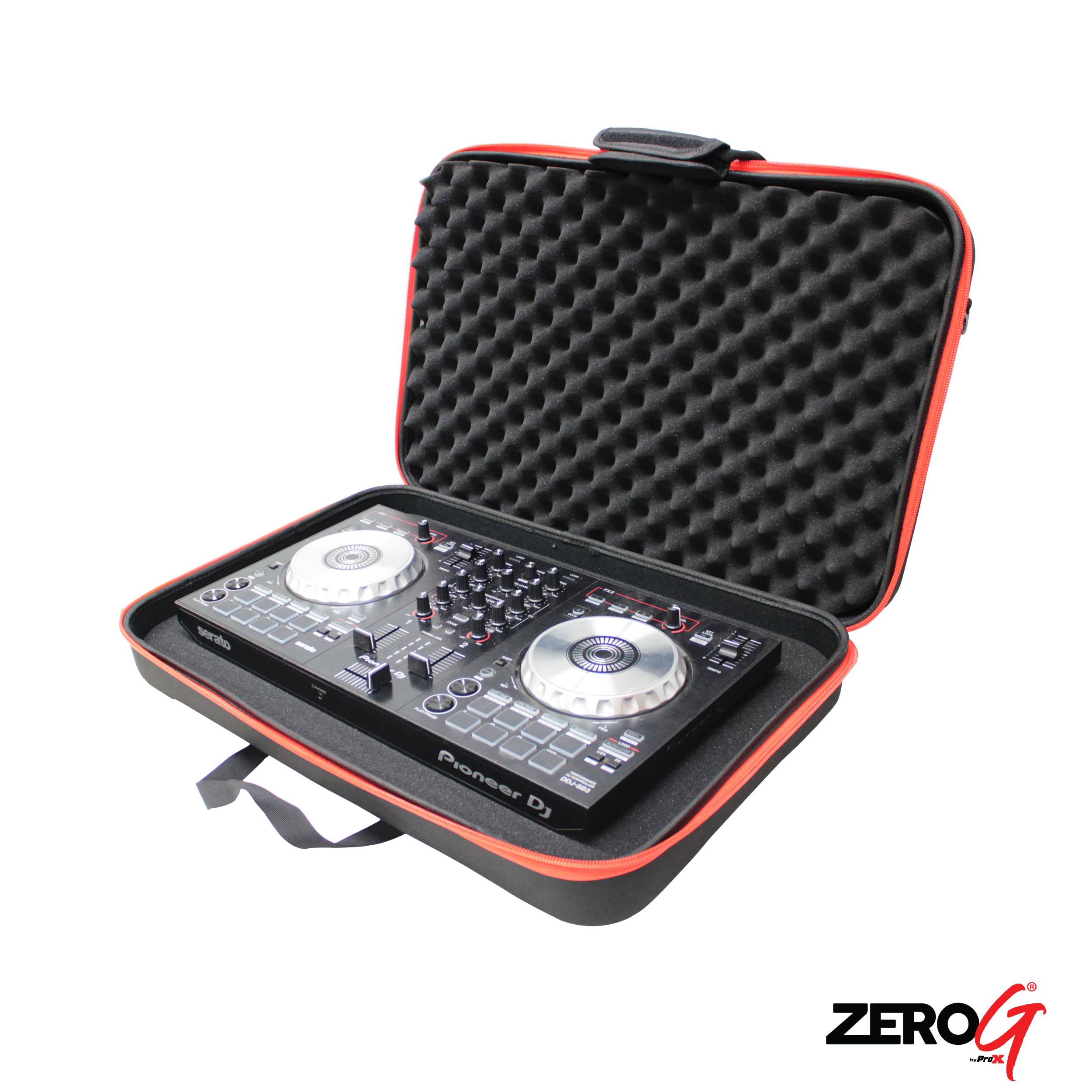 ProX ZeroG EVA Ultra-Lightweight Small Bag Molded Hard-Shell Case for DDJ-SB3 RB RR SR2
March 9, 2023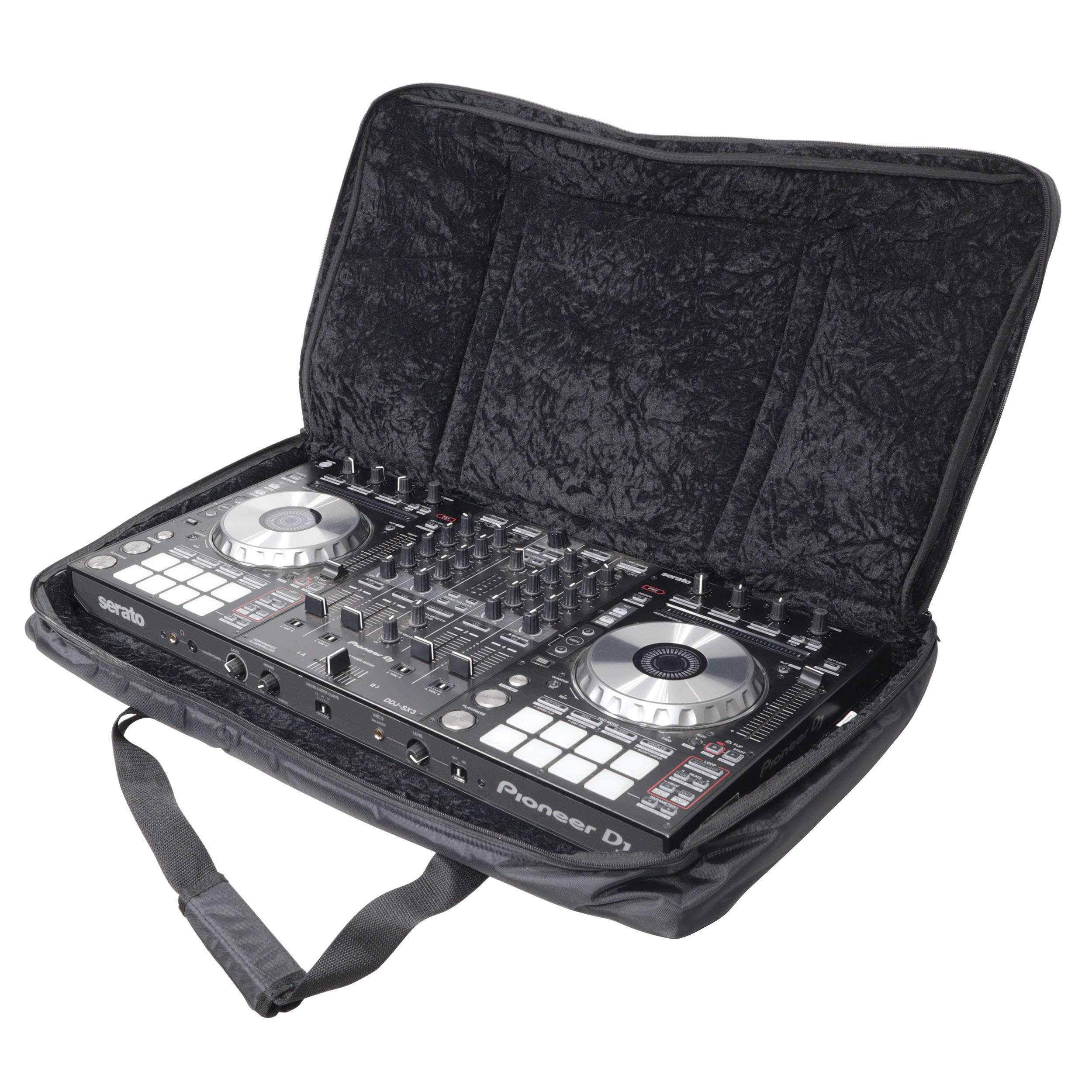 ProX MANO™ Mobile DJ Bag for Pioneer DDJ-1000 SRT
March 9, 2023
The ProX XB-DJCL ZeroG™ Case is specifically made for Large Sized DJ Controllers such has the Pioneer® XDJ-XZ and DDJ-SZ2, and similar sized DJ Controllers. The ZeroG™ series is a great product falling between a traditional hard ATA style case and a soft padded bag.  This ProX  Ultra Lightweight Molded Hard-Shell Case/Bag with a hard-shell reinforced molded EVA exterior, lined with a high density foam padded interior and a tough zipper is the perfect compliment to your gear when you want a strong, ultra-lightweight, good looking case for your equipment.
Build Quality
This unit is not your typical soft bag, it is a hybrid product combining the light weight and utility of a bag with the additional protection and durability afforded by the hard shell exterior and high density interior foam.   The ZeroG™ products are ideal when you need to transport your controllers and the use of a traditional wood and steel road case is not practical.  It is great for carry on to aircraft, or for easy transport by Club DJs that travel from venue to venue.
Strong Lightweight Protection
For your controller that needs protection, a thermoformed ZeroG™ ProX EVA Hard-Shell Case is an ideal solution. Due to it's durability and rigidity, EVA units offer a great alternative to hard plastic cases and road cases, without sacrificing protective properties.  Our proprietary lamination process creates better adhesion of cover materials to the formed foam interior.  
Quality Materials
Ethylene-Vinyl Acetate is an incredible copolymer that serves multiple application purposes. Originally known for it's use in shoes, EVA material is sometimes referred to as foam rubber. However, our thermoforming process allows us to utilize this material to create "hard-shell" bags that are softer to the touch than cases, and won't crack like plastics and have substantially less weight than traditional road cases. This means our customers get the protection and durability needed to protect their gear while also having a branded, aesthetically great looking way to transport their controllers.
---
Ultra-Lightweight Molded EVA (Only 6 Pounds)
Reinforced Hard-Shell Copolymer Exterior
High Density Foam Interior
Tough Zipper for easy opening/closing
Fits Most Large Sized controllers
One year ProX Limited Warranty
---
---
| | |
| --- | --- |
| Weight | 9 lbs |
| Dimensions | 37 × 20.5 × 6 in |
Brand
ProX Live Performance Gear
ProX Live Performance Gear makes products that are designed for professionals, by professionals. Our motto is simple; "Quality, without compromise". We believe the highest quality of components met with cutting edge design allows us to achieve our goals at a competitive price point. In 1984 ProX Started by manufacturing flight cases for broadcasting production and touring companies. Now specializing in manufacturing specific DJ controller cases for brands like Pioneer, Yamaha and DiGiCo as well as products like lighting cases, stands, cables, and bags.
All cases use CNC technology, during the manufacturing process, to assure that cases are consistently built with strict specifications and tolerances that are required for the high-quality standards that ProX cases have been known for. ProX Listens to customer feedback and consistently create outstanding solutions for all your needs. The Flip-Ready cases are manufactured in Poland and are handcrafted for quality control and individually tesfad for smooth operation. The Flip-Ready design allows for easy, one person, instead of four, movement from the transport position to operational position with virtually no effort.
GTR Direct is a proud dealer for ProX Canada