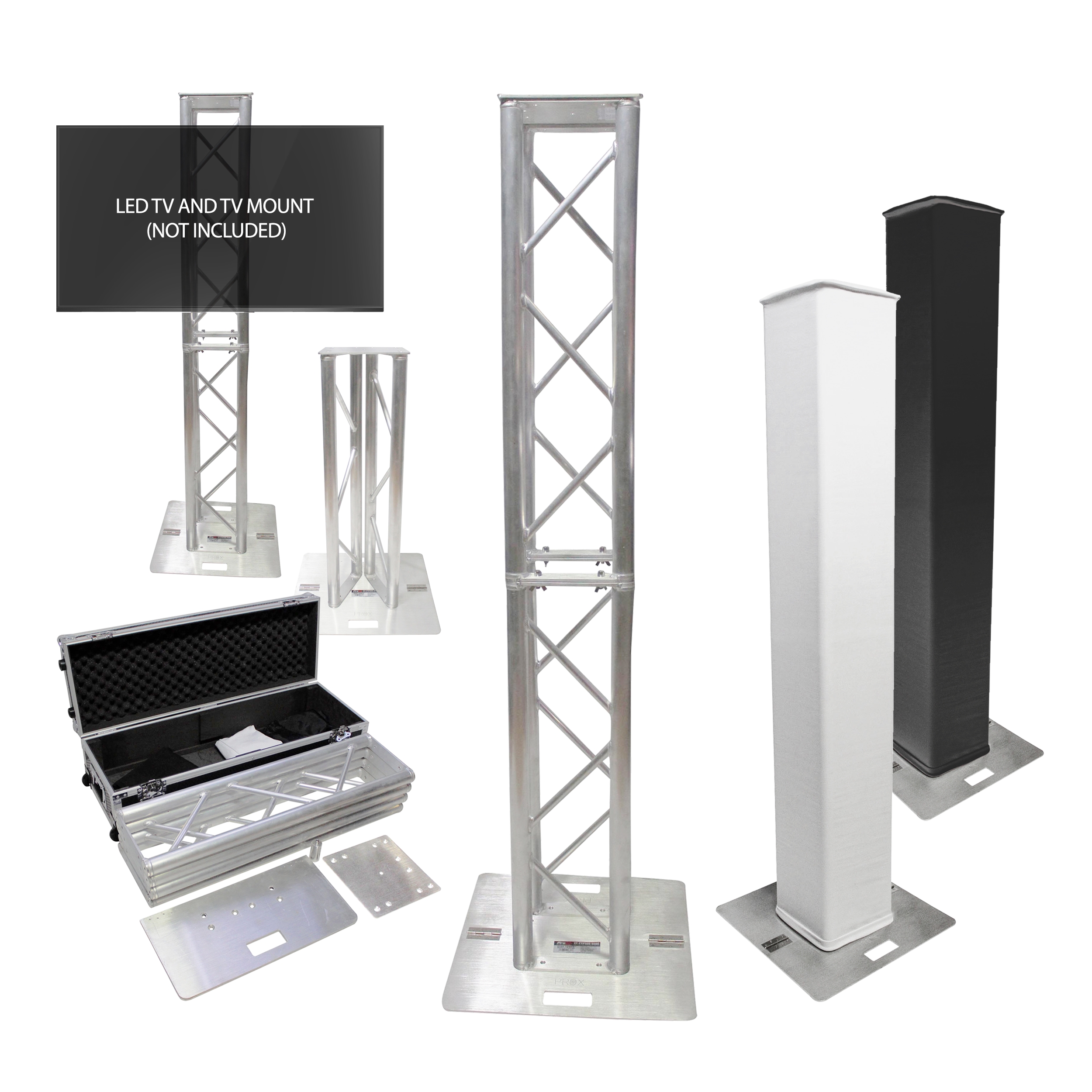 Flex Tower Totem Package – Adjustable 6.56ft or 3.28ft With Road Case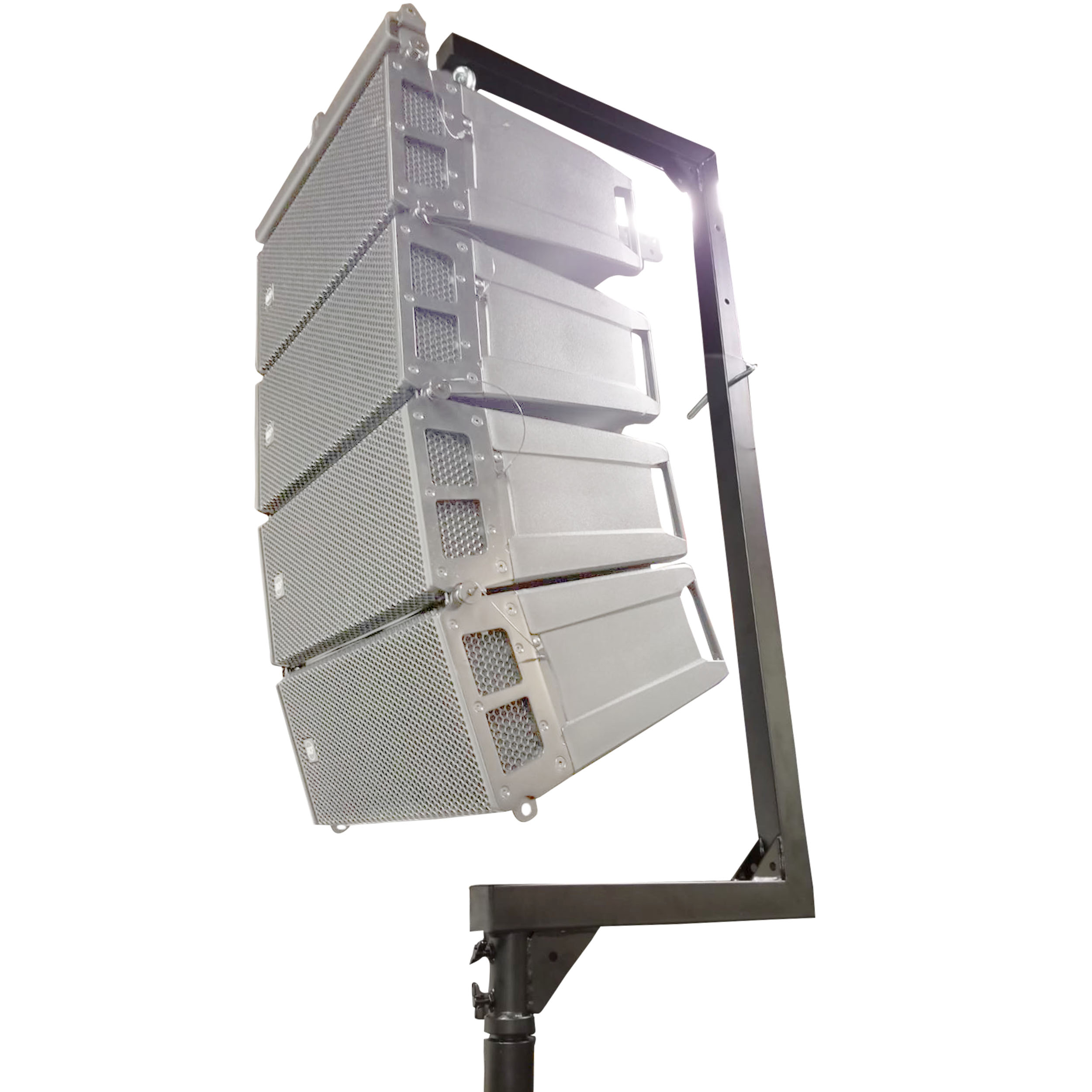 Telescopic C-Shape Support for Small Line Array Speakers | Max. Load 150 lbs
21 Ft. Lift Frontal Loading Lifting Tower for Line Array – Max Load 500kg-1102 lbs | Black Aluminum
ProX XT-HERCULES 6.5 PLUS 21 Ft. Lift Frontal Loading Lifting Tower for Line Array – Max Load 500kg-1102 lbs | Black Aluminum
$8,699.00
ProX XT-HERCULES 6.5 PLUS Fexix® Rigging tower Frontal loading lifting tower allows raising the load from the floor, avoiding any single effort and specially designed for a reliable lifting of Line Array Systems of up to  500kg/1102 lbs to a maximum height of 6.5 meters / 21.30 Ft. This product is perfect to fly line array systems, trusses and LED screens. The compact design with castors gives the XT-HERCULES 6.5 PLUS Rigging tower easy handling and maneuverability, reducing storage space and it is the ideal solution for touring, rental and event production (concerts, events, trade fair stands, stage construction, fitting-out discos, theaters, broadcasting, TV, etc.).
These stacking trusses, manufactured with extruded aluminum (Alloy: EN-AW according to 6082 T6) and TIG welded (continuous cord for a maximum resistance), are specially designed to be piled up, reducing storage space and making it easier to handle.
During lifting, the tower telescopic mechanism lift can stop safely at any of the PLS (Pin Locking System) positions. These pins take the load off the wire rope. The steel base provides great stability when the adjustable screw-jacks are well balanced and the bubble level on the base provides accurate leveling.
All HERCULES towers lift the load from the floor and are height adjustable.
Made of Aluminium
Available color: Black
Maximum height: 6,50 meters / 21.30 feet 
Height folded: 1,99 meters / 6.50 feet
Maximum load: 500kg / 1102 pounds
---
Maximum height: 6,50 meters / 21.30 feet 
Height folded: 1,99 meters / 6.50 feet
Maximum load: 500kg / 1102 pounds
Minimum charge: 25kg /55 pounds
Material: Aluminum alloy AL Si 6106 / T6
Workspace: 2,50 x 2,28m / 8.2 feet x 7.5 feet
Closed base area: 0,52 x 0,65m / 1.7 feet x 2.13 feet
Weight: 184kg / 405 pounds
Winch: 1.700-WCH 1.700kg / 3745 pounds
Cable: Galvanized steel under EN 12385-4.
Maximum cable load: 2.000kg / 4409 pounds
Cable twisting resistance : 1.770N/mm²
Cable diameter: 6mm / 1/4 inch
Cable composition: 7×19+0
Security system: Inner pendulum and external trigger in sections.
Leg attachment: Safety pins
Bubble level: to vertically adjust the tower.
Made in Valencia, Spain
FENIX Stage as manufacturer guarantees:
QUALITY All our products undergo strict quality controls in the manufacturing process, which in a short space of time has made us one of the leading companies in the market. This is the reason why our quality has been recognized nationally and internationally in all types of projects related to the entertainment and events' organization businesses (concerts, events, trade fair stands, stage assembling, fitting-out discos, theaters, broadcasting, stores, TV, etc.).
TECHNICAL ASSISTANCE We are specialized in developing engineering projects meeting our customer's requirements and demands, obtaining a maximum degree of satisfaction thanks to our exquisite treatment and care offered both to the client and their equipment.
SAFETY At FENIX Stage, we are committed to products and people's safety. To guarantee the maximum security, our products are designed, manufactured and tested by qualified engineers at each stage of the manufacturing process. All FENIX products are manufactured with materials that offer high resistance, reliability and security.
MANUFACTURER'S DIRECT WARRANTY Our products are manufactured at our facilities in Horno de Alcedo, Valencia (Spain) and have been certified by current legislation [CE 2006/42] [BGV C1, BGG 912].a
---
---
| | |
| --- | --- |
| Weight | 405 lbs |
| Dimensions | 23 × 20 × 78 in |
Brand
ProX Live Performance Gear
ProX Live Performance Gear makes products that are designed for professionals, by professionals. Our motto is simple; "Quality, without compromise". We believe the highest quality of components met with cutting edge design allows us to achieve our goals at a competitive price point. In 1984 ProX Started by manufacturing flight cases for broadcasting production and touring companies. Now specializing in manufacturing specific DJ controller cases for brands like Pioneer, Yamaha and DiGiCo as well as products like lighting cases, stands, cables, and bags.
All cases use CNC technology, during the manufacturing process, to assure that cases are consistently built with strict specifications and tolerances that are required for the high-quality standards that ProX cases have been known for. ProX Listens to customer feedback and consistently create outstanding solutions for all your needs. The Flip-Ready cases are manufactured in Poland and are handcrafted for quality control and individually tesfad for smooth operation. The Flip-Ready design allows for easy, one person, instead of four, movement from the transport position to operational position with virtually no effort.
GTR Direct is a proud dealer for ProX Canada
Related products
Rated 5.00 out of 5

Features of the Global Truss STSB-005 Truss Adapte

$

131.99

Rated 5.00 out of 5

Features of the Global Truss ST-90 Light-Duty Cran

$

266.99

The XTF-T105D Top Loading Lifting tower - is re

$

3,190.00