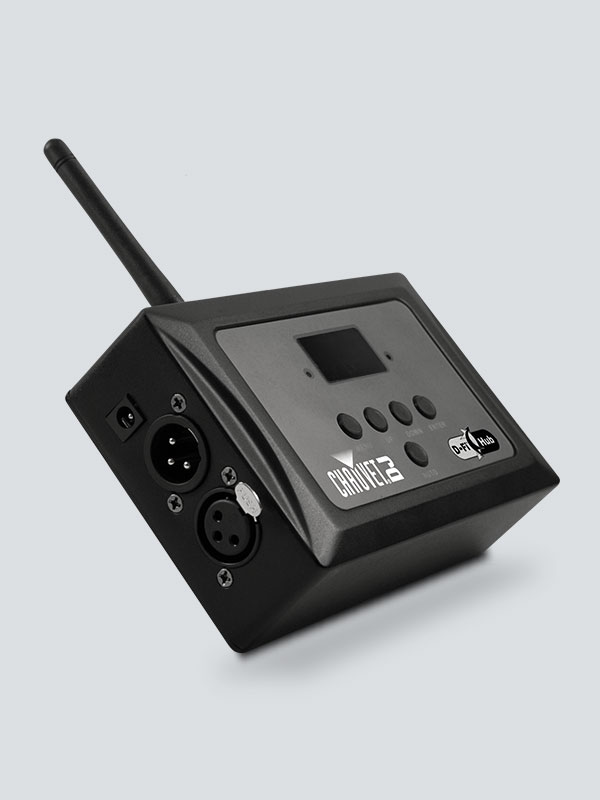 Chauvet DJ D-Fi Hub Wireless DMX Transceiver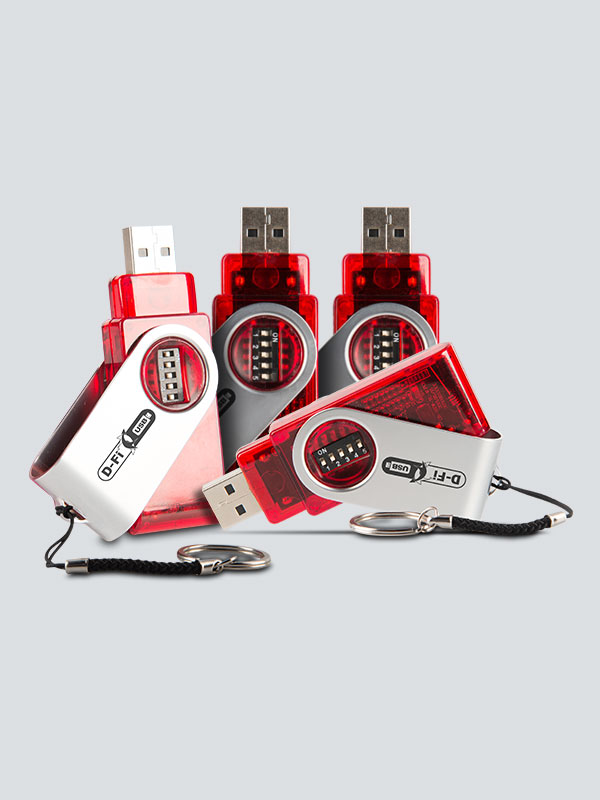 Chauvet DJ D-FI USB 4PK Transceivers
Chauvet DJ D-Fi USB Transceiver
CHAUVET DJ has developed a series of fixtures that include a standard USB connection. You can now wirelessly connect to all of them using the new D-Fi USB transceiver, which eliminates the need for any DMX cables.
$58.99
Features of the Chauvet DJ D-Fi USB Transceiver:
Finger-sized wireless D-Fi transceiver provides instant wireless communication
Transfers DMX as well as master/slave signals between similar fixtures
Eliminates the need for DMX cables
Plugs directly into USB-compatible devices
Works without the need of an external power supply
Fully FCC/RTTE compliant
Plugs directly into USB-compatible devices
Specifications:
Weight: 1.1 oz. (31.2 g)
Size: 3 x 0.9 x 0.5 in (78 x 25 x 13 mm)
Approvals: CE, FCC
Operating Frequency:: 2.412 to 2.484 GHz

Brand
Chauvet DJ
CHAUVET DJ is a premier line of entertainment lighting, controllers and accessories for the mobile performer, DJs, clubs, corporate events and more. Offering the most value in the industry. Chauvet is a leading developer of luminaires, trussing, controllers, atmospherics and related equipment marketed globally under four main brands: CHAUVET DJ, CHAUVET Professional, Iluminarc, and ChamSys. Each Chauvet brand is well thought out to serve different customer needs but they all share the company's focus on positively impacting every market segment with a competitive advantage in terms of value, innovation or performance.
Founded in 1990 by Albert and Berenice Chauvet, the company is widely recognized for its leadership in bringing successful concepts to market, including pioneering the development of affordable LED color mixing fixtures. The Chauvet mission is to elevate the world of lighting with customer-driven products at unparalleled value. We achieve this by following our VIP standards (value, innovation, performance) which motivate us to capture every technological and competitive edge to benefit our customers who are always our first priority.
Related products
Rated 5.00 out of 5

Features of the W-DMX BlackBox R-512 G5 Wireless D

$

547.00

Rated 5.00 out of 5

Specifications: Type: Omni Frequency: 2.4 G

$

54.00

Rated 5.00 out of 5

Specifications: Type: Omni Frequency: 2.4 G

$

61.00