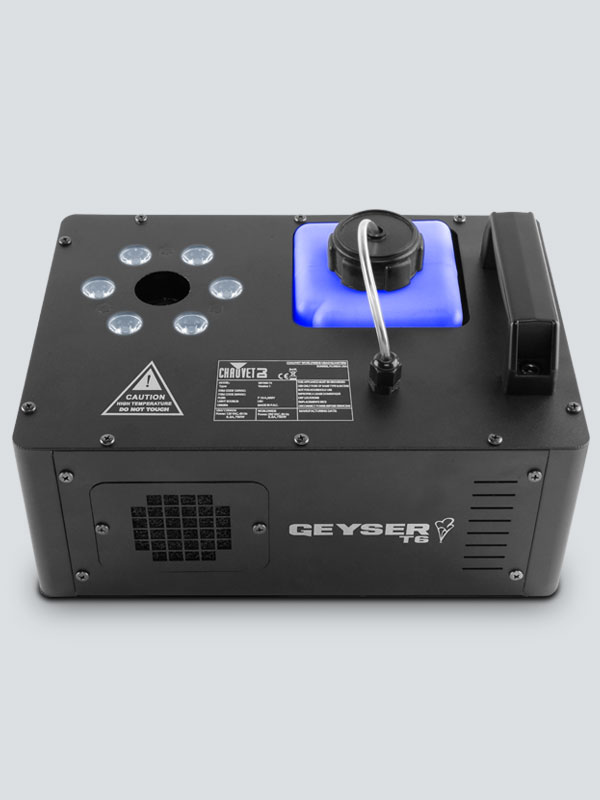 Chauvet DJ Geyser T6 RGB Vertical Fog Machine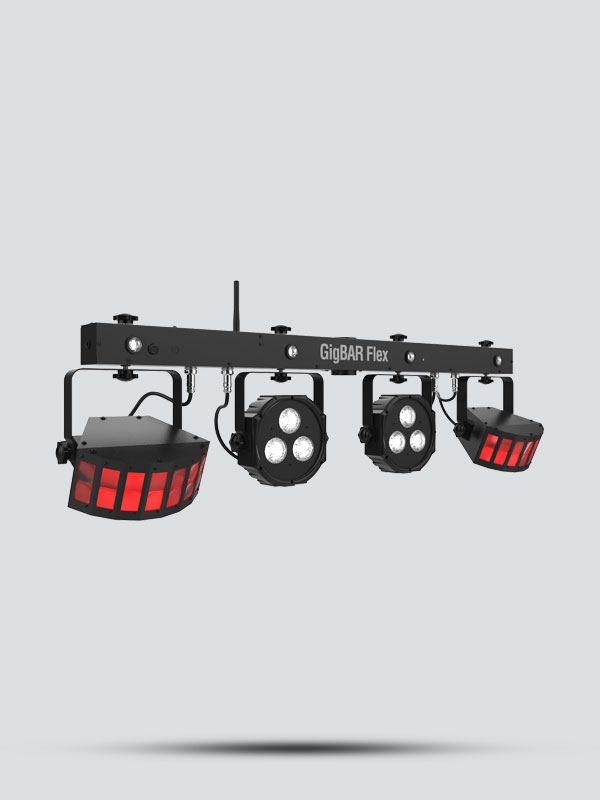 Chauvet DJ GigBAR Flex 3-in-1 Lighting Effect
Chauvet DJ GigBAR 2 4-in-1 Lighting System
GigBAR 2 is the ultimate pack-n-go 4-in-1 lighting system including UV in its wash lights and strobes for better colour mixing and effects. GigBAR 2 includes two LED Derby fixtures, LED wash lights, a laser, and 4 high-power, LED strobe lights all mounted on one bar.
$821.99
Features of the Chauvet DJ GigBAR 2 Lighting System:
4-in-1 light that includes a pair of LED Derby, LED pars, a laser, and strobe effect all mounted on one bar
Added UV in pars and strobes for increased colour mixing and effects
Cover any room or stage with 4 individually adjustable and interchangeable heads
Get in and get out quickly with the included tripod, wireless footswitch and FREE carry bags
Ready for every application using the included mounting brackets to attach to truss
4 high-power, LED strobe lights create exciting chase and slow motion effects
Adjustable red and green laser scatters hundreds of bright dots and beams in all the right directions.
Phenomenal built in automated and sound-activated programs that include all 4 effects to make one complete show
Easily control from the display, included IRC-6, wireless foot switch or DMX to take your gig to a higher level
Master/slave multiple units under the control of a single IRC or wireless foot switch
Save time running cables and extension cords by power linking multiple units
Specifications:
DMX Channels: 3, 11 or 23
DMX Connectors: 3-pin XLR
Light Source:
(pars): 6 LEDs (Quad-color RGB+UV) 3.5 W (1.1 A), 50,000 hours life expectancy
(strobe): 4 LEDs (white & UV) 1.8 W (600 mA), 50,000 hours life expectancy
(Derby): 6 LEDs (2 red, 2 green, 2 blue) 6 W (1.7 A), 50,000 hours life expectancy
650nm/100 mW (red) laser diode, 532nm/30 mW (green) laser diode
Strobe Rate: (strobe): 0 to 18 Hz
Beam Angle:
(pars): 13°
(strobe): 8°
Field Angle:
(pars): 24°
(strobe): 18
Coverage Angle:
(laser): 93°
(Derby): 114°
Fits Tripod Size: 37.4 mm
Illuminance:
(pars): 1,205 lux @ 2 m (per head)
(strobe): 86 lux @ 2 m (per zone)
Power Linking: 8 units @ 120 V; 15 units @ 230 V
Input Voltage: 100 to 240 VAC, 50/60 Hz (auto-ranging)
Power and Current: 68 W, 1 A @ 120 V, 60 Hz
64 W, 0.5 A @ 230 V, 50 Hz
Weight: 11.6kg / 22.5lbs
Size: 1185 x 110 x 386.5 mm
Approvals: CE, FDA, FCC
Stand Height: 1.5 to 2.5 m
Tripod leg width: 1.2 m
Foot Switch Operating Frequency: 433 MHz
Foot Switch Max Unobstructed Distance: 30.5 m
Footswitch battery: 12 V A23
What's Included
Power cord
IRC-6
Tripod
Tripod Carry bag
Wireless footswitch
Warranty card
User Manual

Brand
Chauvet DJ
CHAUVET DJ is a premier line of entertainment lighting, controllers and accessories for the mobile performer, DJs, clubs, corporate events and more. Offering the most value in the industry. Chauvet is a leading developer of luminaires, trussing, controllers, atmospherics and related equipment marketed globally under four main brands: CHAUVET DJ, CHAUVET Professional, Iluminarc, and ChamSys. Each Chauvet brand is well thought out to serve different customer needs but they all share the company's focus on positively impacting every market segment with a competitive advantage in terms of value, innovation or performance.
Founded in 1990 by Albert and Berenice Chauvet, the company is widely recognized for its leadership in bringing successful concepts to market, including pioneering the development of affordable LED color mixing fixtures. The Chauvet mission is to elevate the world of lighting with customer-driven products at unparalleled value. We achieve this by following our VIP standards (value, innovation, performance) which motivate us to capture every technological and competitive edge to benefit our customers who are always our first priority.
Related products
ProX T-LS31C 10ft DJ Stage Lighting Truss, w/ Cra

$

457.00

The Prox T-LST57T Single 57" Triangle Steel Truss

Features of the Chauvet DJ CH-06 T-Bar Tripod:

Call for Price