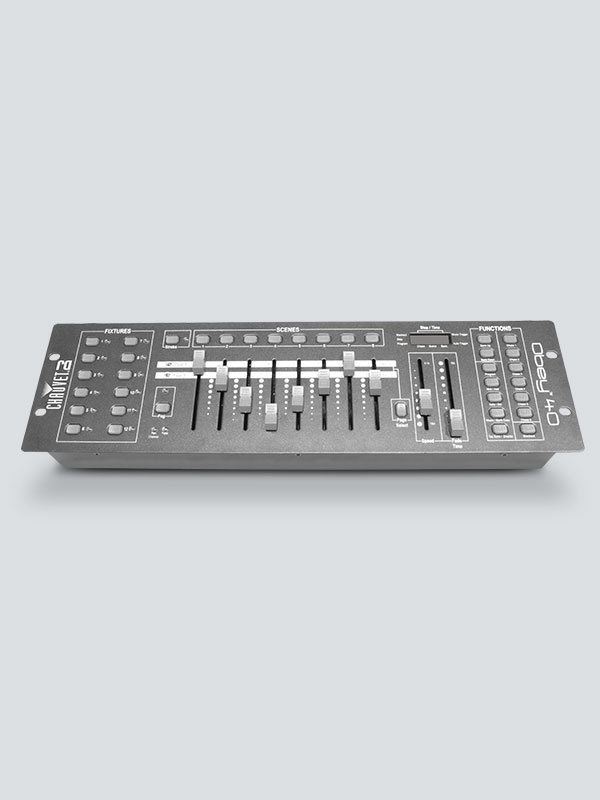 Chauvet DJ Obey 40 DMX Controller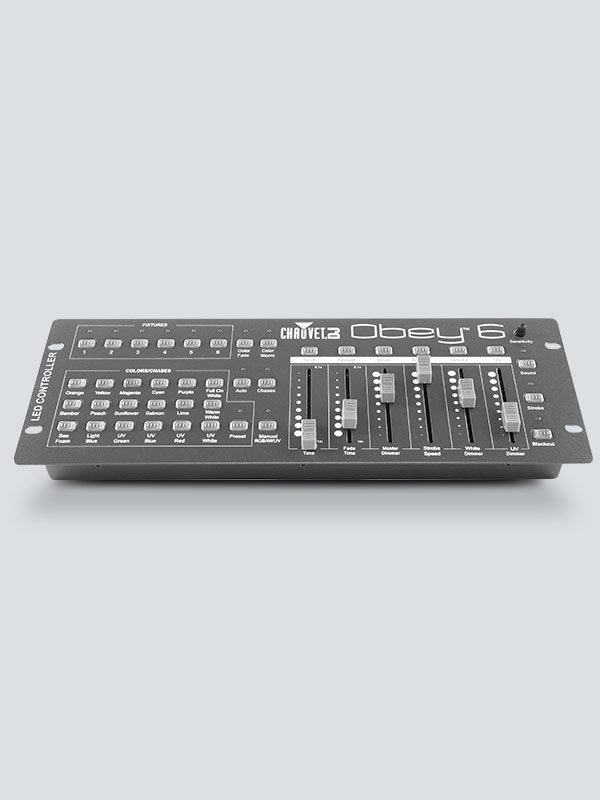 Chauvet DJ Obey 6 DMX Controller
Chauvet DJ Obey 40 D-Fi 2.4 DMX Controller
The Obey 40 D-Fi 2.4 is a small, but full-featured lighting controller with a built-in D-Fi transmitter so you can built a rig without long DMX cable runs! The Obey 40 D-Fi 2.4 works with any D-Fi compatible product and controls up 12 different types of lights.
$441.99
Features of the Chauvet DJ Obey 40 D-Fi 2.4 DMX Controller:
• Universal wireless DMX controller capable of handling all the complexities of today's lighting fixtures
• Easily send wireless DMX signals across the room using the built-in D-Fi™ 2.4GHz transmitter
• Controls up to 12 intelligent lights with up to 16 channels each
• Compatible with all D-Fi™ systems operating on 2.4GHz
• Customize looks with adjustable strobe and fade effects, audio sensitivity and fade times for all playback modes
• Design up to 240 scenes using 192 channels of DMX control and 30 banks of 8 scenes
• Enhance light shows using 6 sets of chase effects containing 240 scenes
• Increase effects with fog and strobe control, reversible sliders, beat activation, tap-sync and auto run
• Ability to grab any fixture on the fly, reassign channels and sequentially link chases
• Increase flexibility with MIDI compatibility
• Conveniently mounts using the 3-space (3U) mounting rack
Specifications:
• DMX Connectors: 3-pin
• Rackmount: 3U
• Max unobstructed distance: 656ft (200m)
• Operating frequency: 2.433 – 2.48GHz
• RF output: 18.5dBm
• Antenna connection: RP-SMA
• Input Voltage: 12VDC 500mA (external power supply: 100 – 240VAC 50/60Hz)
• Weight: 5.7lbs (2.6kg)
• Size: 19 x 3.5 x 6.7in (483 x 89 x 171mm)
Brand
Chauvet DJ
CHAUVET DJ is a premier line of entertainment lighting, controllers and accessories for the mobile performer, DJs, clubs, corporate events and more. Offering the most value in the industry. Chauvet is a leading developer of luminaires, trussing, controllers, atmospherics and related equipment marketed globally under four main brands: CHAUVET DJ, CHAUVET Professional, Iluminarc, and ChamSys. Each Chauvet brand is well thought out to serve different customer needs but they all share the company's focus on positively impacting every market segment with a competitive advantage in terms of value, innovation or performance.
Founded in 1990 by Albert and Berenice Chauvet, the company is widely recognized for its leadership in bringing successful concepts to market, including pioneering the development of affordable LED color mixing fixtures. The Chauvet mission is to elevate the world of lighting with customer-driven products at unparalleled value. We achieve this by following our VIP standards (value, innovation, performance) which motivate us to capture every technological and competitive edge to benefit our customers who are always our first priority.
Related products
Rated 5.00 out of 5

Specifications: The Work Pro LS-1 Lightshark DMX

$

2,249.00

Rated 5.00 out of 5

Specifications: All the models feature several mo

$

379.00

Rated 5.00 out of 5

Features of the ADJ COMPU SDE: USB and Ethernet Fa

$

1,589.00