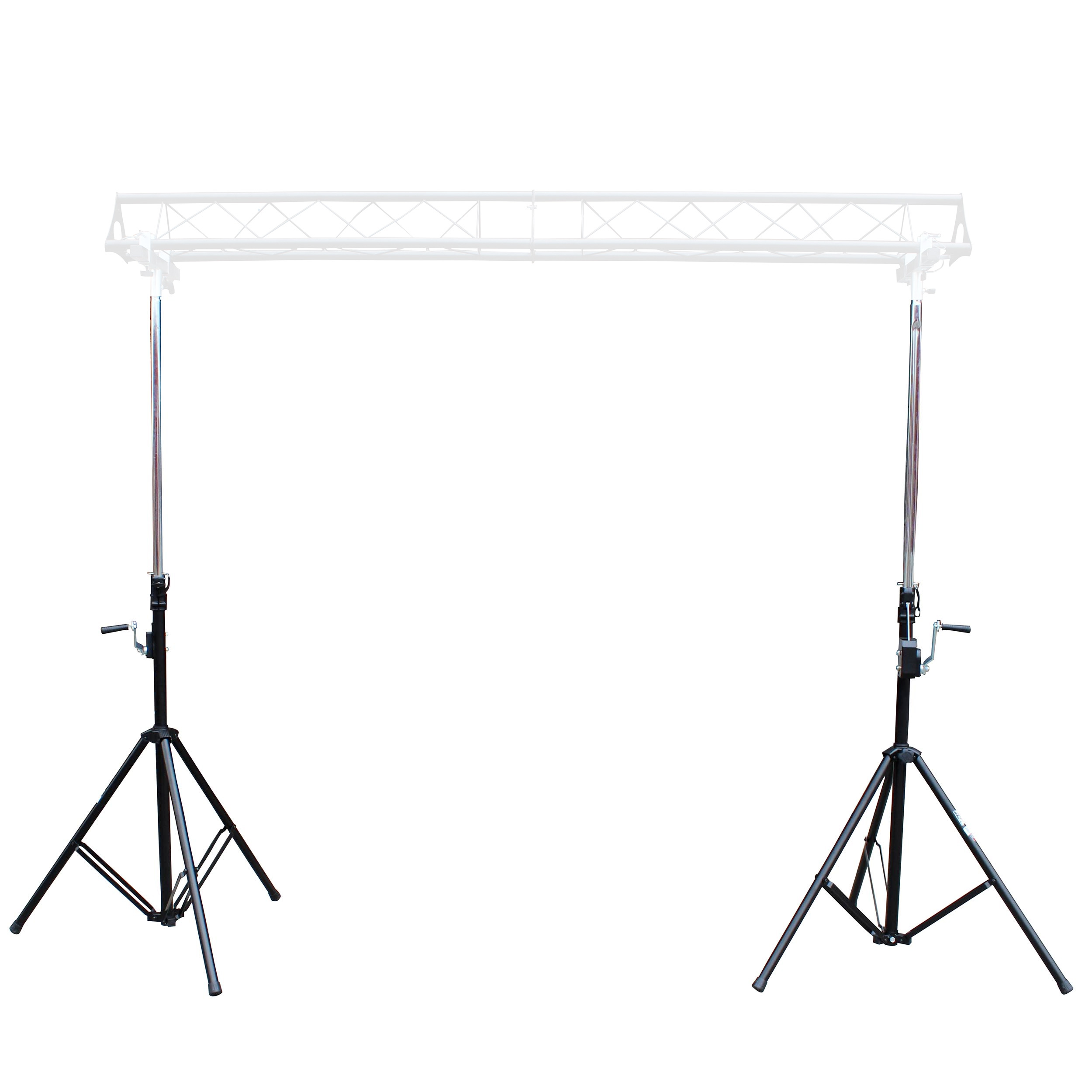 Pair of Two 9.5 Ft 3.5 M Triangle Truss DJ Lighting Crank Up Stands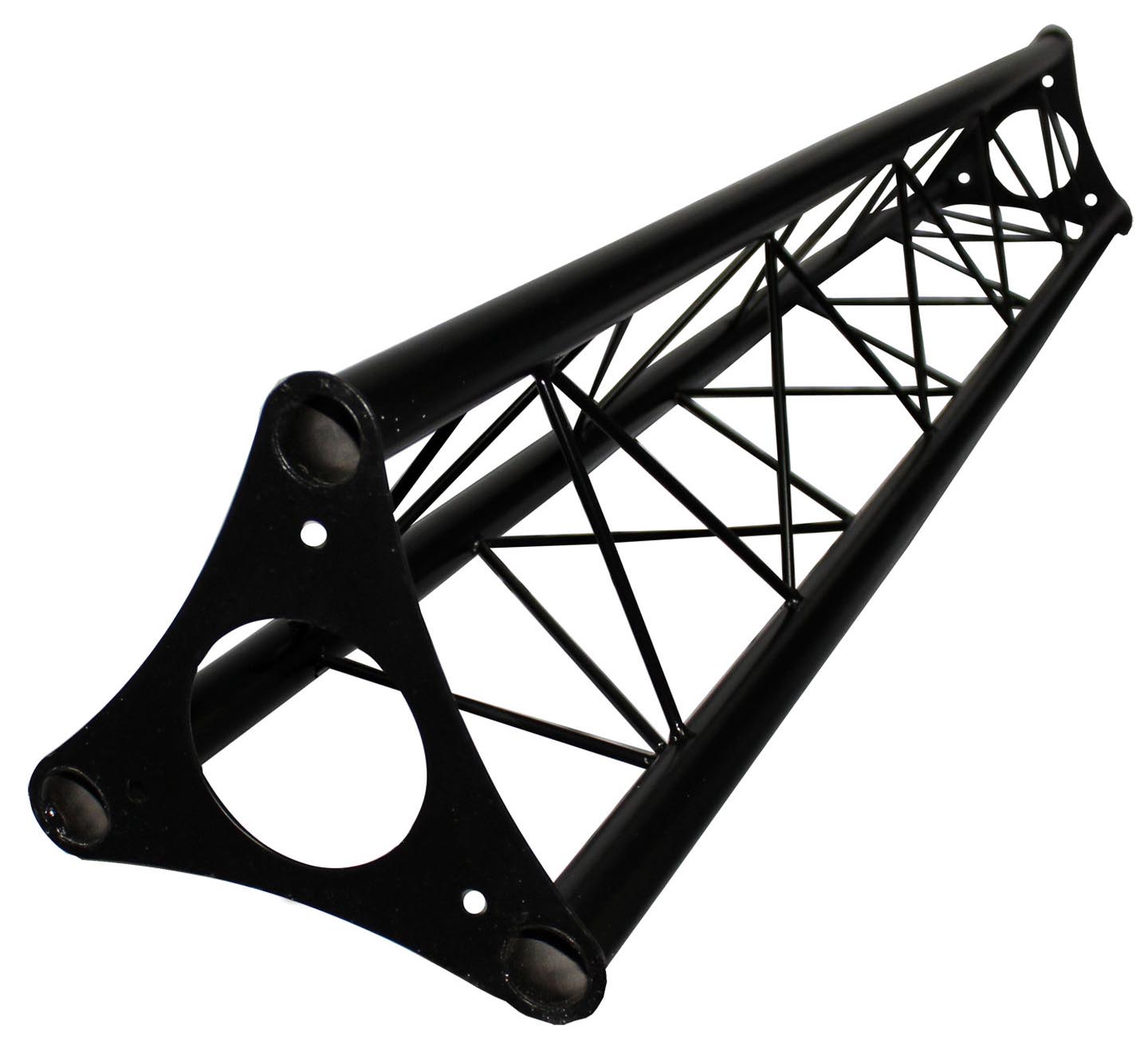 Single 57 In. Triangle Steel Truss Section For T-LS35C
DJ Production Crank Up Lighting System Triangle Truss System 14.25-inch wide 200lbs Capacity
ProX T-LS35VC DJ Production Crank Up Lighting System Triangle Truss System 15ft wide 200lbs Capacity
This Item No Longer Available
UPC:

19372411123
SKU:

T-LS35VC
Category: Lighting stands
Tag: ProX, Crank Stand, Truss, Triangle, Lighting, Stand, DJ, American, Crank, Up, T, Adapter, T-Adapter, Cranking, Crank up
The ProX T-LS35VC triangle crank truss system. has a capacity of 200lbs evenly distributed.  Truss sections are 6″ in overall width maximum safe height is 10ft with a weight of 99lbs. This medium-duty truss lighting stands package includes two High-quality cranks up stands & three 57″ triangle truss sections that create a 5ft, 10ft, or 15ft span. The crank stands can safely extend to heights of 10ft.  The "open side" design of this trussing allows the segments to be stacked in a compact manner for transportation.
Designed with 2 cranks one on each side and 3 trussing sections that can spread over 171″ in width. This is a professional lighting truss system that will outperform all your previous ones. Lift Your Stage Lights In the Air with a Top Crank Up Triangle Lighting Truss Stand.  Hang Up to 200 Pounds of Stage Gear equally distributed with safety! Boasting an extra durable steel construction that will easily hold the weight of your speakers and lighting you can be sure this trussing stand will keep your stage gear safe.
Portable Design – Ideal for Mobile DJs and Performers. 
SAFETY INSTRUCTIONS
To avoid problems a competent person should inspect all rigging hardware, stands, and equipment before each use and periodically do a major inspection for signs of wear, abuse, and general adequacy, as well as perform any manufacturer-recommended preventive maintenance on schedule.  Observe all warnings and usage instructions. 
Basic Usage:
Ensure that your stands are positioned on a hard stable surface, in a suitable location, on firm ground, and clear of overhead obstacles.
Stabilize legs before lifting the tower or any load.
When outdoors, secure the tower with braces or cables, in case of wind.
Safety Notes:
Loading on truss and stands should comply with rated weights.
Lock all the safety mechanisms (safety pins, knobs)
Loads must be centered & balanced on each lifting unit.
Safety chains must be installed on each item attached to the unit.
Leave a safety perimeter with a radius 5ft greater than the maximum height of the stands during lifting and lowering of loads.
During transport, close all the sections and lock the lifting carriage.
Do not attempt to move the stand when loaded or in an extended position.
---
 This package includes:
2X  Aluminum Heavy Duty T-Adaptors 
2X 10ft Steel & Aluminum Crank-up Stands
3X 57″ triangle trussing
Shipping Dimensions:
Sent in 2 separate boxes:
BOX#1: 3 Truss Pieces: 58″ x 17.50″ x 11″ – 46lbs
BOX#2: 2 Crank stands: 59″x 18.50″ x 8.50″ – 63lbs
Product Actual Total Weight: 109LBS
---
---
Package Contents
T-LS35VC-STAND (1)
T-LS35VC-Truss (1) Set of Three 5ft Universal Lighting Stand Triangle Truss Sections For T-LS35VC – 5FT, 10FT, and 15FT
---
Brand
ProX Live Performance Gear
ProX Live Performance Gear makes products that are designed for professionals, by professionals. Our motto is simple; "Quality, without compromise". We believe the highest quality of components met with cutting edge design allows us to achieve our goals at a competitive price point. In 1984 ProX Started by manufacturing flight cases for broadcasting production and touring companies. Now specializing in manufacturing specific DJ controller cases for brands like Pioneer, Yamaha and DiGiCo as well as products like lighting cases, stands, cables, and bags.
All cases use CNC technology, during the manufacturing process, to assure that cases are consistently built with strict specifications and tolerances that are required for the high-quality standards that ProX cases have been known for. ProX Listens to customer feedback and consistently create outstanding solutions for all your needs. The Flip-Ready cases are manufactured in Poland and are handcrafted for quality control and individually tesfad for smooth operation. The Flip-Ready design allows for easy, one person, instead of four, movement from the transport position to operational position with virtually no effort.
GTR Direct is a proud dealer for ProX Canada
Related products
Features of the Chauvet DJ FLEXstand: Multi-p

$

441.99

Features of the Chauvet DJ CH-03 heavy-duty T-bar

Call for Price

The ProX T-LS35C-STAND Pair of  Two 9.5 Ft Truss

$

363.00