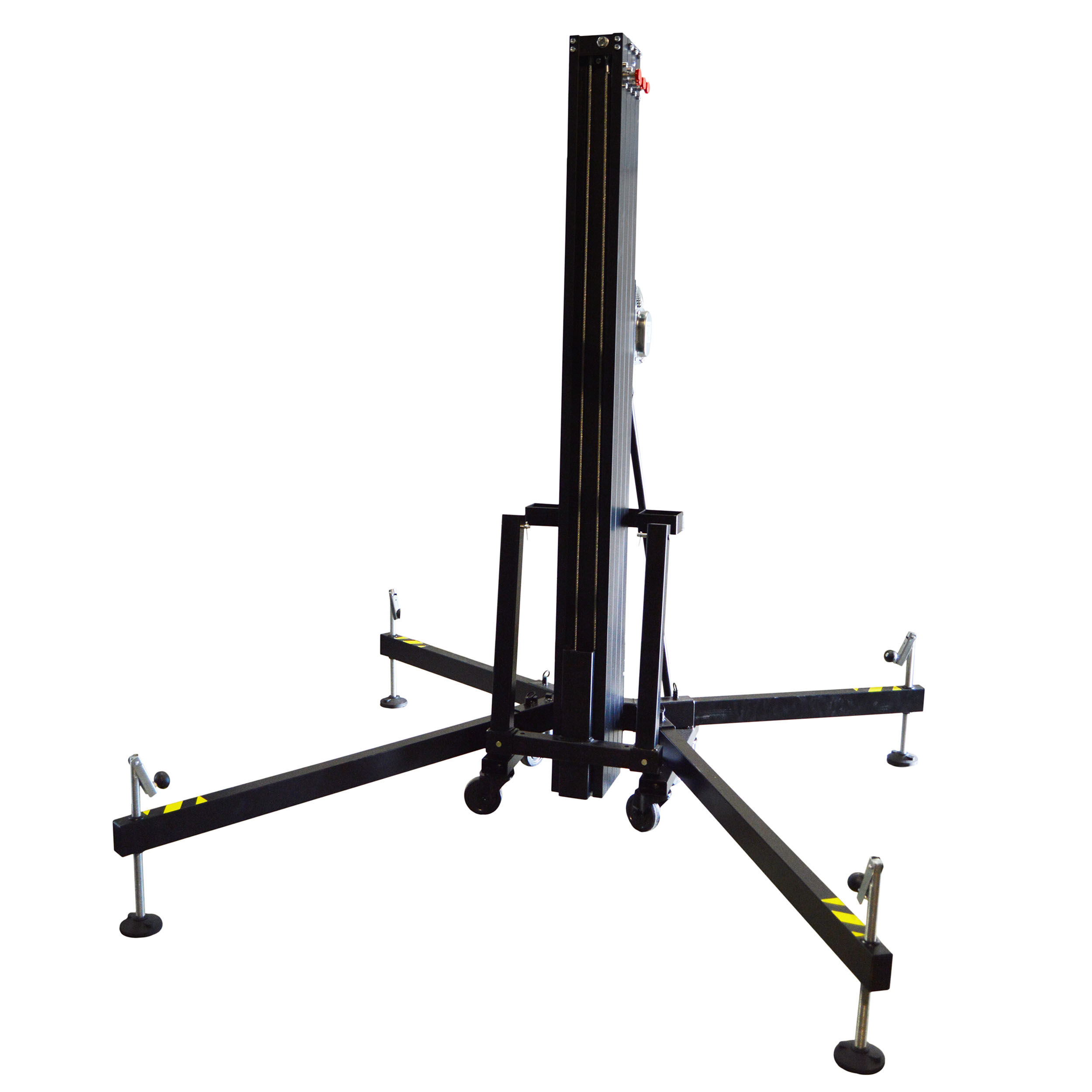 16 Ft. Frontal Loading Lifting Tower for Line Array System | Max Load 200kg – 440 Lbs Black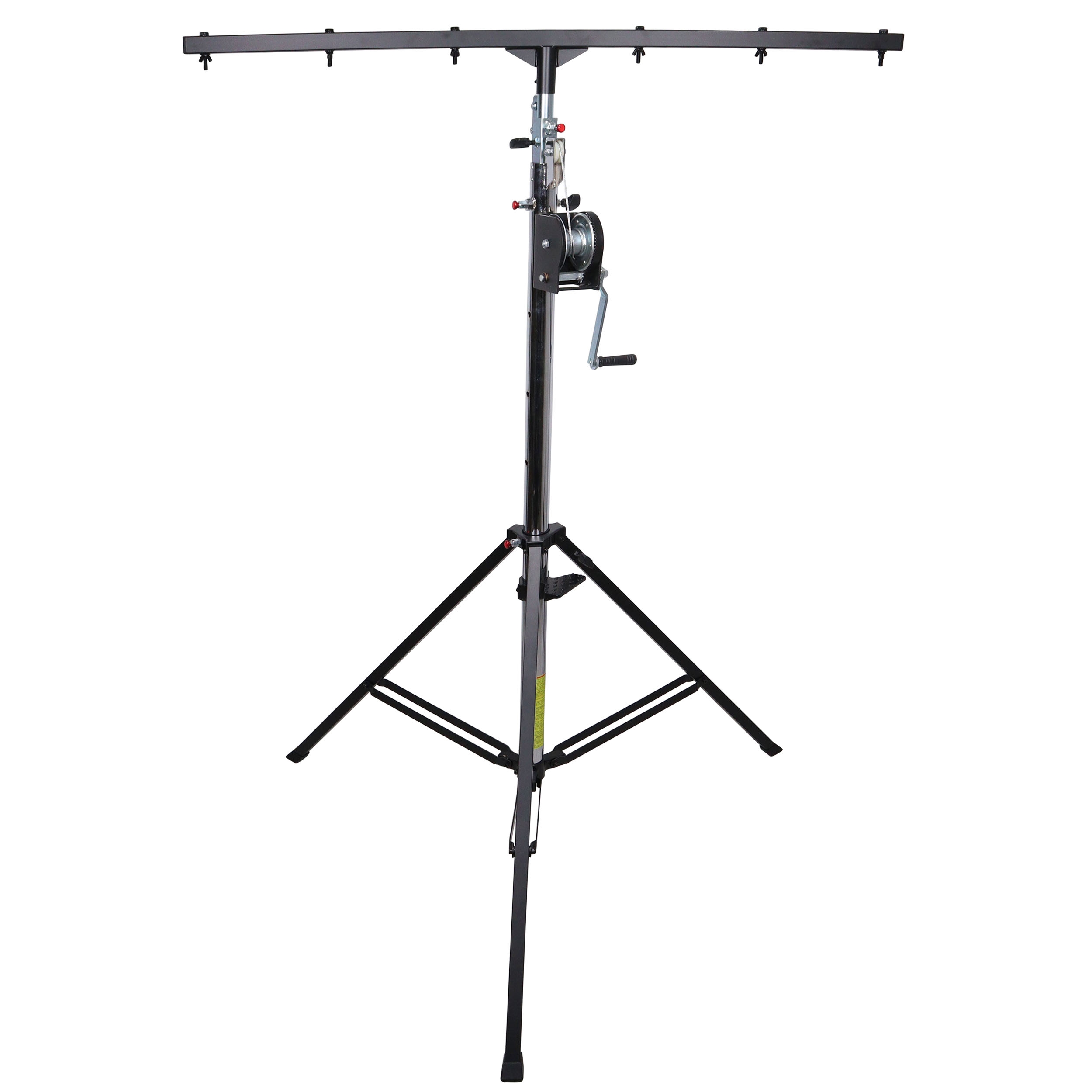 14 Ft. Lighting Crank Truss Stand Includes 5ft Lighting Cross Bar 220 Lbs. Capacity
Fenix 21 Ft.Front Loading Lifting Tower System for Line Array – Max Load 250kg – 550 Lbs | Black
ProX XT-AT06B Fenix 21 Ft.Front Loading Lifting Tower System for Line Array – Max Load 250kg – 550 Lbs | Black
$4,349.00
The ProX XT-AT06B Fexix® Rigging tower Frontal loading lifting tower allows raising the load from the floor, avoiding any single effort, and specially designed for a reliable lifting of Line Array Systems of up to 250 kg (550 lbs.) to a maximum height of 6.5 meters / 21.30 Ft. This product is perfect to fly line array systems, trusses, and LED screens. The compact design with castors gives the XT-AT06B Fenix Rigging tower easy handling and maneuverability, reducing storage space and it is the ideal solution for touring, rental, and event production (concerts, events, trade fair stands, stage construction, fitting-out discos, theaters, broadcasting, TV, etc.).
FENIX® Stage with 20 years of experience is the manufacturer of lifting towers in Valencia Spain, offering innovative high-end quality, reliable and efficient products to all customers worldwide. ProX Live Performance Gear is a distributor of Fenix Lifting Towers in the USA. The XT-AT06B Meets strict European standards. Certified to current standards [EC 89/392 EWG] [BGV C1, BGG 912]
These stacking trusses, manufactured with extruded aluminum (Alloy: EN-AW according to 6082 T6) and TIG welded (continuous cord for a maximum resistance), are specially designed to be piled up, reducing storage space, and making it easier to handle.
During lifting, the tower telescopic mechanism lift can stop safely at any of the PLS (Pin Locking System) positions. These pins take the load off the wire rope. The steel base provides great stability when the adjustable screw-jacks are well balanced and the bubble level on the base provides accurate leveling.
Minimum Height – 1,97 meters / 6.50 Feet
Max Height – 6,50 meters / 21.30 Feet
Max Load – 250kg / 550 lbs
Winch – 900kg / 1,900 lbs
---
Design to fly line array systems, trussing, and LED screens
Made of great components to ensure maximum safety
Raise the load from the floor.
DEKRA and CE Certified 
XT-AT06B is Made by Fenix® Lifting Tower in Valencia Spain.
Minimum Height – 1,97 meters / 6.50 Feet
Max Height – 6,50 meters / 21.30 Feet
Max Load – 250kg / 550 lbs
Winch – 900kg / 1,900 lbs
Maximum height: 6,50m  21.30 
Polyamide plates: This raw material offers more resistance than metal and is wear-free. It resists temperatures between -50A?C and +50A?C.

Safety pins: Safety pins avoid the load from falling. Besides, they allow selecting different heights, raising all bars equally, and distributing the load from the mast to the last bar, which extends the tower's lifetime and increases its stability.

Level: The new location of the level helps you stabilize the tower more comfortably and accurately.

Reinforced base: All our towers use a reinforced base that supports heavy loads and high heights.

Ring: It enables fixing cables to any surface or fixed object, increasing its stability in strong wind conditions.

Roller system: It allows transporting the tower horizontally.

Winch: Our winches are manufactured by the best quality companies with recognized prestige. Resistant and durable. All of them are oversized for extra safety and a better pulling of the cable.

Fixing: Prevents the carriage from moving during transportation.

Safety pendulum: Frontal loading models include this safety internal system that blocks the tower in case the cable breaks or is cut.

Safety pins: Allow selecting different heights and spreading the load to all bars equally.
 
FENIX Stage as manufacturer guarantees:
QUALITY All our products undergo strict quality controls in the manufacturing process, which is a short space of time has made us one of the leading companies in the market. This is the reason why our quality has been recognized nationally and internationally in all types of projects related to the entertainment and events' organization businesses (concerts, events, trade fair stands, stage assembling, fitting-out discos, theaters, broadcasting, stores, TV, etc.).
TECHNICAL ASSISTANCE We are specialized in developing engineering projects meeting our customer's requirements and demands, obtaining a maximum degree of satisfaction thanks to our exquisite treatment and care offered both to the client and their equipment.
SAFETY At FENIX Stage, we are committed to products and people's safety. To guarantee maximum security, our products are designed, manufactured, and tested by qualified engineers at each stage of the manufacturing process. All FENIX products are manufactured with materials that offer high resistance, reliability, and security.
MANUFACTURER'S DIRECT WARRANTY Our products are manufactured at our facilities in Horno de Alcedo, Valencia (Spain) and have been certified by current legislation [CE 2006/42] [BGV C1, BGG 912].a
Also Available in Silver
---
---
Brand
ProX Live Performance Gear
ProX Live Performance Gear makes products that are designed for professionals, by professionals. Our motto is simple; "Quality, without compromise". We believe the highest quality of components met with cutting edge design allows us to achieve our goals at a competitive price point. In 1984 ProX Started by manufacturing flight cases for broadcasting production and touring companies. Now specializing in manufacturing specific DJ controller cases for brands like Pioneer, Yamaha and DiGiCo as well as products like lighting cases, stands, cables, and bags.
All cases use CNC technology, during the manufacturing process, to assure that cases are consistently built with strict specifications and tolerances that are required for the high-quality standards that ProX cases have been known for. ProX Listens to customer feedback and consistently create outstanding solutions for all your needs. The Flip-Ready cases are manufactured in Poland and are handcrafted for quality control and individually tesfad for smooth operation. The Flip-Ready design allows for easy, one person, instead of four, movement from the transport position to operational position with virtually no effort.
GTR Direct is a proud dealer for ProX Canada
Related products
Rated 5.00 out of 5

Specifications: Material Steel Mount Diameter

$

80.99

The XTF-T101D Telescopic Top lifting Truss Towe

$

1,450.00

Rated 5.00 out of 5

Specifications: Maximum load 264 lbs. 120kg Minim

$

1,052.99