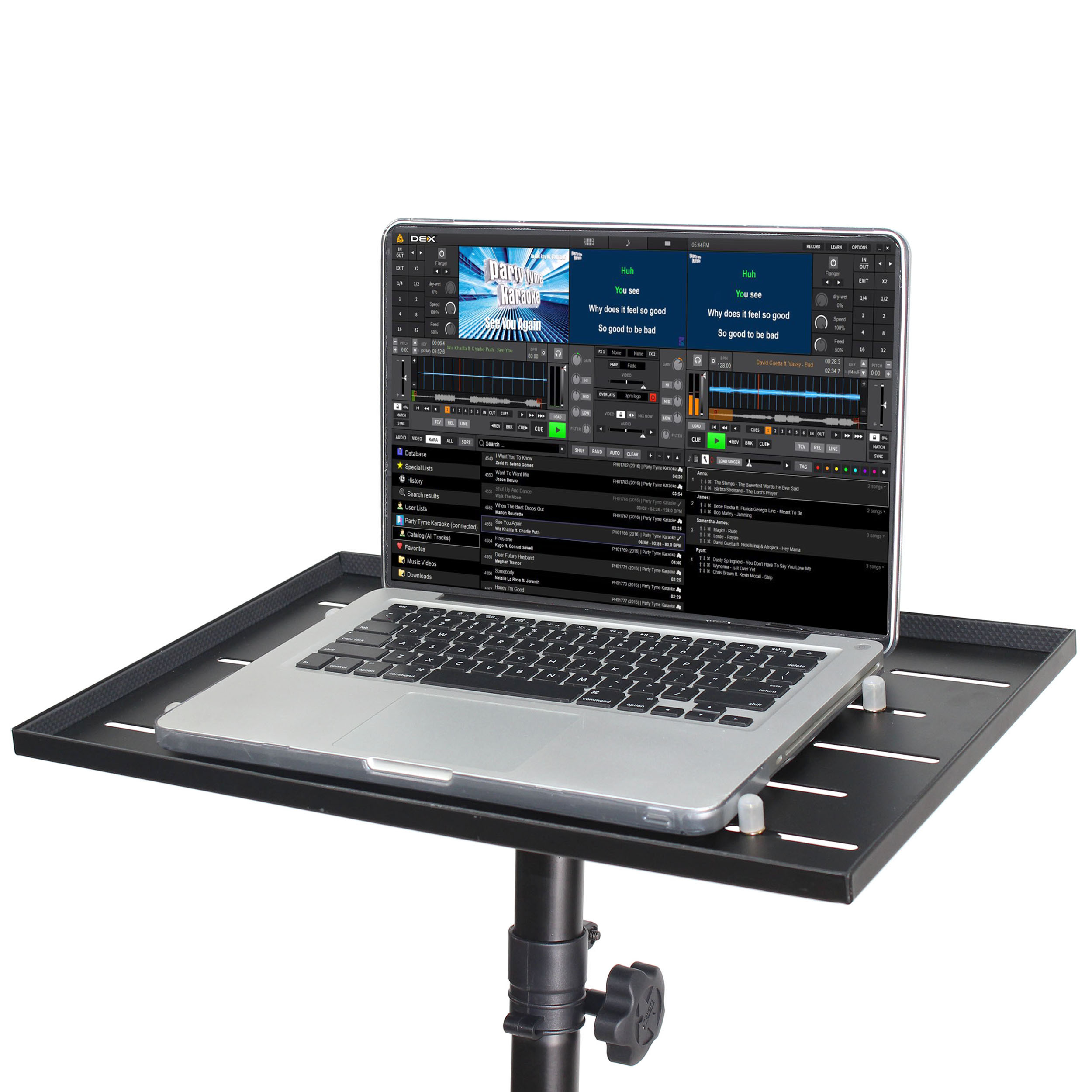 ProX Laptop-Projector Tray for 1 3/8In Pole or Tripod Stand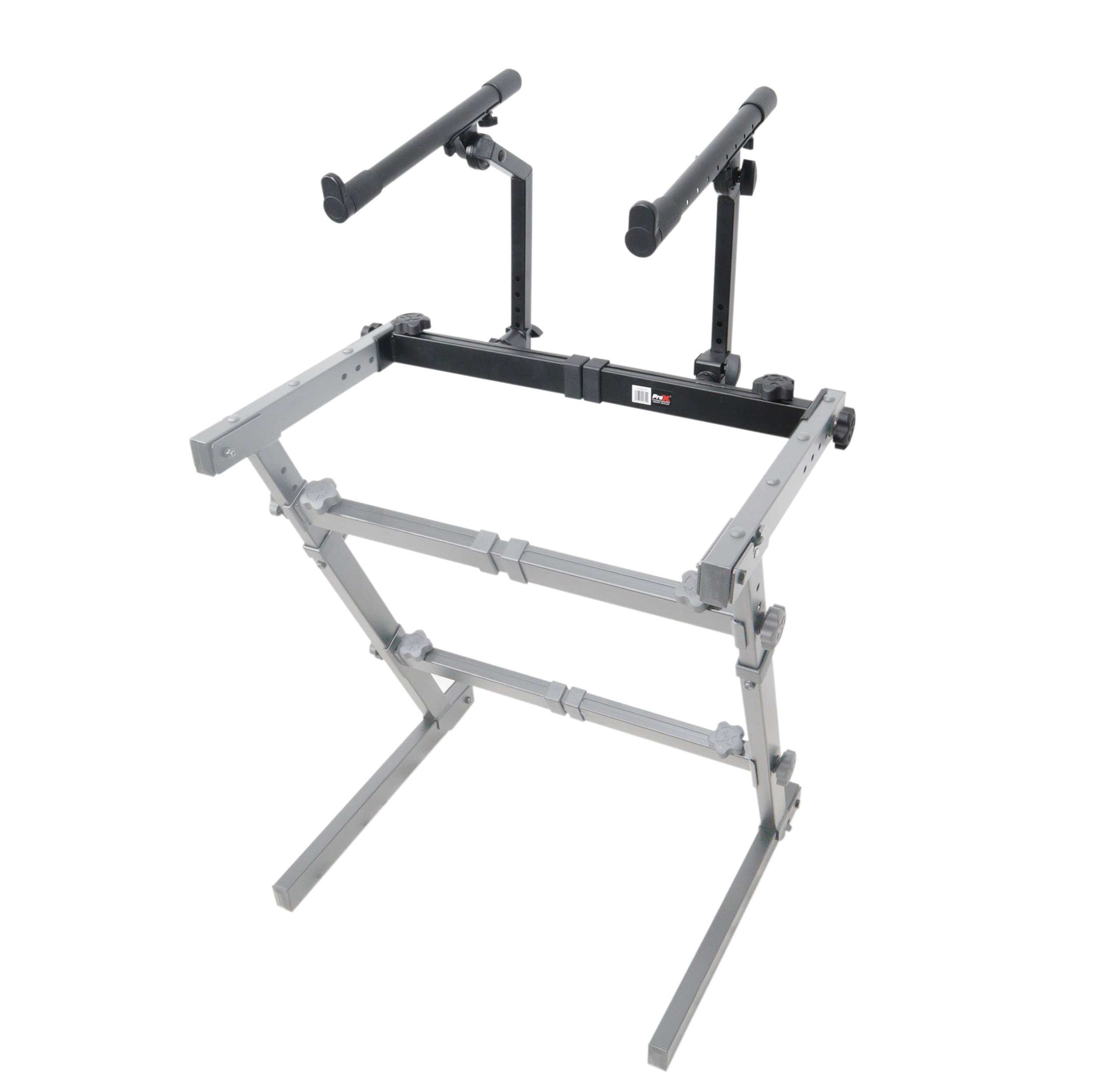 2nd Professional Tier Keyboard Stand Attachment for Folding Z Stand
Package of X-TR1912 Laptop Tray and X-SW15 Tripod Stand W-Wheels
ProX X-TR1912-SW15 Package of X-TR1912 Laptop Tray and X-SW15 Rolling Wheels Tripod Stand
$145.00
The ProX X-TR1912-SW15 is a package of  X-TR1912 Laptop Tray and X-SW15 Tripod Stand with Wheels.  Details of the two products follow:
The ProX X-SW15  stand is essential for on-the-go musicians, mobile DJs, and anyone who needs quick, convenient PA, lighting setup. Day in and day out, this all steel and aluminum stand adjusts to your needs quickly and easily and stays that way until after the show, where you'll appreciate how quickly it collapses for transport. Focus on your performance instead of your equipment. This stand also features three locking casters making it easy to transport items on the stand. Weight Capacity 100lbs
ProX X-TR1912 Laptop, Projector tray holder for a tripod stand.  This unique and practical tray can be used universally for Projector, Monitors, Laptop and for other equipment. It can be used by musicians, DJs, and other performers.
Don't settle for stands made with plastic components, this all-metal stand and tray can last you for your whole career!
---
All steel and aluminum construction
Tube Diameter 1 3/8″ (35 mm)
Max Weight Capacity 30 Lbs.
Tray dimensions 16.50″ x 12.50″ x 3.50″
Rugged & Durable Metal Construction, Solid and Strong
---
---
Package Contents
X-TR1912 MK2 (1) Laptop-Projector Tray for 1 3/8In Pole or Tripod Stand
X-SW15 (1) Adjustable Speaker Lighting Tripod Stand with Casters
---
Brand
ProX Live Performance Gear
ProX Live Performance Gear makes products that are designed for professionals, by professionals. Our motto is simple; "Quality, without compromise". We believe the highest quality of components met with cutting edge design allows us to achieve our goals at a competitive price point. In 1984 ProX Started by manufacturing flight cases for broadcasting production and touring companies. Now specializing in manufacturing specific DJ controller cases for brands like Pioneer, Yamaha and DiGiCo as well as products like lighting cases, stands, cables, and bags.
All cases use CNC technology, during the manufacturing process, to assure that cases are consistently built with strict specifications and tolerances that are required for the high-quality standards that ProX cases have been known for. ProX Listens to customer feedback and consistently create outstanding solutions for all your needs. The Flip-Ready cases are manufactured in Poland and are handcrafted for quality control and individually tesfad for smooth operation. The Flip-Ready design allows for easy, one person, instead of four, movement from the transport position to operational position with virtually no effort.
GTR Direct is a proud dealer for ProX Canada
Related products
Rated 4.00 out of 5

Specifications: PC-HS01-K Headshell includes:

$

50.00

Rated 5.00 out of 5

$

50.00

Rated 5.00 out of 5

$

50.00