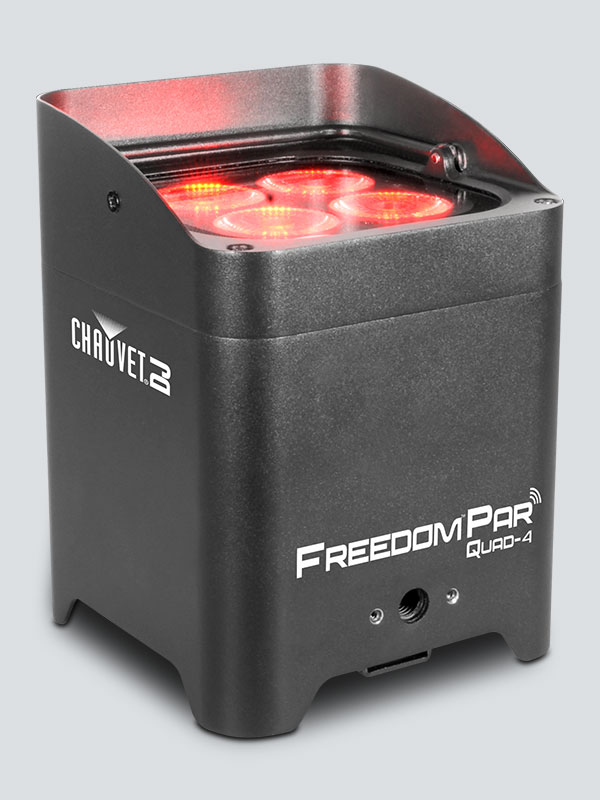 Chauvet DJ Freedom Par Quad-4 RGBA Battery Par Can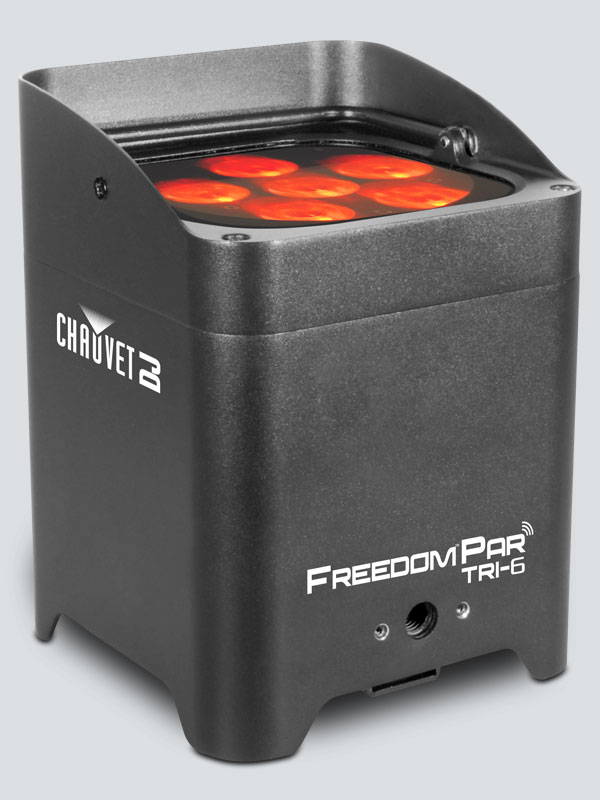 Chauvet DJ Freedom Par Tri-6 RGB Battery Par Can
Chauvet DJ Freedom Par Quad-4 IP
Freedom Par Quad-4 IP is a 100% TRUE wireless, battery-operated, quad-color (RGBA) LED Par with built-in D-Fi transceiver. Its temporary outdoor-rated robust housing repels water, snow, dirt, and sand for all-weather applications and is available in black.
$667.99
Features of the Chauvet DJ Freedom Par Quad-4 IP:
Temporary outdoor-rated robust housing repels water, snow, dirt, and sand for all-weather applications
100% TRUE wireless, battery-operated, quad-colour (RGBA) LED Par with built-in D-Fi™ transceiver
Multiple wireless triggering and control options via the FlareCON™ Air and the FlareCON™ app
Works in Master/Slave with first-generation Freedom™ Pars
Shine light where it is needed using the built-in adjustable kickstand
Built-in glare shield prevents light spillage
Extend the battery's lifespan with built-in discharge protection
Convenient, wireless non-DMX control using the IRC-6 remote
Create customized colours using the built-in LED display
Achieve smooth LED fading with built-in dimming curves
Suitable for every event with either black or white housing
Safely store and transport your fixtures from gig to gig in the CHS-FR4 carry bag
Compact and lightweight design easily fits inside sticks of TRUSST®
Specifications:
DMX Channels: 4, 6, or 10
Light Source: 4 LEDs (quad-colour RGBA) 10 W (2 A), 50,000 hours life expectancy
Strobe Rate: 0 to 25 Hz
PWM Frequency: 1,200 Hz
Beam Angle: 9.5°
Field Angle: 23°
Operating Frequency: 2.412 to 2.484 GHz
Illuminance: 2,464 lux @ 2 m
Maximum Run Time (all on): up to 8 hours
Maximum Run Time (single color): 20 hours
Recharge Time: 7 hours
IP Rating: IP54
Input Voltage: 100 to 240 VAC, 50/60 Hz (auto-ranging)
Power and Current: 43 W, 0.6 A @ 120 V, 60 Hz
Power and Current: 40 W, 0.3 A @ 230 V, 50 Hz
Weight: 8.0 lb (3.6 kg)
Size: 5.7 x 5.4 x 7.5 in (145 x 138 x 191 mm)
Optional Controllers: IRC-6
Approvals: CE, FCC
Brand
Chauvet DJ
CHAUVET DJ is a premier line of entertainment lighting, controllers and accessories for the mobile performer, DJs, clubs, corporate events and more. Offering the most value in the industry. Chauvet is a leading developer of luminaires, trussing, controllers, atmospherics and related equipment marketed globally under four main brands: CHAUVET DJ, CHAUVET Professional, Iluminarc, and ChamSys. Each Chauvet brand is well thought out to serve different customer needs but they all share the company's focus on positively impacting every market segment with a competitive advantage in terms of value, innovation or performance.
Founded in 1990 by Albert and Berenice Chauvet, the company is widely recognized for its leadership in bringing successful concepts to market, including pioneering the development of affordable LED color mixing fixtures. The Chauvet mission is to elevate the world of lighting with customer-driven products at unparalleled value. We achieve this by following our VIP standards (value, innovation, performance) which motivate us to capture every technological and competitive edge to benefit our customers who are always our first priority.
Related products
The LED Profile 200WW™ is powered by a 200W Warm

$

1,295.00

Rated 5.00 out of 5

The ADJ MOD Barn Doors BLK • Black metal barn do

$

32.00

Rated 5.00 out of 5

The ADJ MOD Barn Doors WH • White metal barn doo

$

32.00