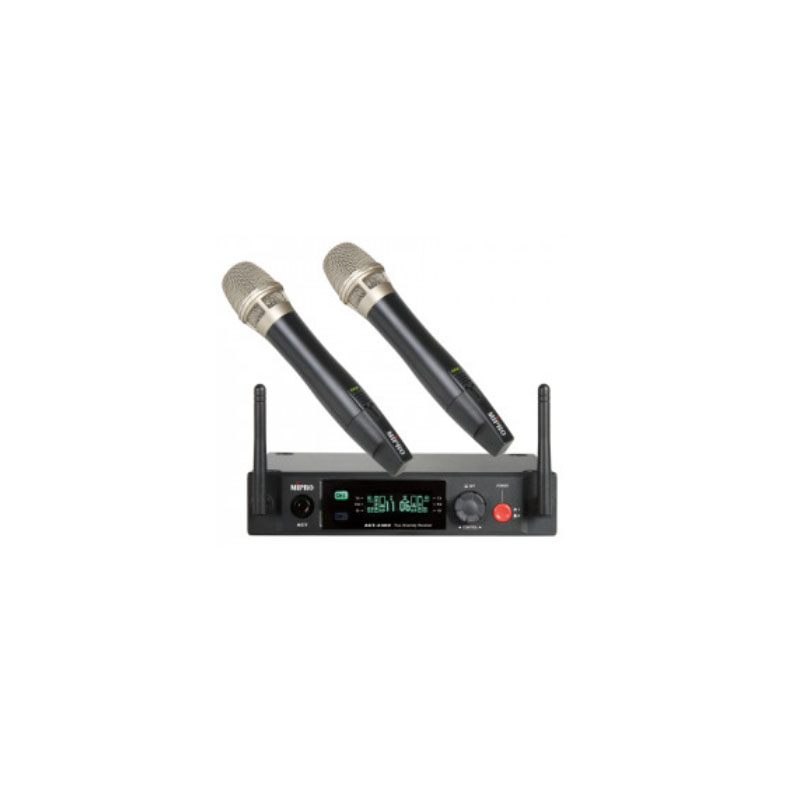 Mipro ACT-2402/ACT-24HC*2 Dual-Channel 2.4GHz Handheld System
Mipro ACT-2412 1U Dual-Channel Digital Receiver
Mipro ACT-2402/ACT-24TC*2 Dual-Channel 2.4GHz Bodypack System
The Mipro ACT-2402/ACT-24TC*2 Dual-Channel 2.4GHz Bodypack System features separate mute button and status, and selectable impedance for microphone or guitar/line inputs. Both rechargeable transmitters deliver 10 hours of use on a 4-hour charge.
$1,234.99
Features of the Mipro ACT-2402/ACT-24TC*2 Dual-Channel 2.4GHz Bodypack System:
Receiver
MIPRO's Digital Diversity ACT-2400 Series wireless system addresses the industry's 2.4GHz issues of range, signal stability and channel density
By using an adaptive tracking algorithm, the 2400-Series skips the common Wi-Fi frequencies effectively avoiding interference from most 2.4GHz communication products
Utilizes a 4 frequency hopping spread spectrum technique that avoids any remaining interference
With dual tuner true digital diversity receiving, receiving distance is up to 100 meters (330 ft.) with no signal drop-out
12 compatible simultaneous channel operation
24-bit / 44.1 kHz digital audio sampling
Lo-Cut and Flat EQ settings
Adjustable AF gain & RF power output
Half rack single and dual channel systems
Receiver is enclosed in a sturdy metal case
Front mounted antennas
Optional rack mount hardware
Transmitter
Miniature, sturdy plastic compact design
3 LEDs indicate battery status and turn red to indicate low battery
LED in the mute/AF button is lit or off to indicate AF status
Connector for optional MJ-70 remote mute fob
One-touch ACT syncs the transmitter and receiver frequency automatically
Selectable impedance for microphone or guitar/line inputs
Mini-XLR input with secure screw lock connector for lavaliere, head worn mics and guitar
These rechargeable transmitters deliver over 10 hours of use on a 4-hour charge. A 25-minute fast charge provides up to 1-hour operation. The included single rechargeable lithium battery can be easily removed or interchanged for charging. The included intelligent battery charger maintains a high charge capacity for up to 600 charge cycles
Specifications:
Receiver
Chassis: EIA Standard 19″ 1/2U
Display Graphic: OLED
Frequency Range: 2.4GHz ISM band (2.4 – 2.4835GHz)
Preset Frequency: 12
Frequency-hopping: Each channel has 4 preset hopping frequencies
Receiving Mode: Dual-tuner Digital Diversity
Audio Sampling: 24-bit / 44.1 kHz
Sensitivity: -95 dBm
S/N Ratio: > 115 dB(A)
T.H.D.: 0.1 % @ 1 kHz
Audio Frequency Response: 20 Hz – 20 kHz (-2 dB)
Output Connectors: Balanced XLR & Unbalanced 6.3 mm (1/4 ")
Audio Output Adjustment: 0 dB (standard), -10 – +20 dB adjustable range
Latency: < 4.0 ms
Antenna: 2 × 50 Ω fixed antenna
Power Supply: External AC Power Supply
Power Consumption: 2.4 W
Dimensions: 210 × 44 × 180 mm / 8.3 × 1.7 × 7.1 "
Weight: Approx. 0.8 kg / 1.8 lbs
Operating Temperature: -10 – +60℃
Transmitter
Frequency Range: 2.4GHz ISM band (2.4 – 2.4835GHz)
Channel Set-Up: ACT Sync
RF Output Power: 2 mW / 10 mW switchable (country dependent)
Transmitting Mode: Frequency hopping
Max. Audio Input: 6.5 dBV
Impedance: 1.0M Ω
Mute Connector: Optional MJ-70 remote mute switch
Battery Meter: 4-level green / red LED display
Battery Type: 1 ICR-18500 rechargeable lithium battery
Current Consumption: Approx. 138 mA
Operating Time: A 25-minute fast charge provides up to 1 hour operation. Minimum 10 hours of operation per 4-hour full charge (depending on the battery quality)
Dimensions (W × H × D): 63 × 70 × 25 mm / 2.5 × 2.8 × 1 "
Net Weight: Approx. 66 g / 2.3 oz
Brand
Mipro
Mipro is a leading brand in the professional audio industry, providing high-quality and reliable wireless microphone systems, portable PA systems, and audio solutions for various applications. With over 20 years of experience, Mipro has established itself as a trusted name in the market, offering advanced audio technology and exceptional sound quality.
Their products range from compact and portable wireless PA systems to advanced wireless microphone systems and audio solutions for conferences, concerts, and events. Mipro's team of experts works closely with their clients to provide customized solutions that meet their specific needs and budget, ensuring a seamless and successful audio experience.
Related products
Features of the Mipro ACT-2402 1/2U Dual-Channel D

$

1,032.99

Features of the Mipro ACT-312 Half-rack Dual-chann

$

523.99

Features of the Mipro ACT-311B/ACT-32T Half-rack S

$

469.99