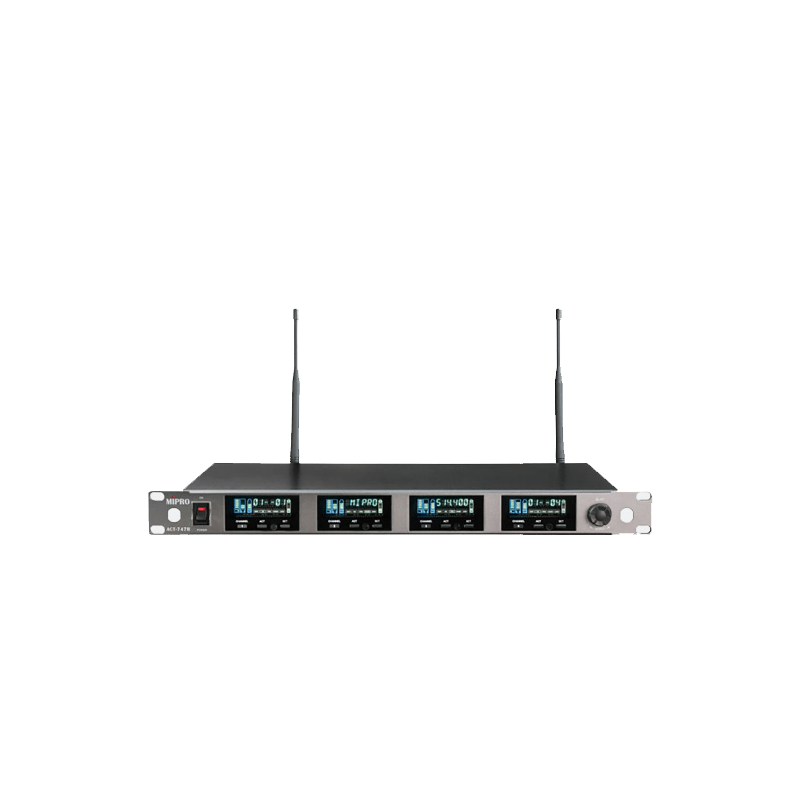 Mipro ACT-747B Narrowband Quad-Channel True Diversity Receiver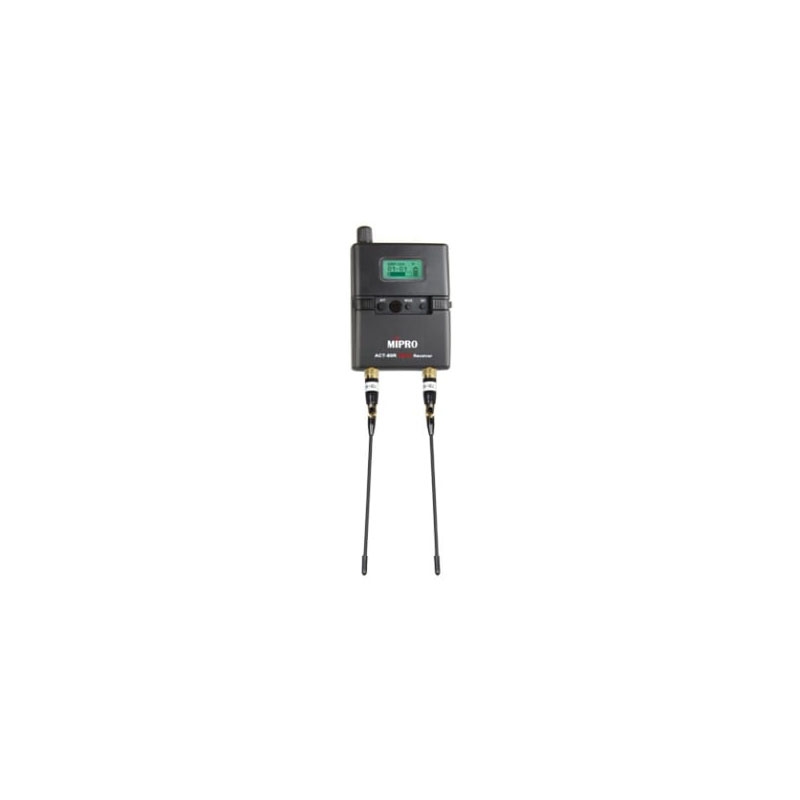 Mipro ACT-80R Digital Wireless ENG Receiver
Mipro ACT-747B/ACT-72T*4 Quad Channel Diversity Receiver with 4 Body Pack Transmitters
Mipro ACT-747B/ACT-72T*4 Quad Channel Diversity Receiver with 4 Body Pack Transmitters – EIA standard 1U rack-mountable metal receiver. UHF PLL synthesized circuit ensures high stability and low spurious emissions.
$3,456.99
Features of the Mipro ACT-747B/ACT-72T*4 Quad Channel Diversity Receiver with 4 Body Pack Transmitters:
Enhanced RF circuitry greatly reduces interference and intermodulation.
MIPRO's 3rd generation advanced RF and IF circuitry to improve anti-interference characteristics and
increase the number of interference-free channels available.
Auto Scan function allows quick search for an interference-free working channel from 104 preset
channels under 10 groups.
World's first ACT™ function provides precise and rapid frequency sync to the transmitters.
True diversity receiving for best reception quality. Dual "PiloTone & NoiseLock" circuits minimize
interference.
Industry's only full-color VFD screen delivers a bright, clear viewing in day or night environments with
automatic bright (working) and dim (standby) displays during performance.
All controls are intuitive and easily set up via a single rotary knob.
Industry's only RF interference warning indicator for proper adjustments of the SQ level. Increase
sensitivity to extend receiving range; decrease the sensitivity to reduce interference.
Single channel or mixed output, switchable between three output levels for the best sound quality
options.
High dynamic range and high fidelity characteristics for transparent audio performance.
Receiver provides bias voltage for MIPRO antenna systems to enhance reception range and signal
stability.
MIPRO RCS.Net software allows real-time computer setup, control and monitoring.
Built-in 100 – 240V AC switching power supply ensures system safety and stability
72T
Ultra slim bodypack transmitter with sturdy magnesium alloy housing.
Innovatively designed battery cover allows easy access to operate buttons and prevents accidental operation.
Mute button with remote-control jack for easy activation of mute function.
On the top features mute switch, mini-XLR connector and antenna.
Backlit LCD displays all operational parameter information.
Stable PLL circuits. Automatically synchronized with the receiver's frequency by MIPRO's patented ACT™ function.
Can directly match to high-low input impedance for microphone or guitar without switching.
The input sensitivity is adjustable with six selectable gain settings.
Mini-XLR input with secure screw lock connector for lavaliere / headworn mics and guitar.
Adjustable belt clip allows wearing transmitter in up or down position.
High-efficiency circuitry design provides 12 ~ 14 hours of operation from 2 AA batteries (depending on the battery quality).
Specifications:
ACT-747B
Frequency Range UHF 480 – 934 MHz
Bandwidth 24 MHz
Preset Frequency
104 preset channels.
Group 1 – 6: 8 compatible channels in each group
Group 7 – 8: 12 compatible channels in each group
Group 9 – 10: 16 compatible channels in each group
Receiving Mode True diversity
Receiving Antenna Rear Panel. Detachable.
Oscillation Mode PLL Synthesized
Stability ≦ ±0.005% (-10 –+60℃)
Sensitivity 6 dBµV at S/N > 80 dB
S/N Ratio > 105 dB(A)
T.H.D. < 0.5% @ 1 kHz
Frequency Response 50Hz – 18kHz, with high-pass filter
Squelch "PiloTone & NoiseLock" dual-squelch circuit
Audio Output Output level accurately pre-adjusted to equal to the microphone capsule
sensitivity.
Max. Output Level +16dBV / 0dBV / -6dBV
Output Connector Balanced XLR
Output Switch Single channel output or mixed output
Operation Manual or PC remote control via optional software
Power Supply Built-in 100 – 240 AC switching power
Power Consumption 24 W
Dimensions (W × H × D) 482 × 44 × 265 mm / 19 × 1.7 × 10.5 "
Net Weight Approx. 3.4 kg / 7.5 lbs
Model
ACT-72T
Color
Black
Housing
Ultra slim bodypack transmitter with sturdy magnesium alloy housing.
Connectors
On the top features antenna, mute switch, and mini-XLR connector.
Display
Green backlit LCD
Frequency Range
UHF 480 ~ 934 MHz (country dependent)
Bandwidth
24 MHz
Mute
Yes. Optional MJ-70 remote mute switch
RF Output Power
10 mW / 50 mW switchable (country dependent)
Gain Setting
12 dB, 6 dB, 0 dB, -6 dB, -12 dB (five settings). 0 dB = microphone capsule sensitivity
Deviation
< ±40 kHz
Spurious Emissions
≦ -55 dBc
Oscillation Mode
PLL Synthesized
Frequency Stability
≦ ±0.005% (-10 ~ +60℃)
Dimensions (W × H × D)
63 × 70 × 25 mm / 2.5 × 2.7×1.0 "
Net Weight
Approx. 81 g / 2.9 oz
Battery
2 × AA alkaline
Operating Time
Min. 12 hours
Charger
N/A
Brand
Mipro
Mipro is a leading brand in the professional audio industry, providing high-quality and reliable wireless microphone systems, portable PA systems, and audio solutions for various applications. With over 20 years of experience, Mipro has established itself as a trusted name in the market, offering advanced audio technology and exceptional sound quality.
Their products range from compact and portable wireless PA systems to advanced wireless microphone systems and audio solutions for conferences, concerts, and events. Mipro's team of experts works closely with their clients to provide customized solutions that meet their specific needs and budget, ensuring a seamless and successful audio experience.
Related products
Specifications: EIA standard 1/2U metal receiver.

$

523.99

Rated 5.00 out of 5

Features of the Mipro ACT-30H Handheld Condenser T

$

293.99

Features of the Mipro ACT-311B/ACT-32H Half-rack S

$

451.99