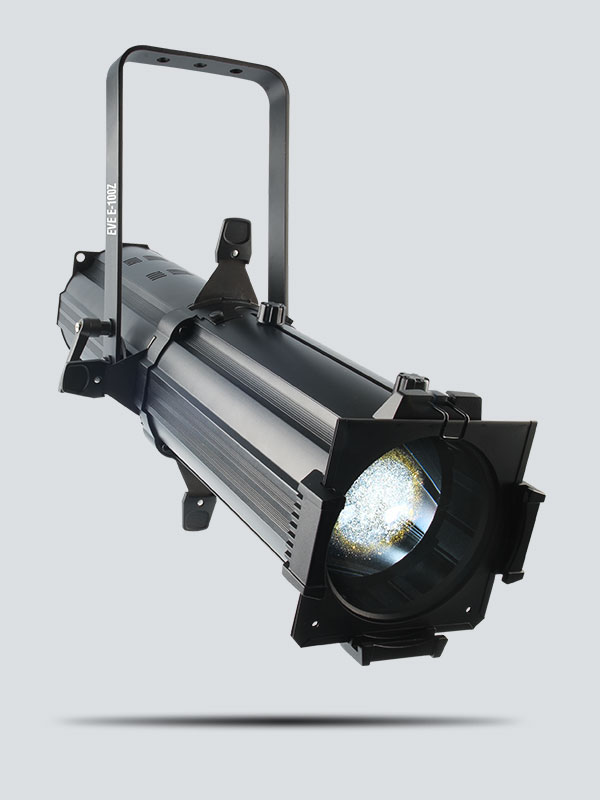 Chauvet DJ EVE E-100Z Ellipsoidal LED Light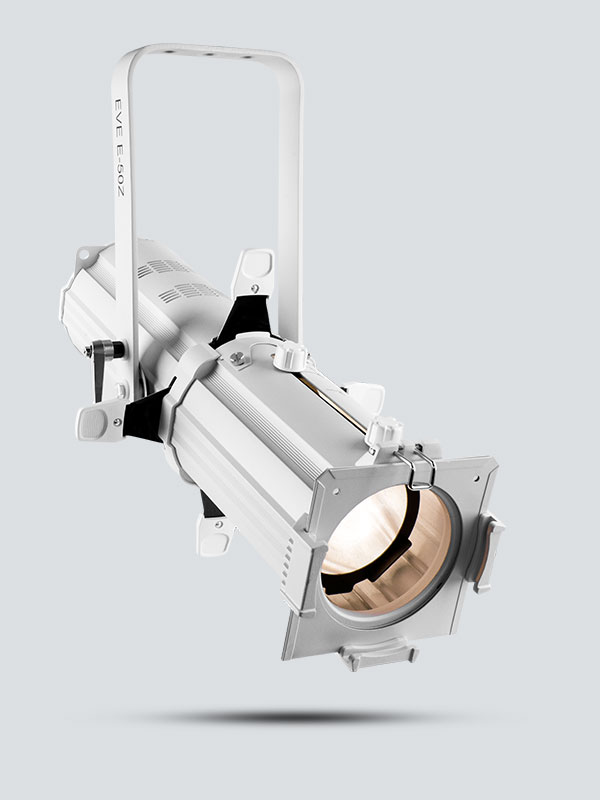 Chauvet DJ EVE E-50Z LED Ellipsoidal – White
Chauvet DJ EVE E-50Z LED Ellipsoidal – Black
EVE E-50Z is an LED ellipsoidal that shines a hard-edged, warm white spot designed for mobile and installation applications. It features D-Fi™ USB compatibility for wireless Master/Slave or DMX control.  
$912.99
Features of the Chauvet DJ EVE E-50Z LED Ellipsoidal:
LED Ellipsoidal shines a hard-edged, warm white spot in any direction
Easily highlight areas by altering the projected beam with framing shutters
Flexibility to project from any distance using the manual zoom
D-Fi USB compatibility for wireless Master/Slave or DMX control
Flicker-free operation suitable for on-camera use
Includes holders for glass and steel gobos and a gel frame
Save time running extension cords by power linking multiple units
Eliminate the need for DMX control with standalone operation
Available in black or white
Specifications:
DMX Channels: 1 or 3
DMX Connectors: 3-pin XLR
Light Source: 1 LED (warm white) 50 W, (1.3 A), 50,000 hours life expectancy
Strobe Rate: 0 to 29 Hz
PWM Frequency: 1.2 kHz
Zoom Angle: (manual): 20° to 39
Illuminance: (20°): 7,910 lux @ 2 m
(39°): 2,710 lux @ 2 m
(20°): 1,479 lux @ 5 m
(39°): 508 lux @ 5 m
Power Linking: 16 units @ 120 V; 26 units @ 230 V
Input Voltage: 100 to 240 VAC, 50/60 Hz (auto-ranging)
Power and Current: 59 W, 0.5 A @ 120 V, 60 Hz
63 W, 0.3 A @ 230 V, 50 Hz
Gobo Size: D (53.3 mm outside, 43 mm image, 2mm max thickness)
Weight: 9.2 lb (4.2 kg)
Size: 18.9 x 6.2 x 15 in (480 x 157 x 381 mm)
Approvals: CE, MET
Color Temperature: 3500 K
Gel Frame Size: 5.5 in (140 mm)
Optional Controllers: D-Fi USB
CRI: 80

Brand
Chauvet DJ
CHAUVET DJ is a premier line of entertainment lighting, controllers and accessories for the mobile performer, DJs, clubs, corporate events and more. Offering the most value in the industry. Chauvet is a leading developer of luminaires, trussing, controllers, atmospherics and related equipment marketed globally under four main brands: CHAUVET DJ, CHAUVET Professional, Iluminarc, and ChamSys. Each Chauvet brand is well thought out to serve different customer needs but they all share the company's focus on positively impacting every market segment with a competitive advantage in terms of value, innovation or performance.
Founded in 1990 by Albert and Berenice Chauvet, the company is widely recognized for its leadership in bringing successful concepts to market, including pioneering the development of affordable LED color mixing fixtures. The Chauvet mission is to elevate the world of lighting with customer-driven products at unparalleled value. We achieve this by following our VIP standards (value, innovation, performance) which motivate us to capture every technological and competitive edge to benefit our customers who are always our first priority.
Related products
Rated 5.00 out of 5

Specifications Dimensions (LxWxH): 9.7" x 6.8" x

$

349.00

Rated 5.00 out of 5

Features of the Elation WW Profile HP IP: IP65

$

2,639.00

Rated 5.00 out of 5

Features of the ADJ Encore Burst UV IP: • Contr

$

1,069.00