Mipro ACT-311B/ACT-32T Half-rack Single Channel Handheld Wireless System + MU-53L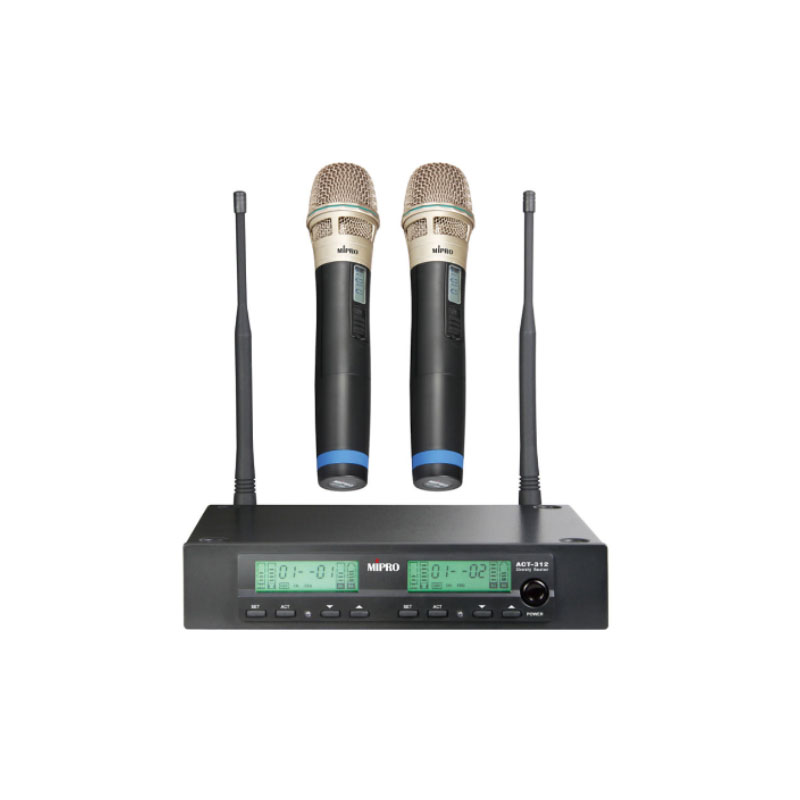 Mipro ACT-312/ACT-30H*2 Dual-Channel Handheld Wireless System
Mipro ACT-312 Half-rack Dual-channel Diversity Receiver
Mipro ACT-312 Half-rack Dual-channel Diversity Receiver – EIA standard 1/2U metal receiver. Receiver provides bias for booster where MIPRO antenna systems can be added for extended receiving range and stability.
$523.99
Features of the Mipro ACT-312 Half-rack Dual-channel Diversity Receiver:
• Backlit LCD displays group, channel, frequency, RF level, antenna selection, AF level, battery level indicator, interference warning indicator, and panel lock indicator.
• A lit green light indicates a working mode when receiver detects an incoming signal or buttons touched. Light dims automatically when receiver is idle for about 10 seconds.
• Balanced XLR / unbalanced 1/4 " audio output jack, output level switch and DC input are on the rear panel. One mixed-output switch is available for dual-channel receivers.
• High efficiency and low spurious PLL circuitry with Auto Scan function. Each receiver is presets with 11 groups, Groups 1~6, 7~10 have 8 & 16 compatible channels respectively. Up to 8 channels in group 11 can be saved and recalled within 961 user-defined frequencies. A total of 112 preset channels per band.
• World's first ACT™ function provides precise and rapid frequency sync to the transmitters.
• Advanced diversity technology for optimum reception range and reduces signal dropouts and the "PiloTone & NoiseLock" dual-squelch circuits prevent noise interference.
• Adjustable 'SQ' for higher sensitivity to increase receiving distance and lower sensitivity to reduce interference.
• Industry's only RF interference warning indicator for ideal SQ level adjustment.
• DC input socket accepts 12~15V power supply.
• Matching ACT-30H handheld and ACT-30T bodypack transmitters.
Specifications:
Channel Dual
Chassis EIA-Standard 19″ 1/2U
Receiving Mode Diversity
Frequency Range UHF 480~934 MHz
Bandwidth 24MHz
Preset Frequencies 112 preset channels.
Group 1-6: 8 compatible channels in each group.
Group 7-10: 16 compatible channels in each group.
Group 11: Up to 8 channels can be saved & recalled. 961 user-defined frequencies in group 11.
Antenna Rear Panel. Detachable.
Oscillation Mode PLL synthesized
Stability ±0.005% (-10~+60ºC)
Sensitivity 10dBµV, at S/N>80 dB
S/N Ratio >106dB(A)
T.H.D. <0.5% @ 1kHz
Frequency Response 50Hz~18kHz, with high-pass filter
Squelch "PiloTone & NoiseLock" dual- squelch circuit
Audio Output Adjustment Output level accurately pre-adjusted to equal to the microphone capsule sensitivity.
Maximum Output Level 2-level Switch: Line & Mic
Power Supply External AC Adapter, 12~15V DC, 1A
Dimensions 210(W)×44(H)×180(D)mm / 8.3 (W)x1.7(H)x7.1(D)"
Weight Approx. 0.95kg / 2.1lbs
Note Refer to actual product in the event of product discrepancy. Frequency range and maximum deviation comply with the regulations of different countries.
Brand
Mipro
Mipro is a leading brand in the professional audio industry, providing high-quality and reliable wireless microphone systems, portable PA systems, and audio solutions for various applications. With over 20 years of experience, Mipro has established itself as a trusted name in the market, offering advanced audio technology and exceptional sound quality.
Their products range from compact and portable wireless PA systems to advanced wireless microphone systems and audio solutions for conferences, concerts, and events. Mipro's team of experts works closely with their clients to provide customized solutions that meet their specific needs and budget, ensuring a seamless and successful audio experience.
Related products
Features of the Mipro ACT-312/ACT-30H*2 Dual-Chann

$

1,026.99

Specifications: Chassis: EIA Standard 19" 1U Displ

$

1,118.99

Features of the Mipro ACT-311B/ACT-32H Half-rack S

$

451.99